Posted on
By Ben Phillips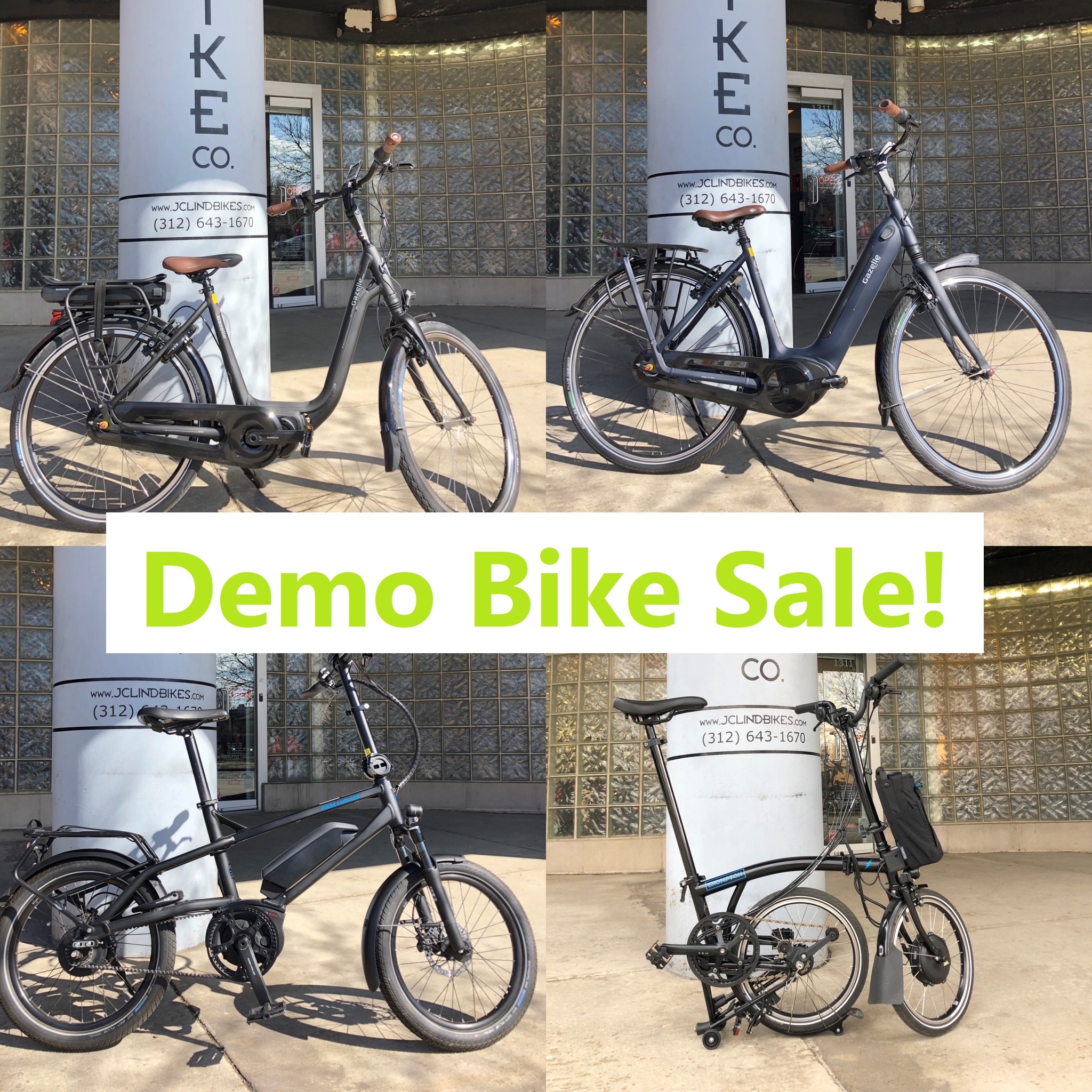 Save 10 to 20% off select demo eBikes!
With the dawn of a new model year upon us, we're selling last seasons demo eBikes. They've served us well, but it's time for them to find their forever homes. eBikes included in the sale will be a Gazelle EasyFlow, a Gazelle Arroyo Elite, a Riese & Muller Tinker, and a Brompton Electric H6L (SOLD).
Please note that these bikes are only eligible for in store pick up, shipping will not be available.
First up is the Gazelle EasyFlow. The EasyFlow is a unique offering from Gazelle in that it's an adult sized bike with 26" wheels and a step through frame, so it's ideal for shorter riders or for riders who prefer a lower center of gravity. This particular bike happens to be a size 49cm in black (generally will fit riders from 5'2" to 5'7"). Gazelle is no longer offering this bike in the US, so this very well could be one of the last models available on this side of the pond.
The original retail price of the EasyFlow is $2,999, and at 15% off you're looking at a savings of $450.
The Gazelle EasyFlow
Next up is the Gazelle Arroyo Elite. The Arroyo Elite is sort of a cousin to the EasyFlow in that they're both step-through upright Dutch style eBikes. The key differences between them are the Arroyo Elite's battery is integrated into the downtube of the frame, it has a Bosch system vs. Shimano on the EasyFlow and the tire diameter of the Arroyo is 28" vs. 26" on the Easyflow. We only have one Arroyo demo model remaing; it's a size 57cm in silver.
The original retail price of this bike is $3,599.00, and at 15% off you'd be saving $540.
The Gazelle Arroyo Elite
SOLD Next up is one of my personal favorite bikes in our shop is the Riese & Muller Tinker. It's a compact ebike sporting a pair of 20" wheels and a fair amount of adjustable features in the handle bar stem in order to make it suitable for a wide range of riders (ranging from 4'11" to 6'4"). I find that the Tinker has a very confident, comfortable, and compliant ride which feels like a full sized bike. The handlebar stem can collapse to become flush with the frame of the bike in order to pack it into the trunk of a car or take it on a train. I think that this bike would be ideal for an apartment dweller looking for a compact eBike that makes no compromises on quality.
The original retail price of the Tinker is $5869.00, with 20% off you'd save $1,174!
The Riese & Muller Tinker
SOLD Our final 2021 demo electric bike is a Brompton Electric H6L in black. To my knowledge, the Brompton Electric is the most compact folding electric bike on the market given that it's able to fold into a shape roughly 24" x 24" x 12". Few electric bikes can offer a weight under 40 pounds and the ability to travel using several modes of transport (train, bus, taxi, etc). One great aspect of this bike is how easy it is to ride without using the electric assist.
The Brompton Electric H6L in Black retails for $3,800.00, so after a 10% discount you would save $380.