Our initial reply when asked how to transport your Dutch bike with your car is 'you don't, this bike is your car silly'. That said, if you are searching for a good solution to get your Dutch bike somewhere via car here is some useful information…
Workcycles Bakfiets/Kr8, Onderwater Tandem, Winther Kangaroo/Cargo Trike
Unfortunately, these bikes are the least convenient to transport by car. Not coincidentally, they are also the bikes that closest resemble cars in terms of their size and capabilities. If you have a minivan and can remove all of the rear seats you more than likely will be able to transport your cargo bike this way. But then the kids have nowhere to sit so this option really only makes sense if it's transport for a service appointment or picking up your bike for the first time. Other alternatives could be renting a cargo van, a flatbed trailer or in the back of a pickup truck.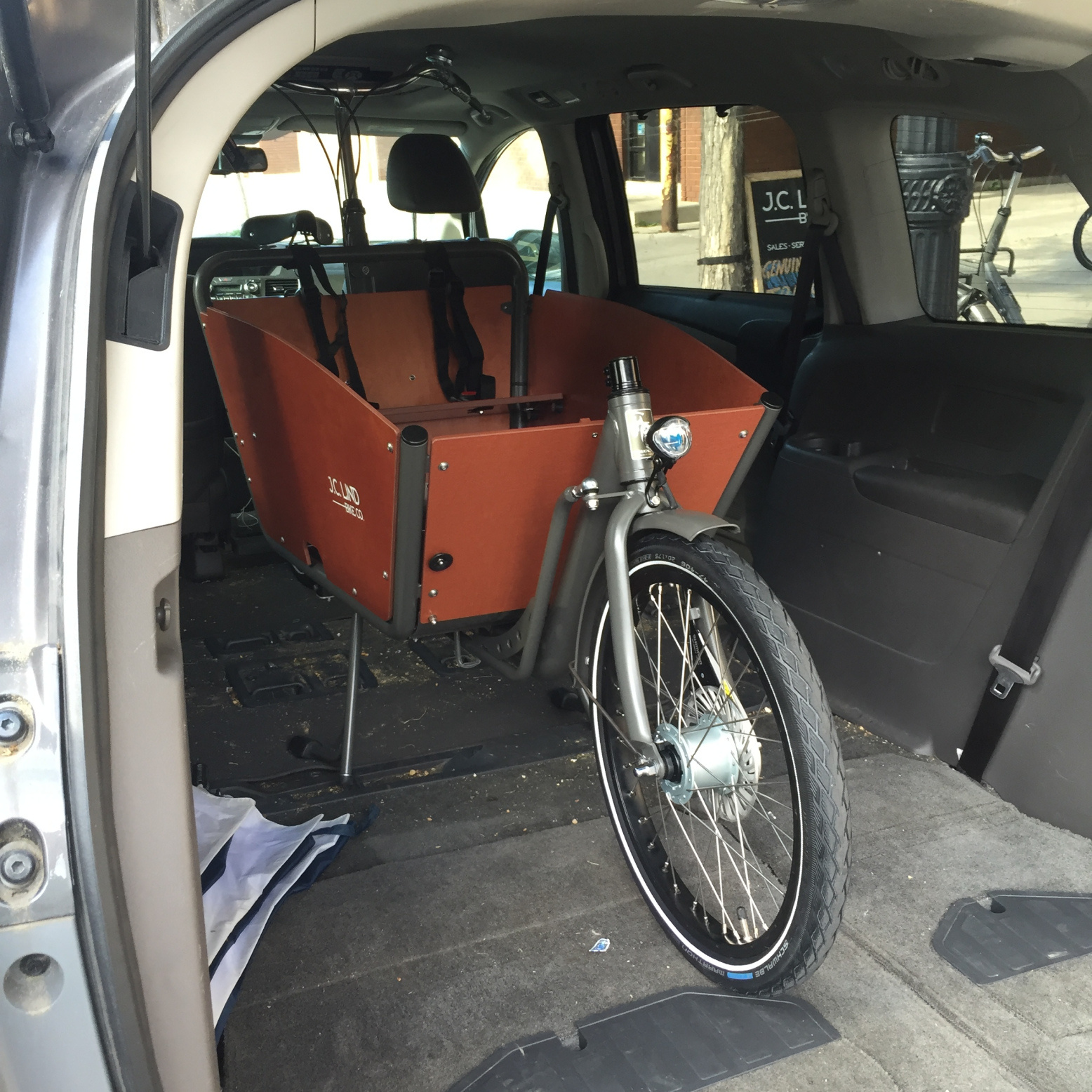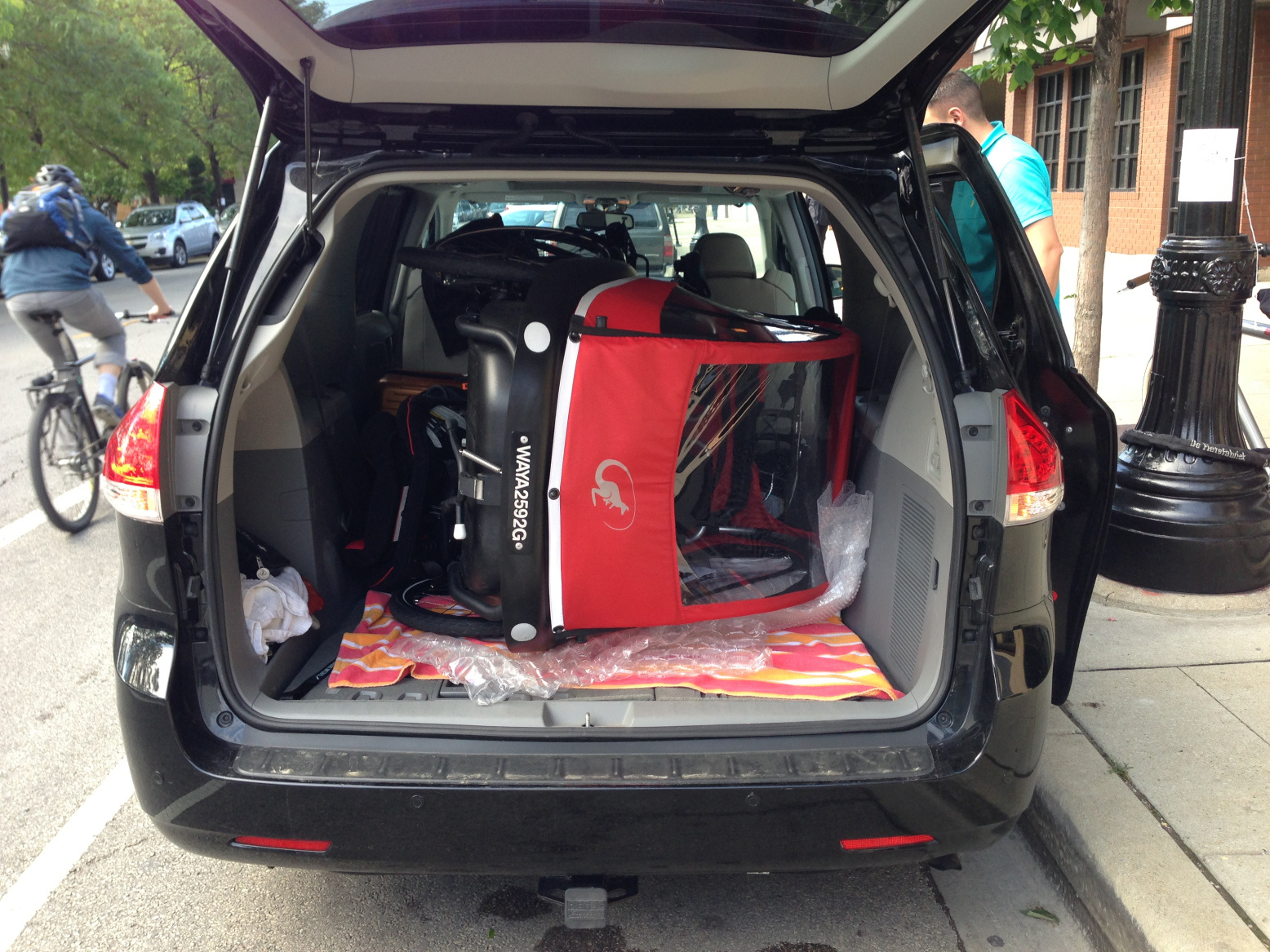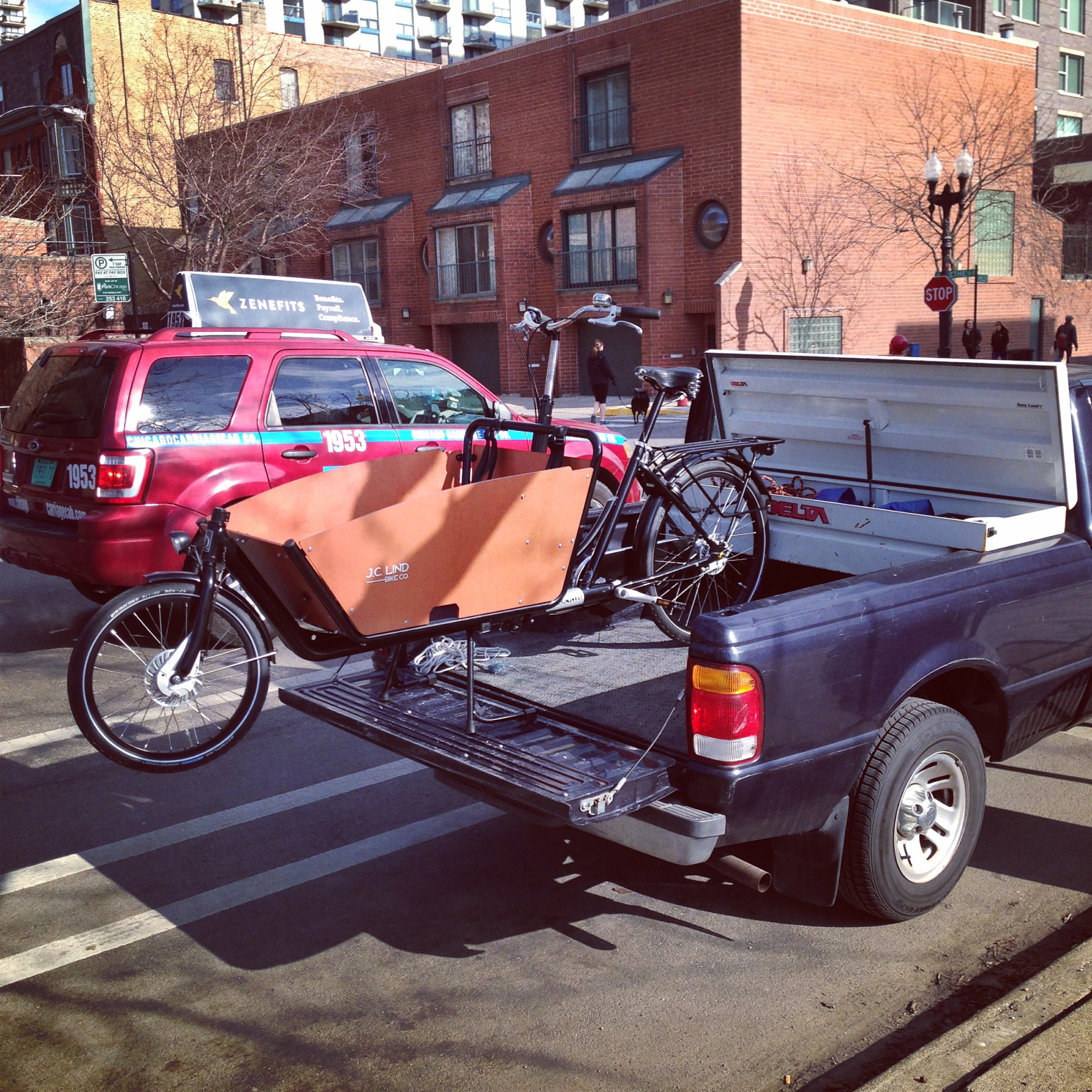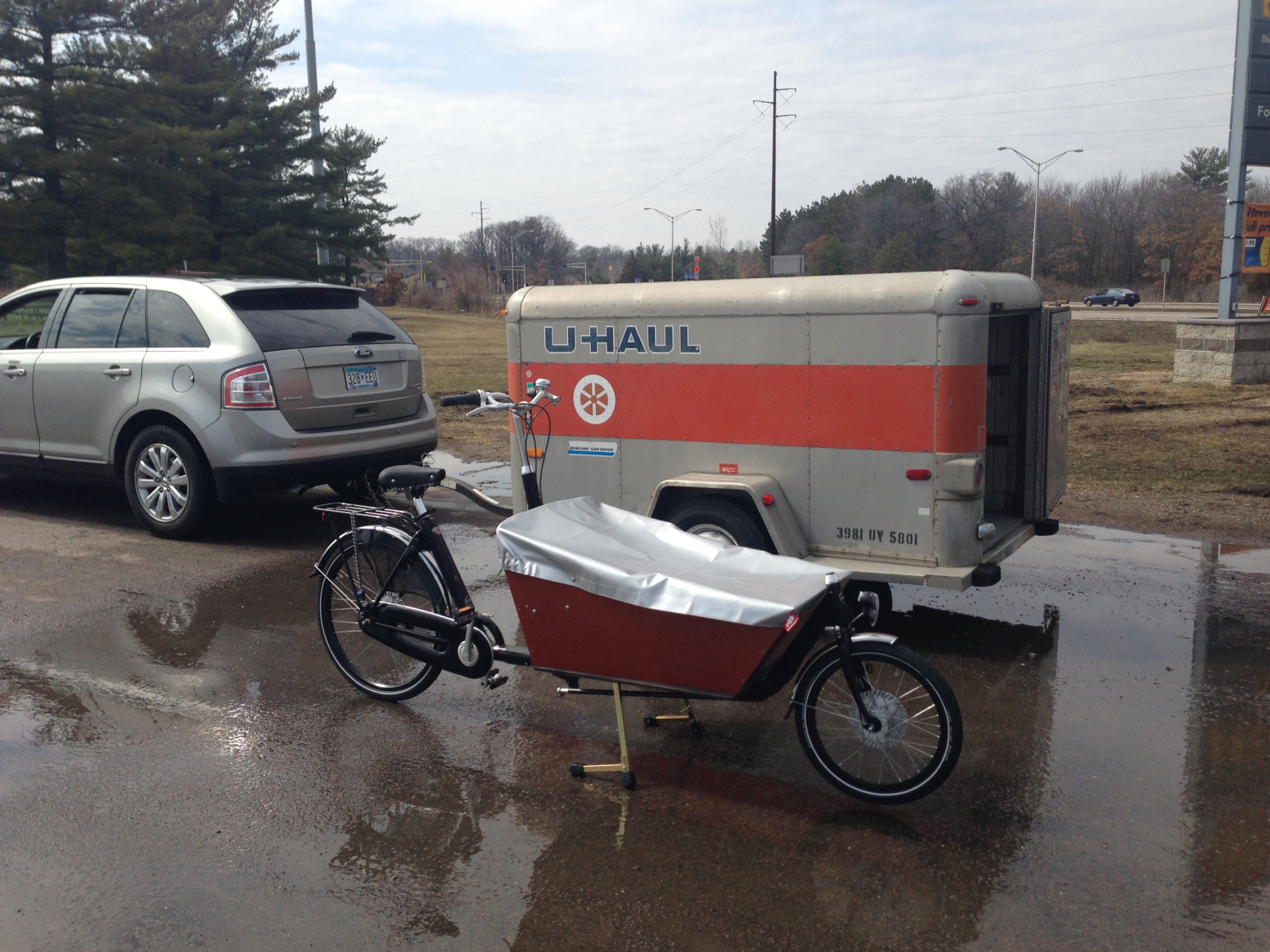 Workcycles Fr8/Gr8 and Classic Workcycles/Azor City Bikes
Our first recommendation would be the Thule Easyfold XT 2, a hitch-mounted rack with convenient ramps for rolling the bikes into place instead of lifting. That rack is available here.
We also recommend the following rack from Hollywood:
Sport Rider E Hitch Bike Rack Model HR1450E 
Please note you will need a 2" (Class III) trailer hitch on your vehicle. We recommend this rack because it has enough weight capacity for these beefy bikes. Also, it supports the bikes from the wheels up and secures them to the rack over the middle of the frame and not on top of the wheels. Racks that secure down on top of the wheels won't work since your bike has fenders and racks that will interfere.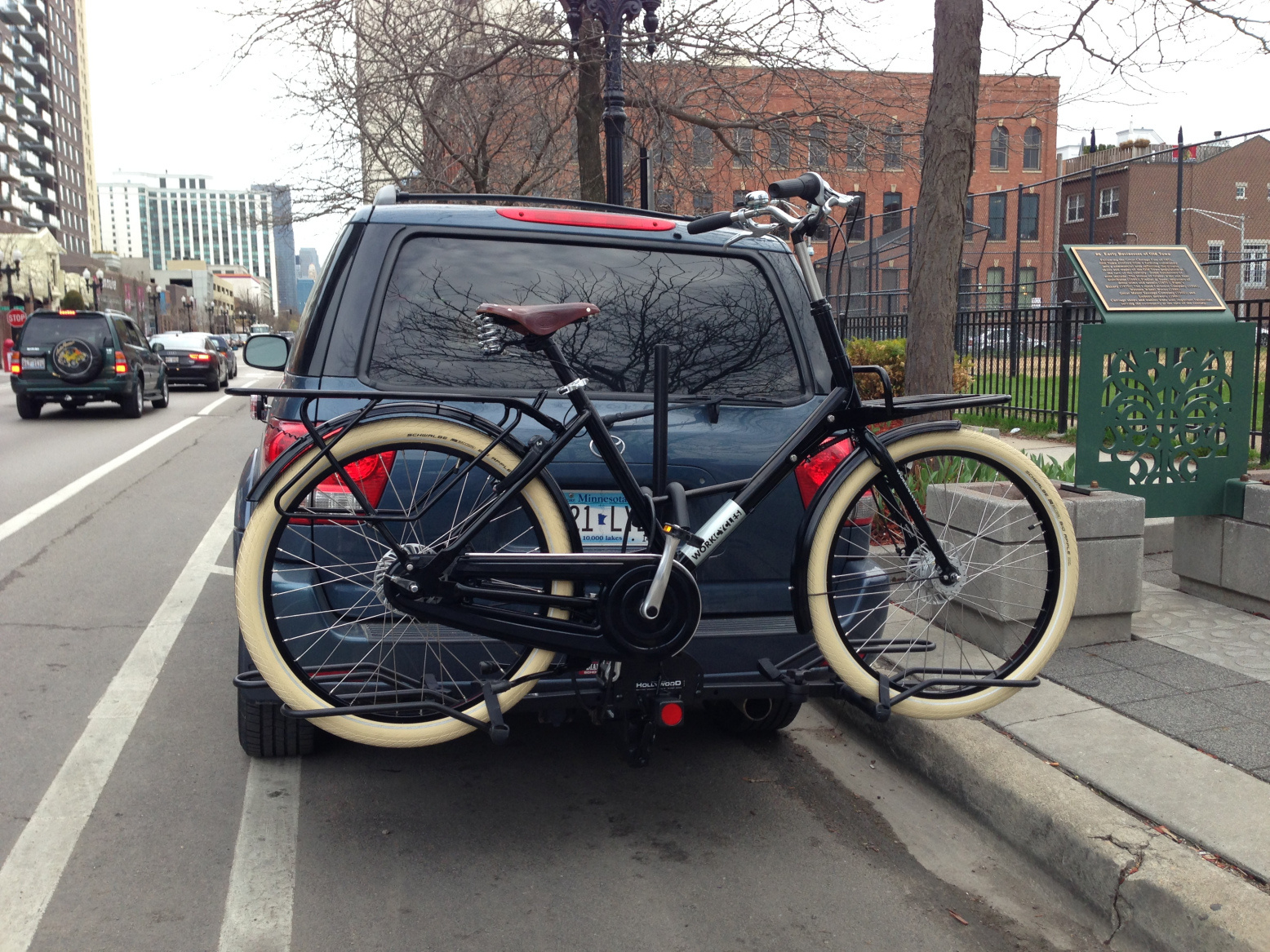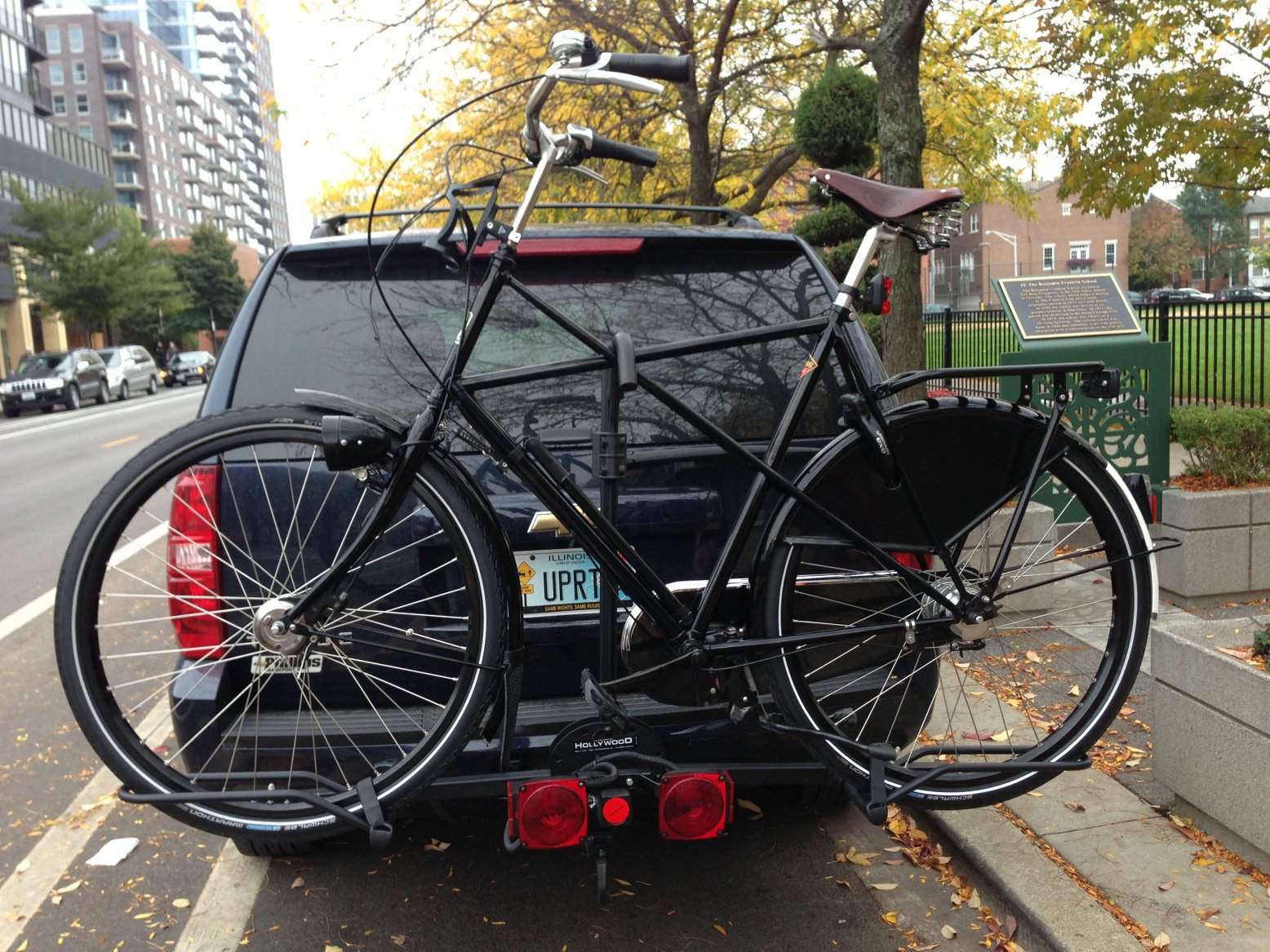 Pilen Lyx, Gazelle Classic Oma
For the same reasons as above, we recommend the hitch mounted Hollywood rack that supports the bike from the wheels up. However, since these bikes are less than 45 lbs, you can get the lower cost version of the Hollywood rack. Here is a link with the details:
Sport Rider Hitch Bike Rack Model HR1000
This one can be used with either a 1 ¼" (Class II) or a 2" (Class III) hitch.
Please note- we are not a Hollywood Racks dealer and do not stock these racks. We recommend you purchase them from a local bike shop near you if possible and if not then source one online. If you have any questions about the racks and their compatibility to your vehicle you should consult Hollywood Racks directly or one of their dealers.
Parting pro tip #1: Watch out for the hot tailpipe, if your bike gets too close to your tailpipe the heat can cause irreparable damage.
Parting pro tip #2: Mind your speed when driving with a Dutch bike or bikes on one of these rear car racks. There are a lot of items on the bikes like Kerri crates and wheel guards that catch a lot of air. It's best to stick to the speed limit or just above. And I'd recommend removing anything that can easily be removed like child seats or bags. If transporting an eBike on a car rack, make certain to remove the battery.