Posted on
By Jon Lind
Posted in Amsterdam, Amsterdam Diaries, Bicicapace, Business Trip, Cargo Bike, Holland, Italian Bikes, The Netherlands, Travel, Travel Writing, Velo-ce, Yepp Child Seats
After three days of exhausting travel by train and bike throughout most of the country, it was nice to sleep in a little and only have a 10 minute bike ride to the next bullet on my itinerary. That bullet being a meet up with Bicicapace, a young cargo bike brand out of Milan Italy with whom we'd been in touch for about a year.
Once I had booked my trip to Amsterdam, I reached out to Stefano from Bicicapace to see if it would be possible to test ride their bikes during my visit. As luck would have it, our schedules aligned and they were going to be passing through town on dealer visits around the same time.
I was thrilled to finally be getting a chance to see and ride their bikes after a long period of looking at pictures and reading about them online. Bicicapace makes three models, the Classic, JustLong and Sport. I was able to try out both the Sport and the JustLong.
Right out of the gate the JustLong fits seamlessly with what we offer at The Shop. It is a dedicated family truckster cargo bike, capable of transporting two kids on the long rear rack with Yepp seats or on a cushion for older kids. When I rode it, it handled really well and I was pleasantly surprised with how stable it felt even with a full size adult passenger on the back. The 20 inch wheels keep the center of gravity nice and low, and the low step through frame make it a great option for a wide range of rider sizes.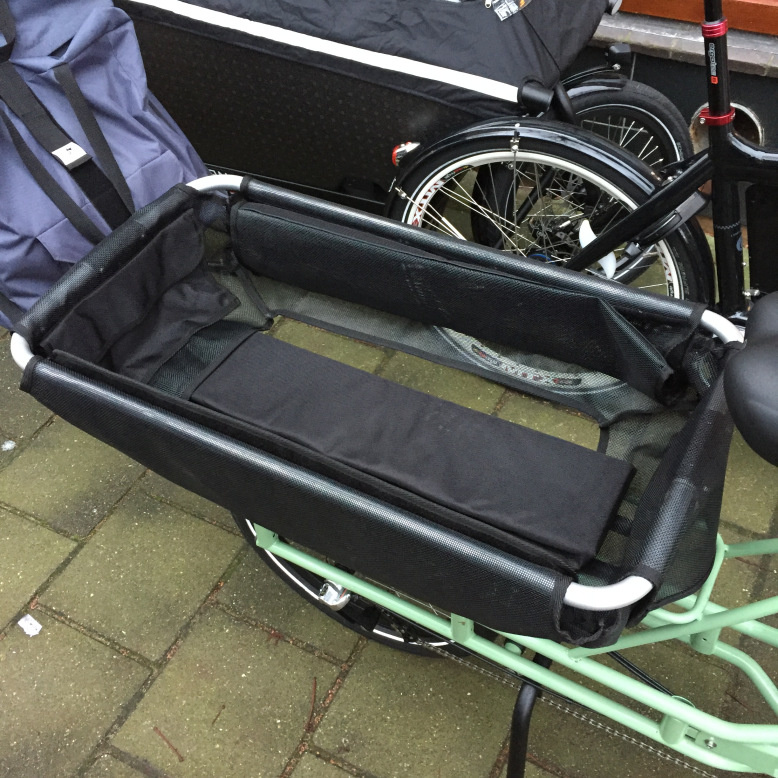 The JustLong rear armature ring is a kiddie retention system that also doubles as a basket for other cargo as seen in the picture below.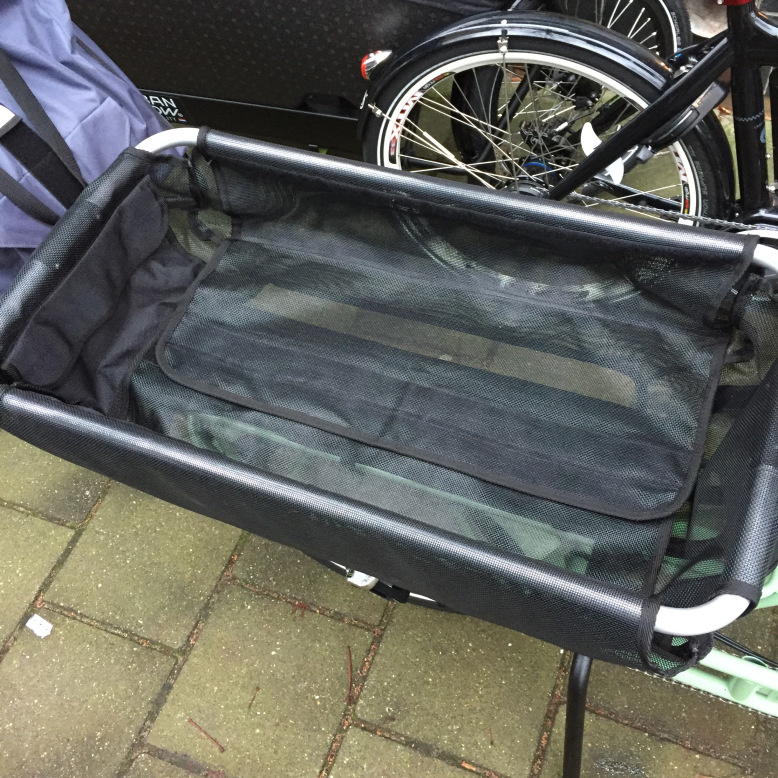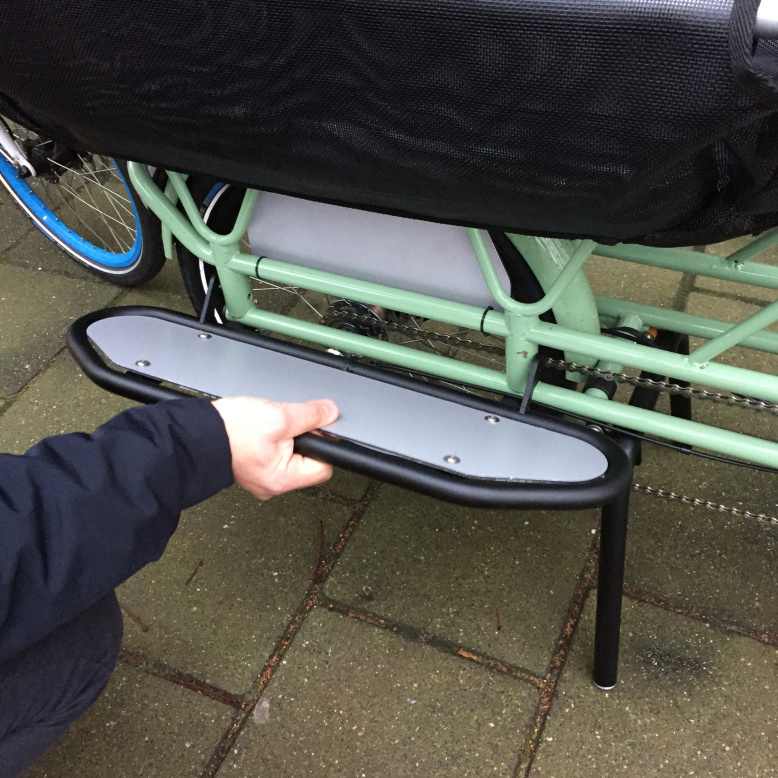 When riding on the back it's good to have a place to put your feet.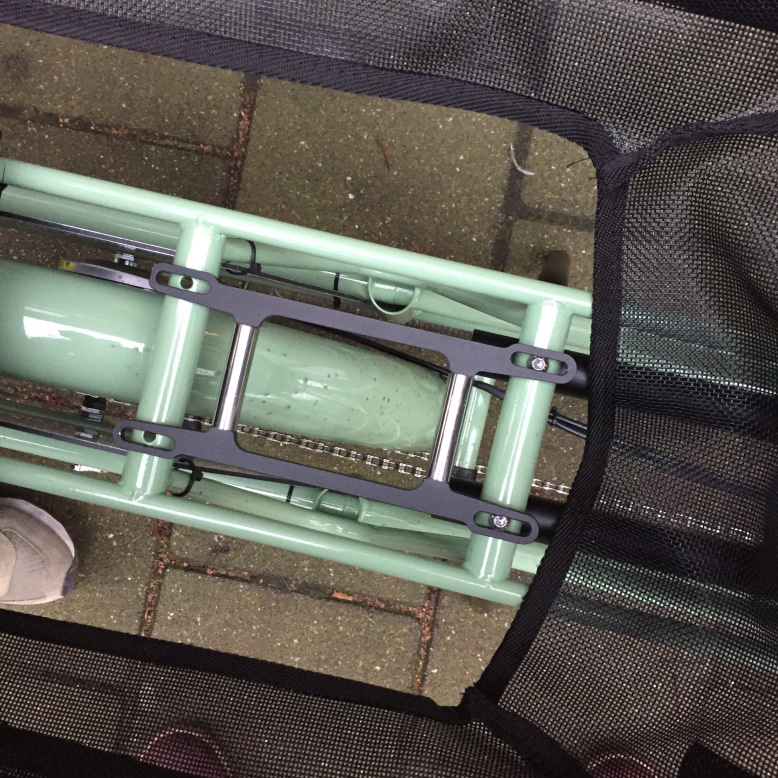 The JustLong rear rack is compatible with one or two Yepp Maxi Easyfit seats.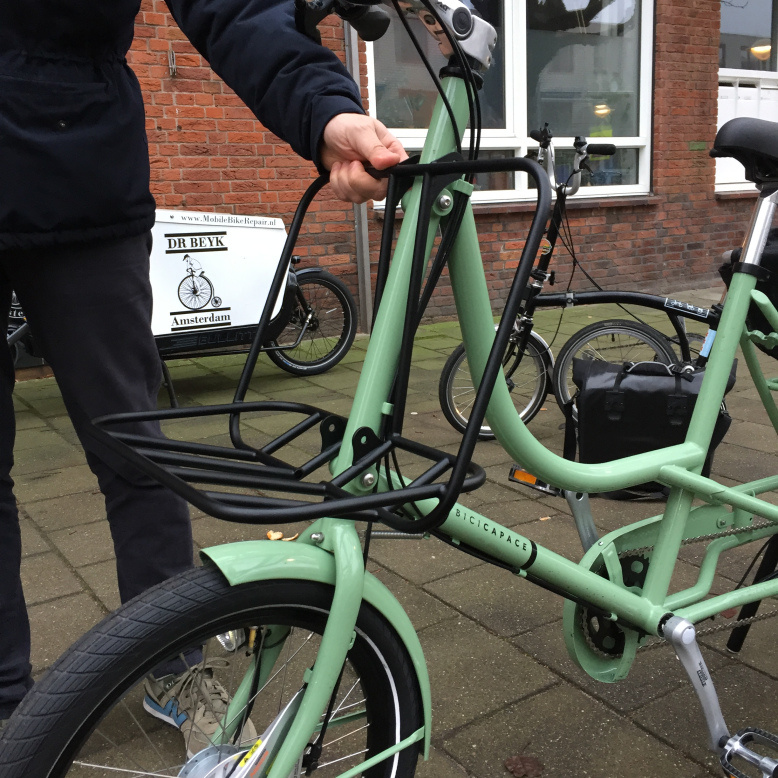 The JustLong comes with Option A- Folding Flatbed front rack (above). Or Option B- 80 liter PVC/Cordura front mounted bag (below).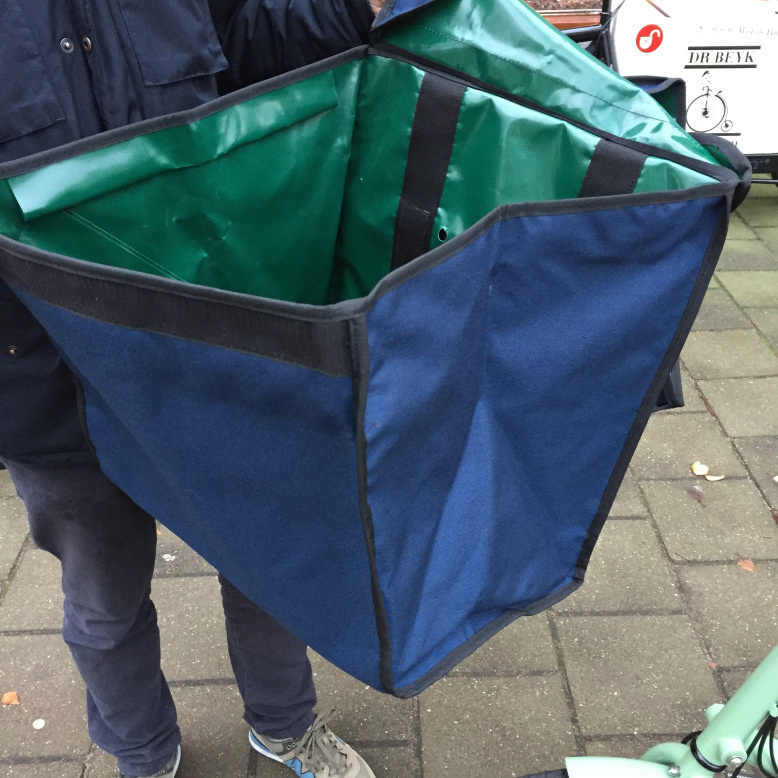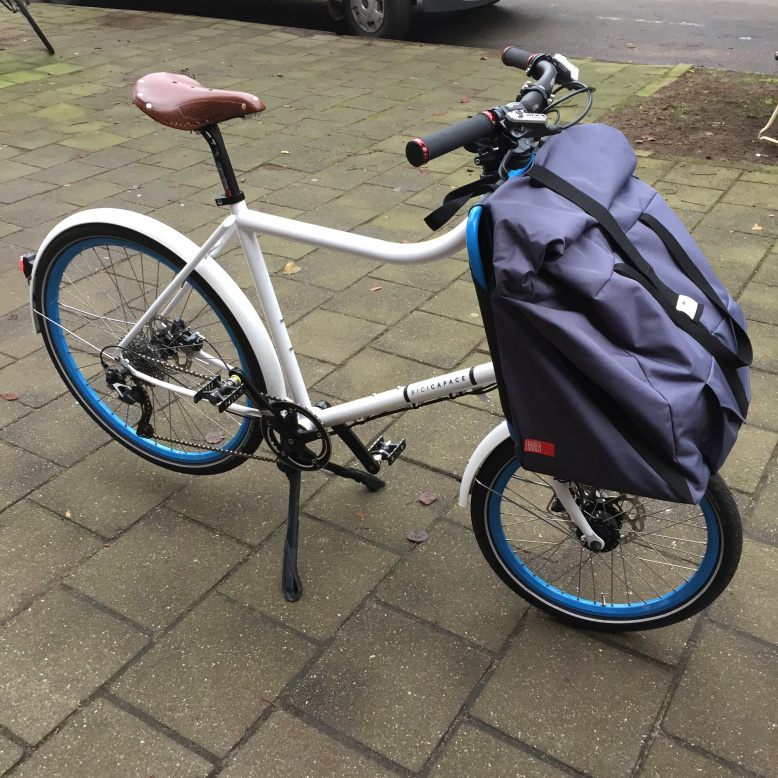 The Sport model, as the name implies, is sportier and less upright than most of the bikes we sell. The handling of the Sport was responsive, making it an agile bike, perhaps better suited for messengers or somebody who wants to carry cargo without siting bolt upright.
So you're probably wondering whether you will be able to see these in Chicago anytime soon? I'm happy to report the answer is yes. We have a shipment from Bicicapace arriving imminently. Stay tuned to our website and social media channels for news of their arrival.
But wait, that's not all! Stefano and Claudia also introduced me to Velo-ce, a brand of stylish Italian city bikes. High on looks without sacrificing on smart practical features. This spring we will be bringing in the Classic Draisina. Dyno powered lights, roller brakes, internal gearing, 2 leg center stand with fork spring, chain case and Brooks saddle. These are all of the types of things we are into here at J.C. Lind Bike Co. These also happen to be the things which unfortunately are hard to find in most bikes.
It felt great knowing I'd be returning home having successfully scouted out some new blood for the shop. This is one of the big reasons why I make these trips. Discovering bike brands I never knew existed before and getting some valuable hands on experience with new product.
Thank you very much Stefano and Claudia for making the trip to Amsterdam, next time I think I'll have to come and see you in Milan.
My morning visit with Bicicapace complete, I had the whole day ahead of me to explore Amsterdam on my bike and drop in on the guys at Workcycles. Check back for the next installment as my trip keeps rolling on.