Posted on
By Ben Phillips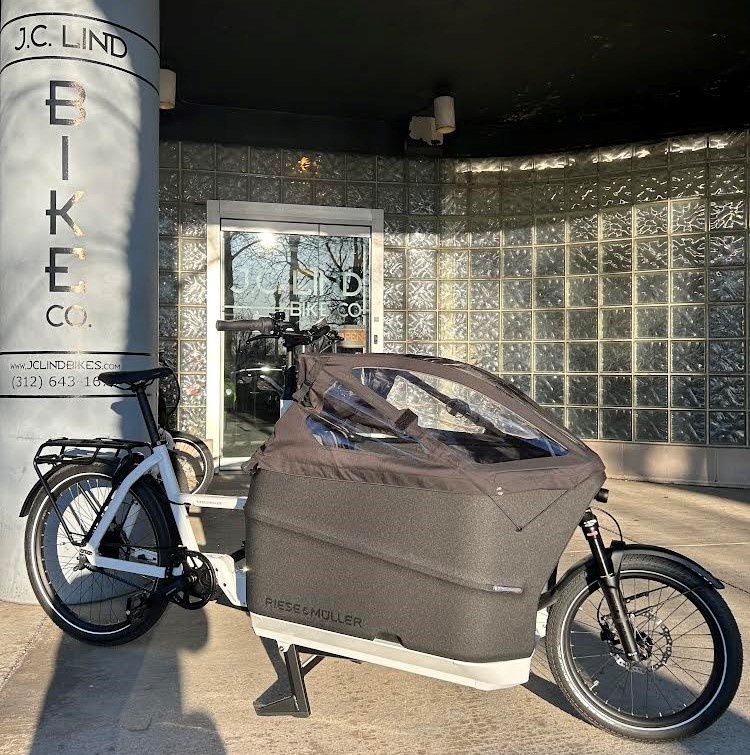 The 2023 Riese and Müller Packster 70 has landed here at J.C. Lind Bike Co.!
If there's one thing to know about our bike shop, it's that we love practical, low maintenance, and utilitarian bikes that help people meet their individual transportation needs. We're one of the few shops in the area that sells and services bakfiets (Dutch for "box bike," otherwise known as a front loader), and we're thrilled to be expanding our electric bakfiets lineup with the Packster 70 from Riese & Müller.
This bike is ideal for carrying one or two children, but carrying three children is certainly possible, with the standard child-carrying configuration being a double child seat with seat belts and the option to add a third, rear-facing child seat. The double child seat can even recline, should your kids start feeling sleepy on the ride home. The front box is about 23 inches deep at it's deepest, so your children will be well protected inside the box. As we've come to expect from Riese & Müller, they have truly thought out every detail, even adding a phone slot on the ceiling of the rain cover so that you can shine your flashlight on the interior of the box (almost like a DIY ceiling light in a car). The maximum rider height for a passenger sitting in the box is 5'6" without interfering with steering.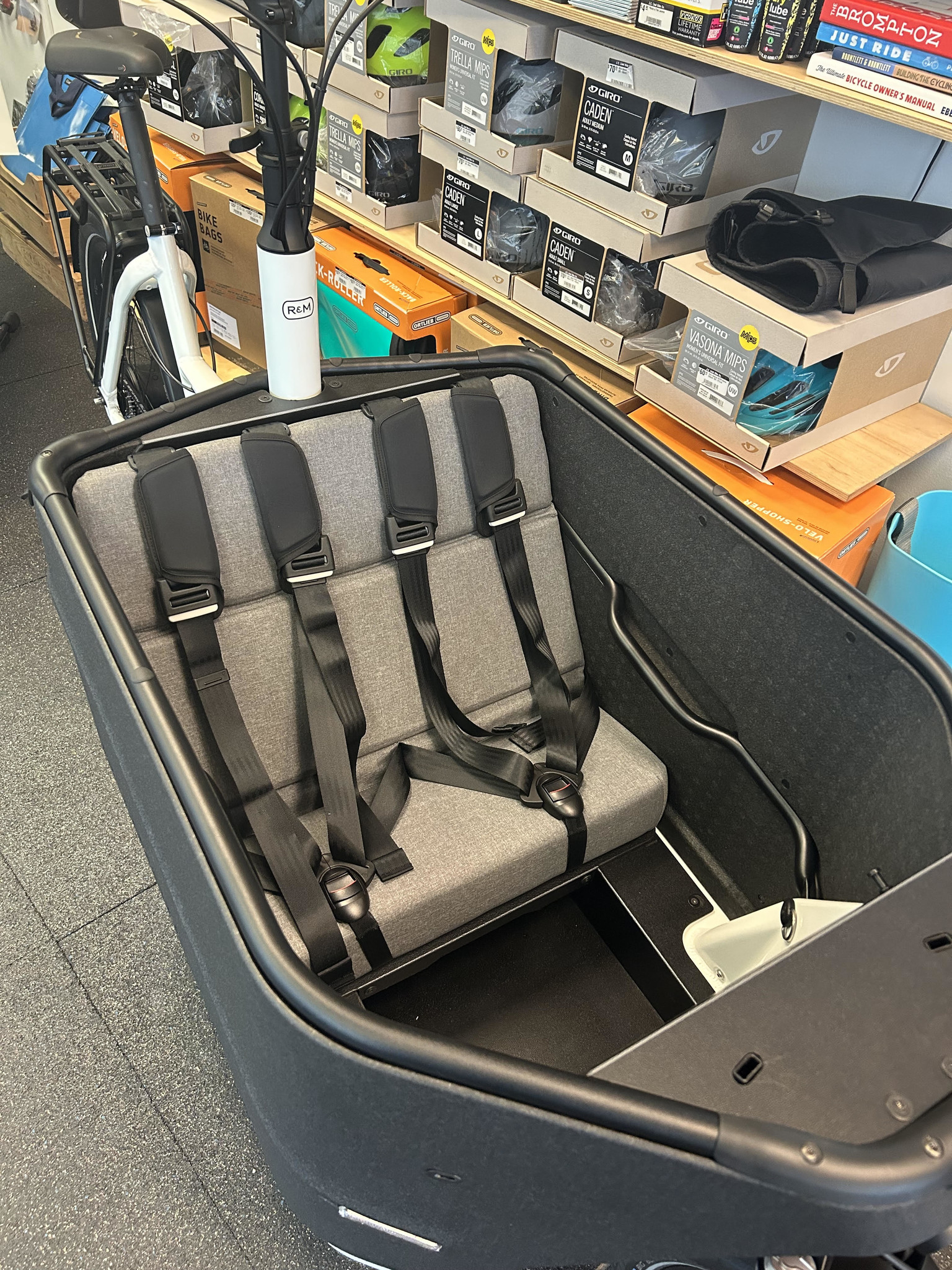 The Packster 70 box
The front box is big enough that you could have two children in the front box as well as some extra cargo, and if that's not enough room for you, then the optional MIK rear carrier is ideal for a set of panniers (like Clarijs or Ortlieb).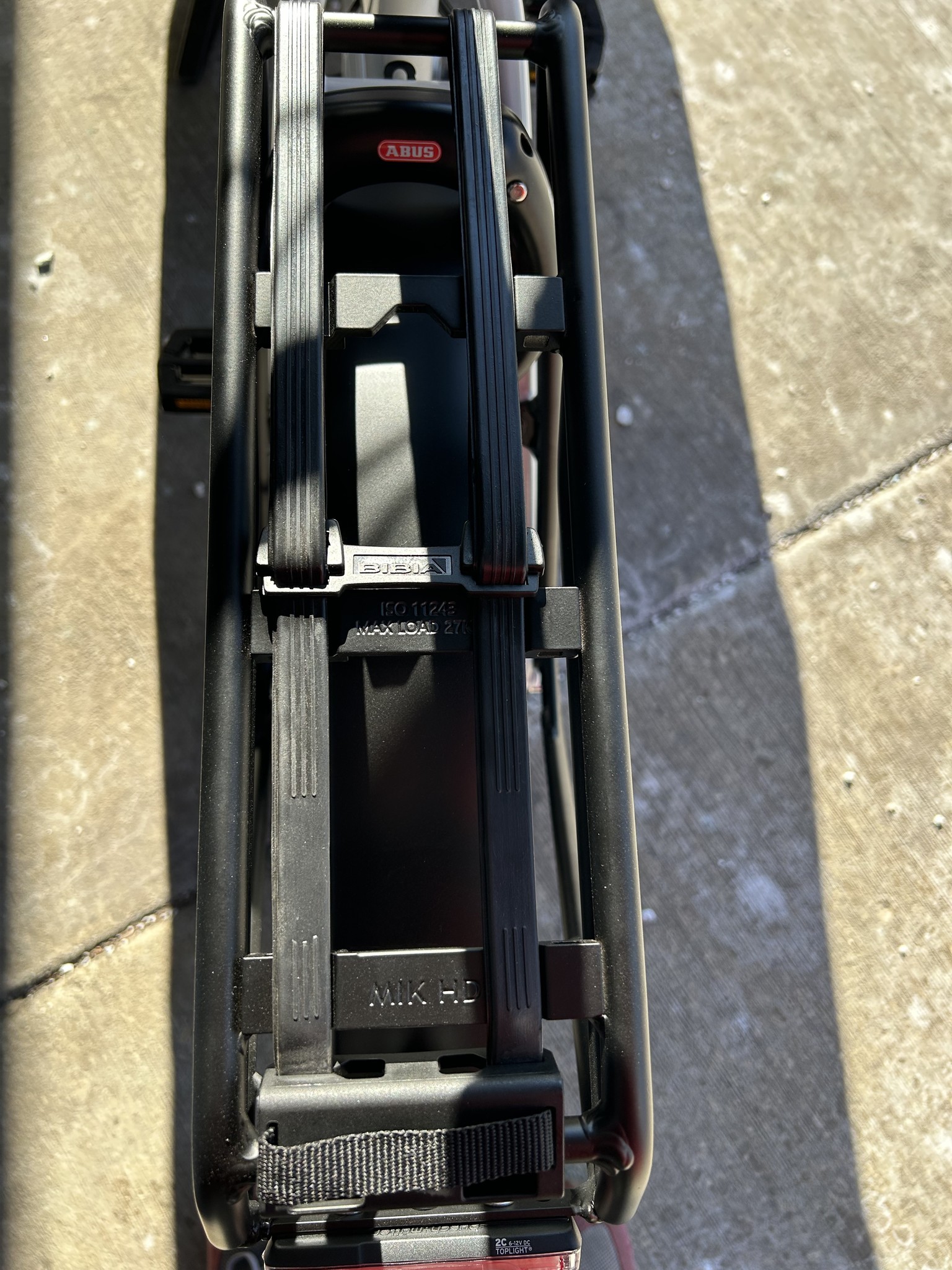 MIK Rear Carrier
One of my favorite features on this bike is the glove box, which is conveniently located on the rear end of the box underneath the top tube. It's an ideal place to keep small items (phone, wallet, keys) while you're riding to keep them out of your pockets. I wouldn't keep things in the glove box while you're away from the bike, unless you opt for the optional glove box lock.
The kickstand on the Packster 70 is quite easy to engage, requires minimal effort, and in my experience, is much smoother than comparable front loader eCargo bikes. Often times with front loader kickstands there is a bit of a "dropping" sensation when you disengage the kickstand, however, Riese & Müller has designed the Packster 70 kickstand with minimal drop, ensuring an easier experience for the user.
You have three battery options with the Packster. 1) A single 625Wh battery. 2) A single 625Wh battery with an additional battery slot should you decide to go dual battery somewhere down the road (aka "dual battery ready"). 3) Dual Battery. Our demo model is option 2, and I really like how they've integrated the battery slots to the frame; they essentially slide into the frame underneath the box. They are very well concealed from would be thieves (to be honest, I couldn't find them right away!).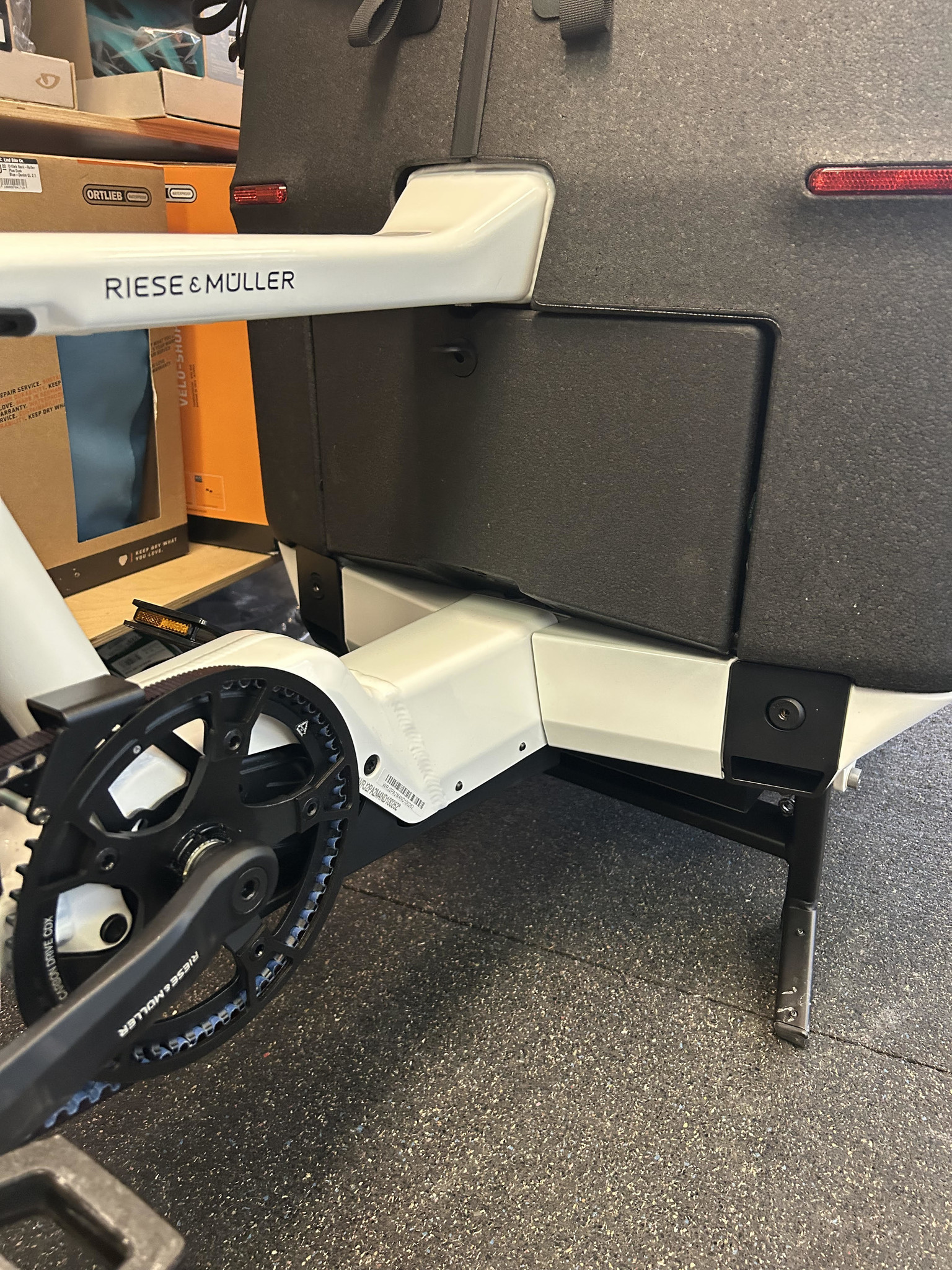 Clever battery placement, the two black squares on either side of the frame.
You have several drivetrain / gearing options on the Packster 70, however, our favorite setup is the Enviolo CVT internally geared hub paired with a Gates Carbon Belt Drive. You'll find this setup on many, if not most, of our eBikes because of how user friendly and low maintenance it is. Belt drives do not require lubrication or regular cleaning (saving you time and money) and in general lasts approximately twice as long as a traditional bike chain. The Enviolo hub is continuously variable, meaning there are no indexed gears, so you have an infinite range of gears in between the low end and high end. It's quite intuitive to use and feels more like turning the volume knob on a stereo than changing the gears of a bicycle.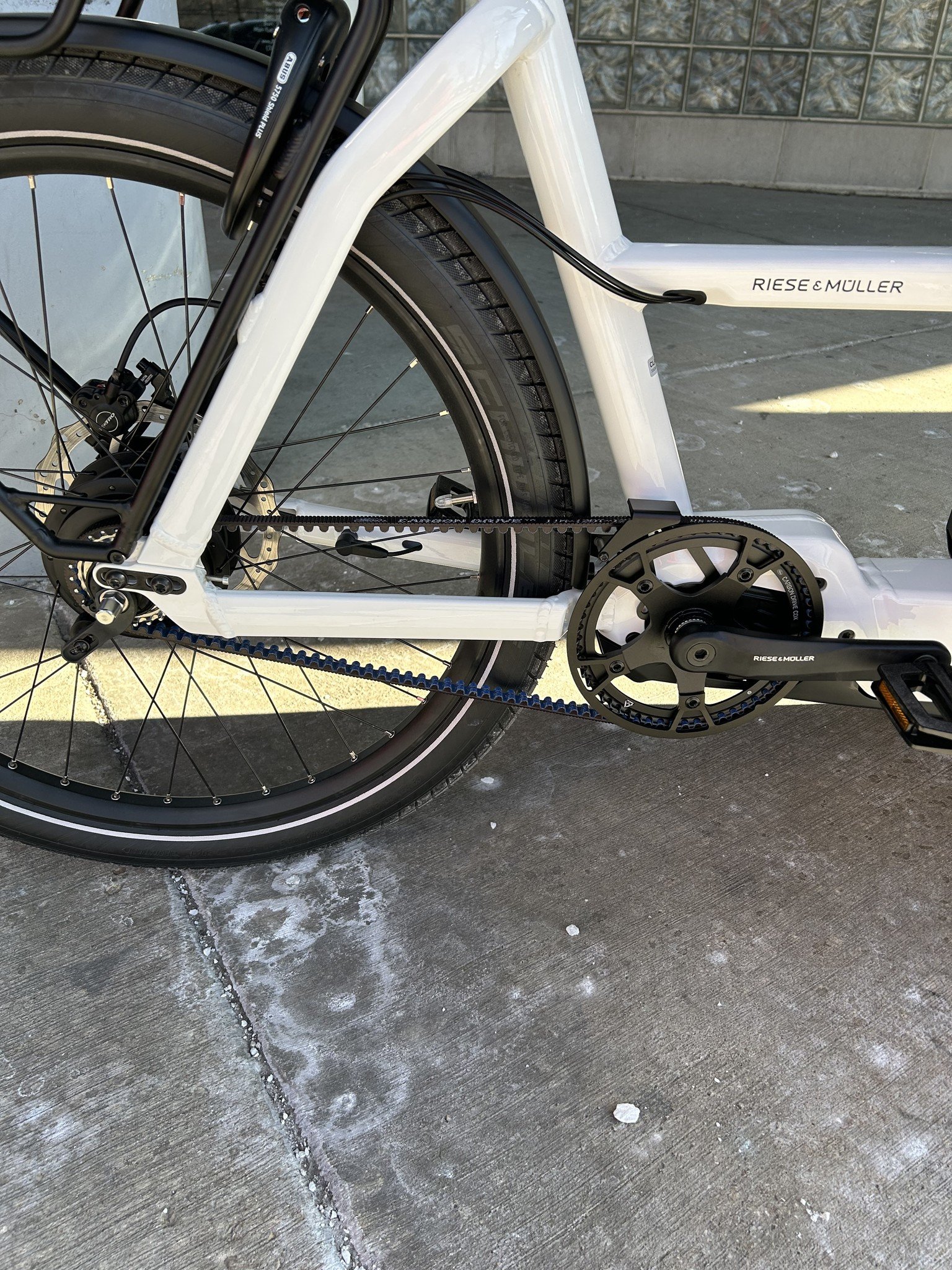 The Gates Carbon Belt Drive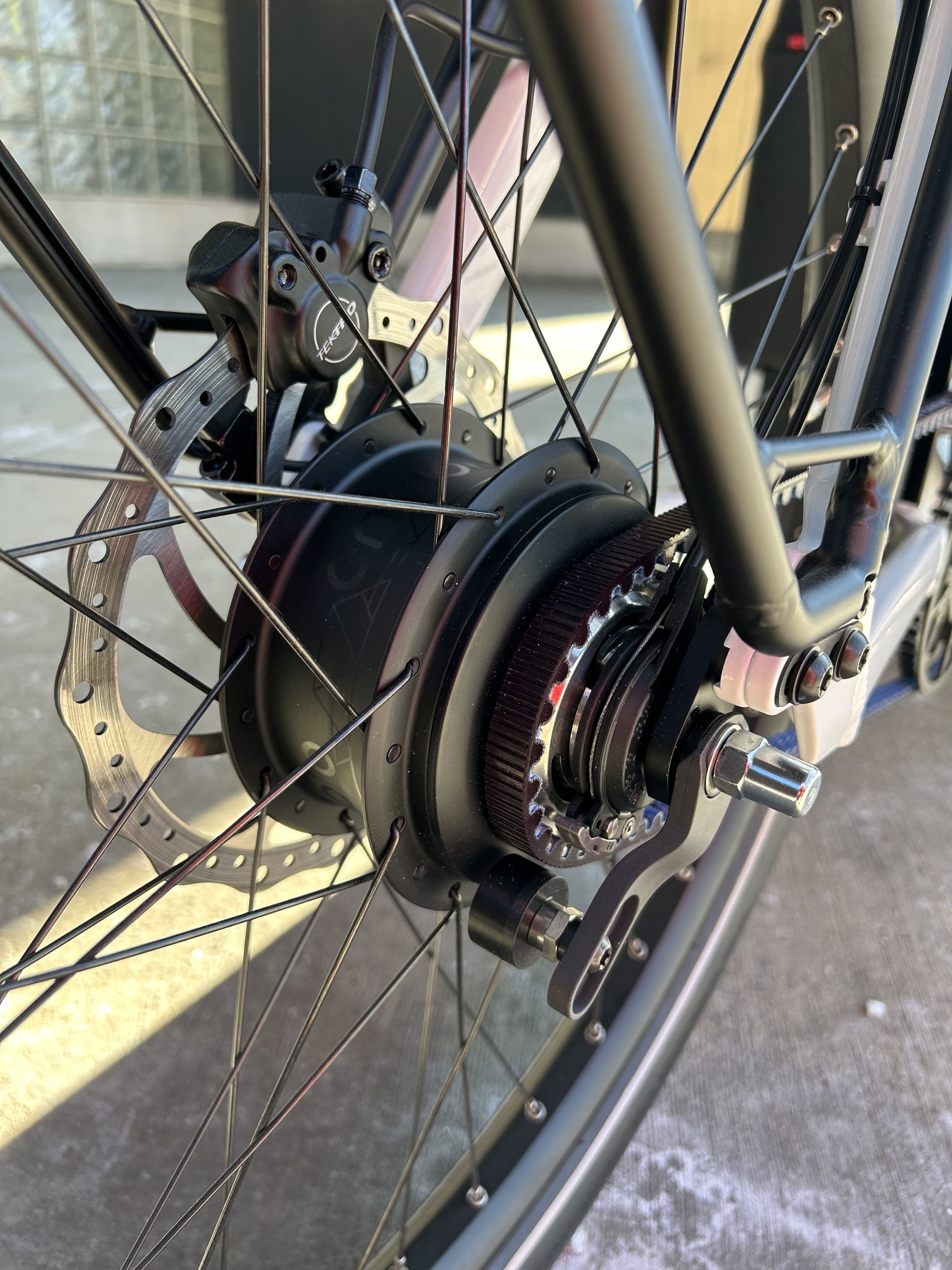 The Enviolo CVT internally geared hub + Gates Carbon Belt Drive
Some of you may be wondering how this bike compares to the Urban Arrow - our highest selling eCargo bike. Our demo model of the Packster 70 is priced out at $10,887, and the comparable Urban Arrow Family Cargo Line (belt drive with Enviolo) costs $7,999 ($6,999 for the Urban Arrow Performance Line, which is chain driven with Enviolo). Several items are baked into the price of our Packster 70, including an integrated dual battery kit and the rain cover for the box. You can upgrade to both of these features on the Urban Arrow, but just note that you'll be getting fairly close to the price of the Packster 70. One feature that is only available on the Packster 70 and not on the Urban Arrow is a suspension fork, which certainly helps smooth out the riding experience. Should you decide to custom order a Packster 70 with us, you can also opt for what Riese & Müller calls the "Control Technology Package," which adds rear suspension to the bike. The Control Technology Package provides unparalleled comfort while riding the bike for both you and your most precious cargo.
Riese & Müller knows this is a bike that will most likely be shared between at least two riders of varying heights, so they equipped the bike with an adjustable height handlebar stem that can quickly adapt the bike to different riders.
Naturally, as a family cargo bike, safety of both the rider and passengers are at the forefront of the design of this bike. Increasing your visibility on the road by motorists and other cyclists alike, the Packster 70 is equipped with the Supernova MINI 2 front light which boasts an impressive 100 Lux, a powerful Busch & Müller rear light, and reflectivity all over the bike, such as: reflective sidewall stripes on both tires, reflectors on the front and rear end of the box, as well as on the front and back of both pedals. If you opt for the comfort bars (as we did on our demo bike), they will put you in a more upright position which grants you a wider field of vision of the road ahead.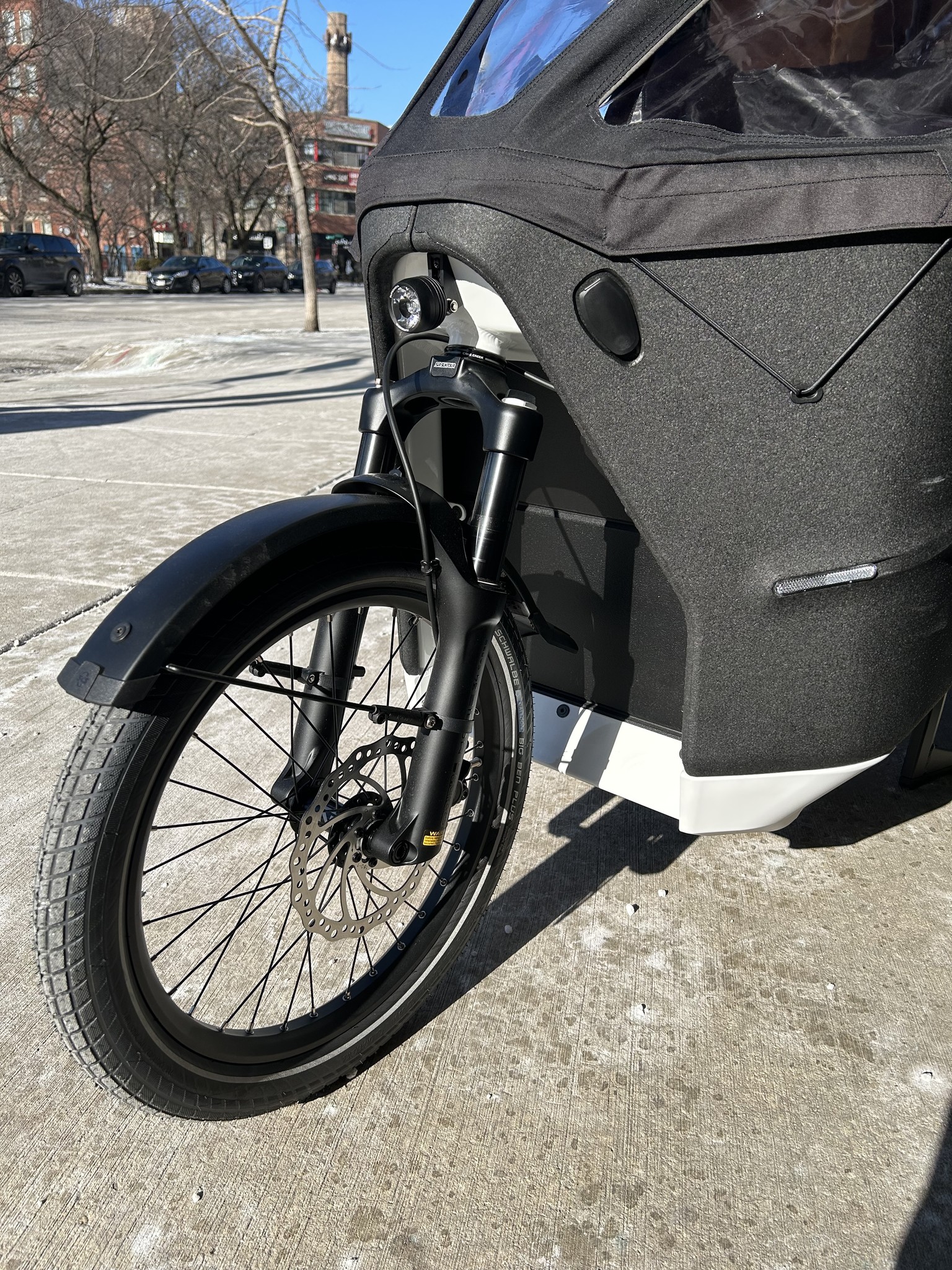 Suspension fork, extended front fender, front headlight, and the on-bike charge port.
Dovetailing off of the safety discussion, lets talk about security. Equipped on the bike (as well as most of our other bikes) is a cafe lock. If you're unfamiliar, a cafe lock attaches to the rear frame of a bicycle and sends a metal rod through the rear wheel in between two spokes. This effectively immobilizes the bike from would-be thieves. Cafe locks are excellent deterrents, but are not adequate security on their own. For a cargo bike of this nature, we typically recommend ABUS's highest grade chain lock, the ABUS Granit City Chain X Plus 1060 in the 140cm length.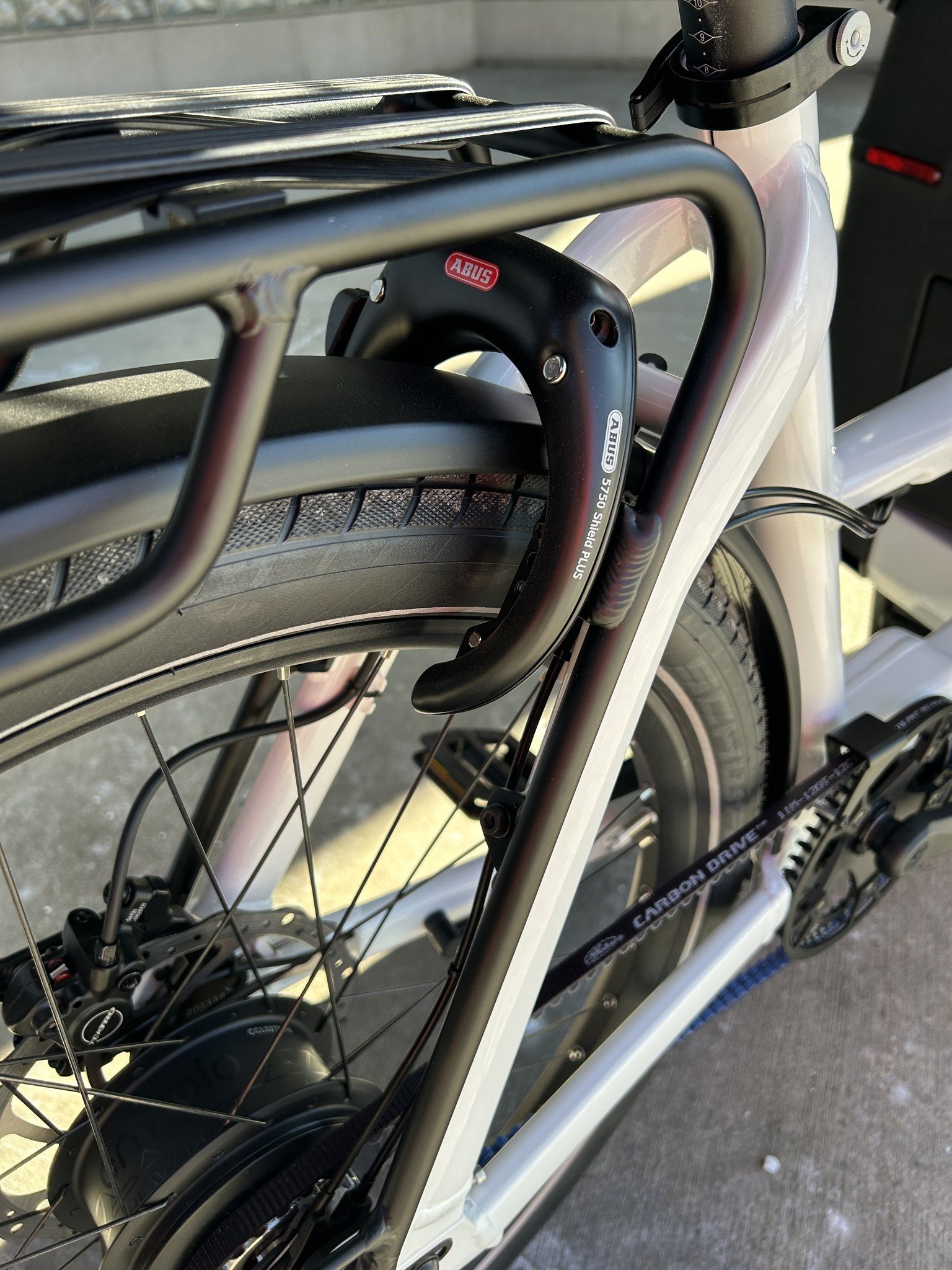 Cafe lock
If you're interested in a Packster 70, but don't want to go through the process of configuring the bike yourself, then I'd recommend checking out the Packster 70 Family model. This is their one Packster 70 model where they make all the decisions for you. It comes equipped with a single 500Wh battery and an 11-speed Shimano Deore XT derailleur. Click here for more details on the Packster 70 Family.
Want to hear about the Packster 70 from Riese & Müller in their own words? Check out this video. 
Interested in coming in for a test ride? Please give us a call or text at (312) 643-1670, or email us at [email protected].
Thanks for reading, and see you out there in the bike lane!
Cheers,
Ben / J.C. Lind Bike Co.