Friday December 9, 2016
This past December I took a 9 day trip back to my home away from home, Amsterdam. My normal modus operandi on recent trips has been to spend time with friends, revisit old haunts, keep a casual eye out for any new potential products, and if any business related ventures were to take place, it would be checking in with our key suppliers, like Workcycles. I would always return from these trips feeling re-energized, having had my passion for Dutch biking batteries recharged. But, I would also be left feeling like I could've done more if I was more pro-active in my pre-trip planning.
This go-around, I decided it was time to change up the rhythm. On this trip, I wanted to visit with as many of our existing (and new) suppliers as I could. I also wanted to take it a step further and see the factories where most of the products we sell are made. So after booking my flight, I went to work planning and scheduling what I would be doing each day so that all my little duckies were in a row before I arrived. I won't lie, it was time consuming work to line up all the moving parts, logistics, and people's schedules. But, well worth it for the peace of mind knowing I had a direction and goals to fulfill on this trip.
This plan of mine to make this a real 'business trip' was part of the reason my girl Molly Rose didn't come along. Although I'm sure she would've been fine entertaining herself, ultimately the few affordable airfare dates I could find didn't work out scheduling wise. Sorry babes, next time!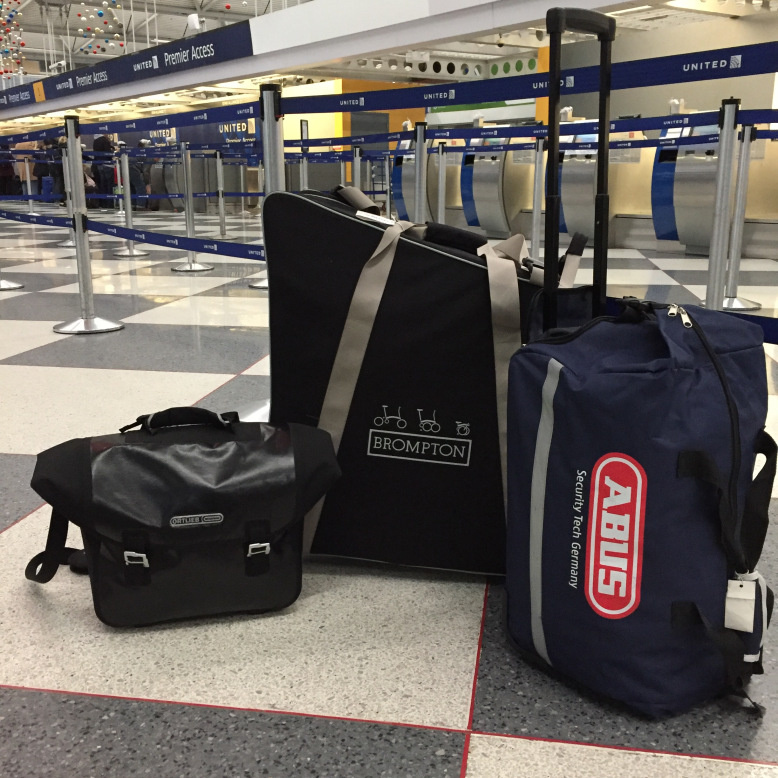 All packed and ready to go. It's pretty easy to spot the bike nerd by the luggage they use :)
This past fall, after a few years of wanting one, I bought a Brompton folding bike. I still can't help but scratch my head and laugh at the absurdity of bringing a bike to Holland. After all, my thing is importing bikes from Holland. Not to mention there are more bikes there than people, talk about bringing sand to the beach ;)
I got a chance to test out traveling with my Brompton on a flight to Denver and was surprised with how easy it was. Packed up in the B-bag shown above it fits within the size and weight limits of standard luggage so you can check it without much hassle. I'm hooked and gotta say it's a pretty damn empowering feeling sitting on the plane knowing you'll have a bike with you when you get to your destination.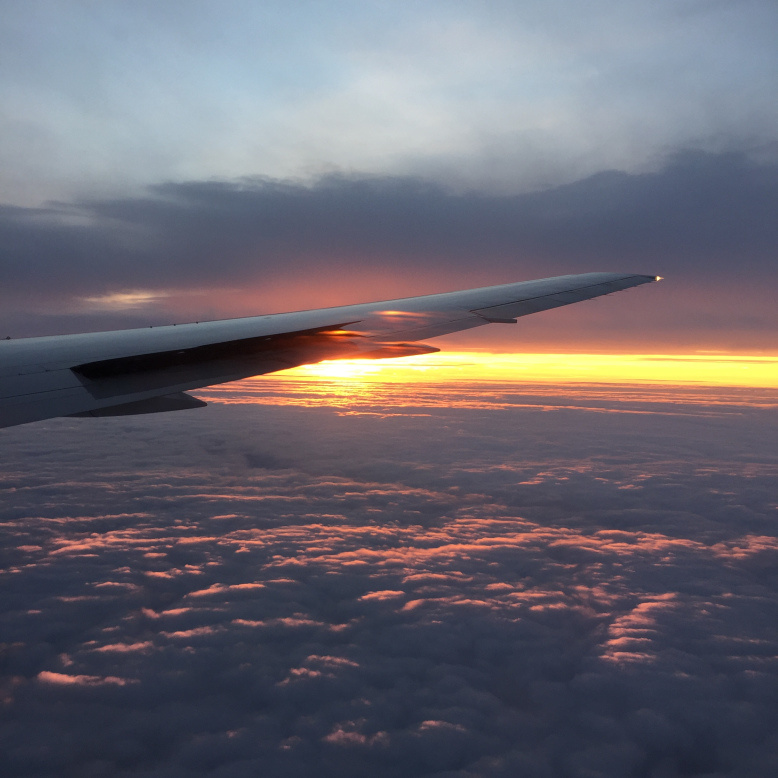 Getting ready to touch down at Schiphol Airport. Winters can be quite bleak in Holland so you never know how much sun you're going to get, if any. This time it turned out I was really lucky  with almost no rain, temps in the upper 30's and mid 40's (F) and even a few days of sun.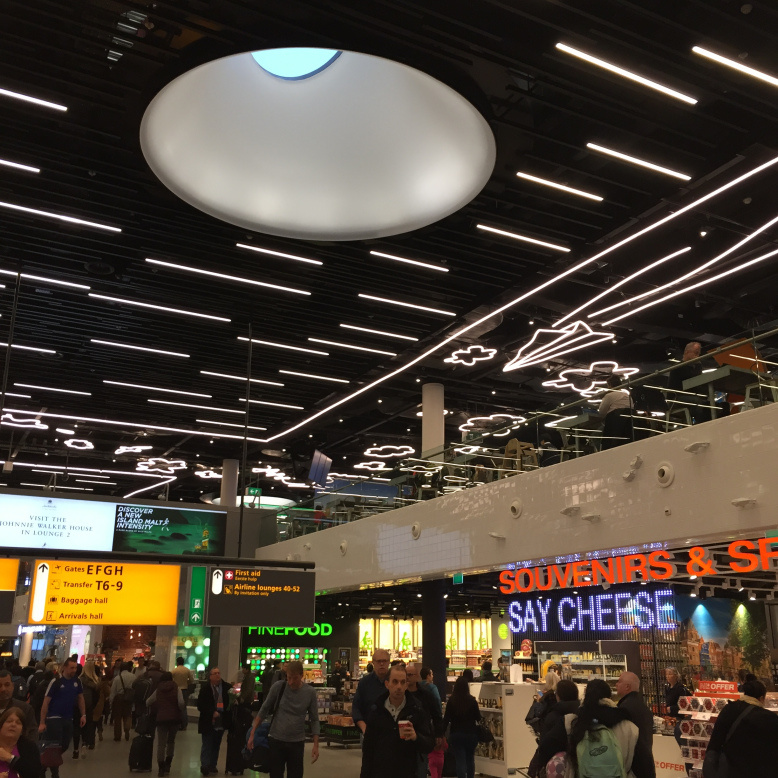 Schiphol Airport. In my experience the cleanest and coolest airport there is, almost worth the transatlantic flight alone. Walking off the plane and seeing familiar sights even as mundane as the yellow directional signs gives me a good feeling of being back in Amsterdam. I get pretty bad jet lag, too, so all the stimuli of this airport really helps to fight off the grogginess.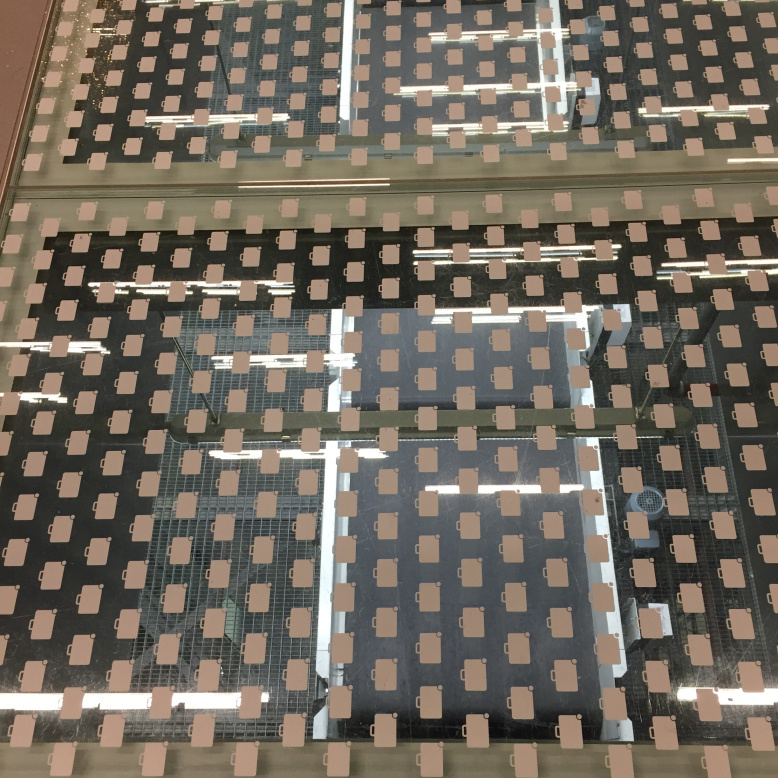 They made a section of the floor at Schiphol transparent so you can watch the baggage going down the conveyor belt as it makes it's way to the baggage claim. Totally unnecessary but also an awesome design feature.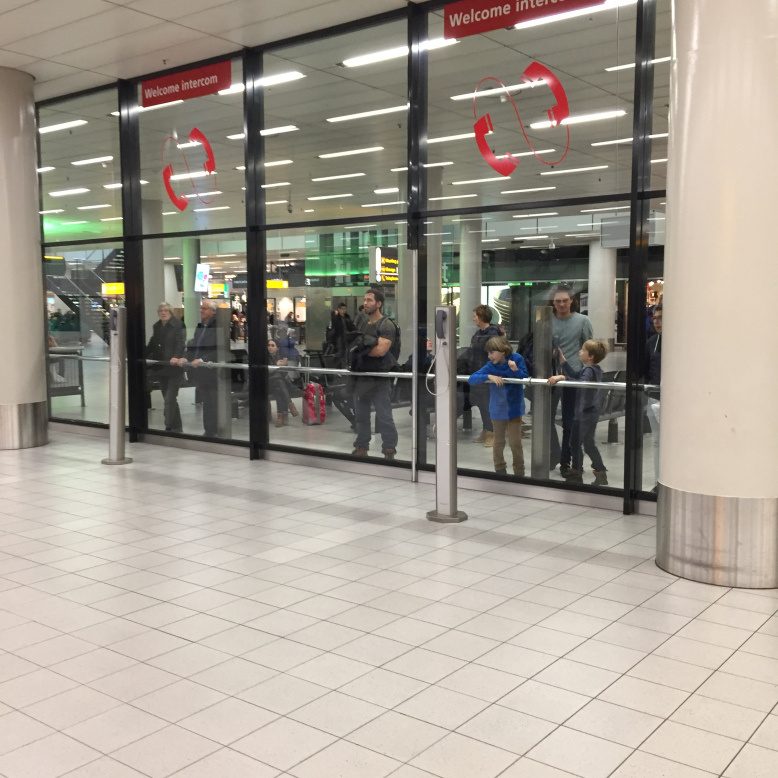 More radness at Schiphol: a two way phone similar to what they have in prisons. But in this case so you can chat with your loved ones while they are waiting for their luggage to arrive.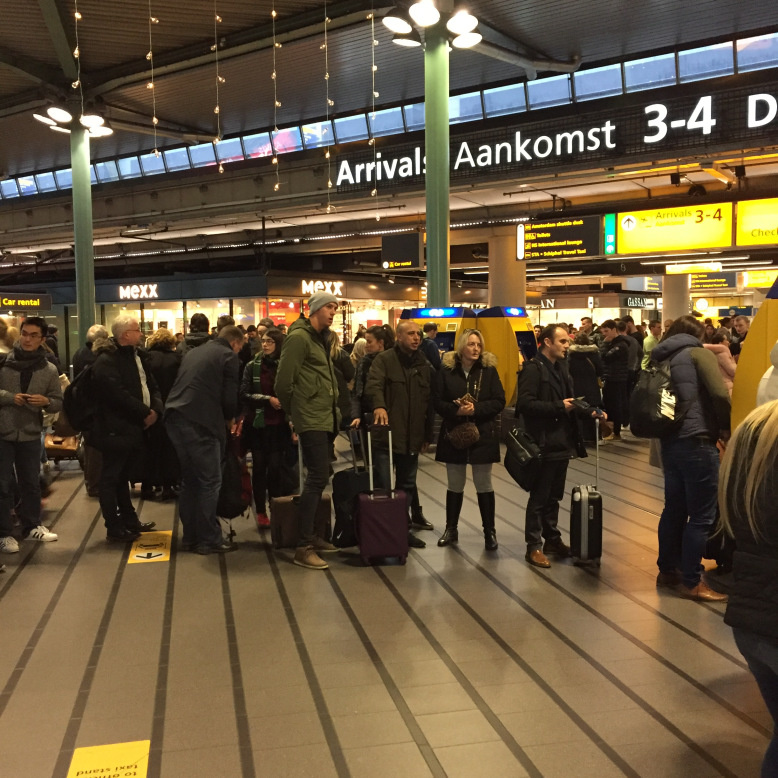 The only bad mark I could give on my airport experience was the long line to purchase train tickets. The wait was longer than the actual train ride to get into town. You can use credit cards at these automated machines (something I don't remember being able to do in past trips) and they also had live tellers which is where I ended up going. The extra fee for using the teller is nominal and worth it as there's nothing slower than a bunch of tourists trying to figure out how to use the automated machines for the first time.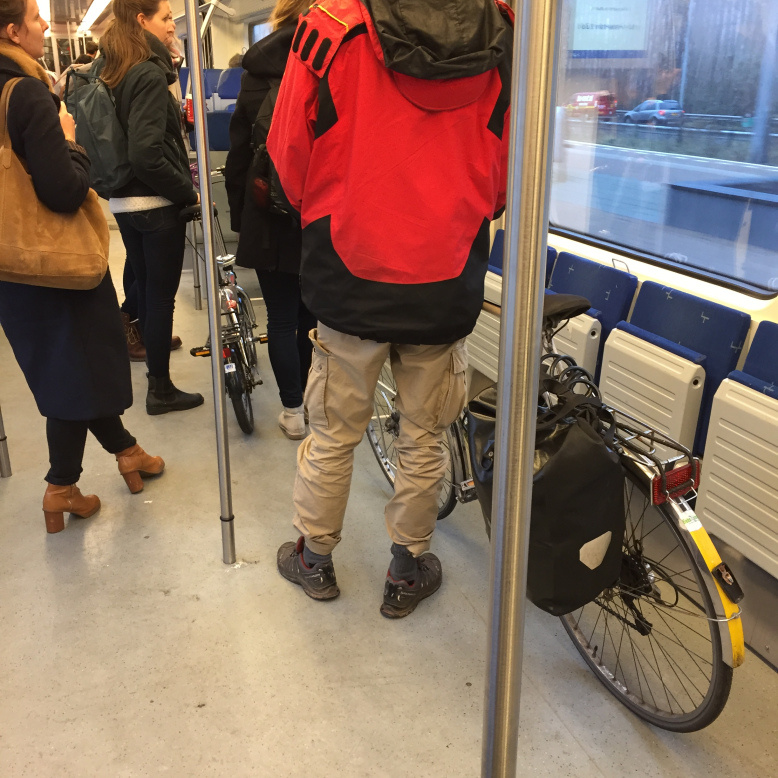 All aboard the train from Schiphol headed to the RAI station. Not even in Amsterdam yet and already seeing two bikes on my train ride. That's how you know you've come to the right place, my friends.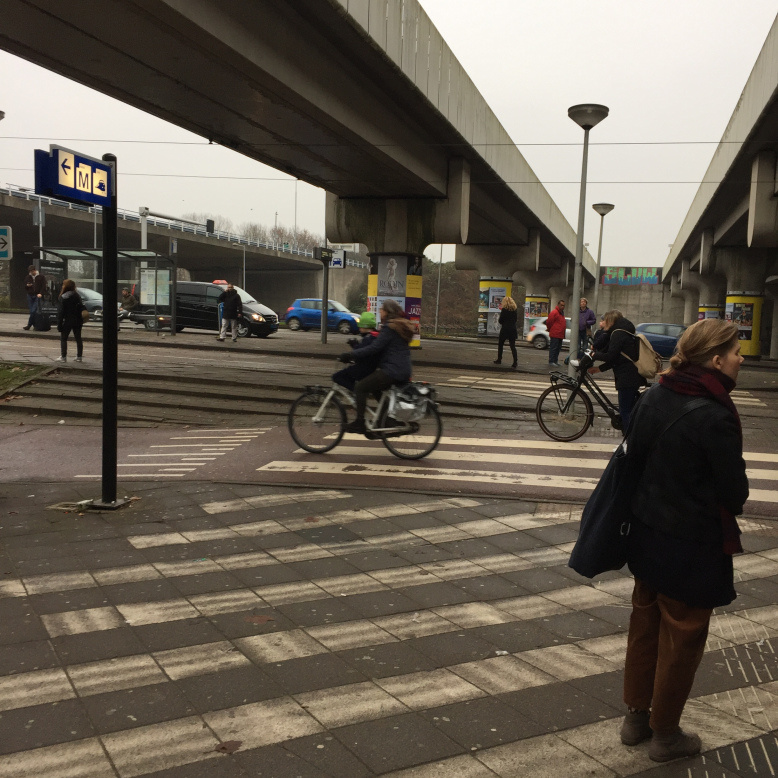 I took this (admittedly crappy photo) as I walked out from the RAI station in Amsterdam. If you look closely, both of those riders have little kids in front handlebar mounted Yepp Mini baby seats. It's a sight that would blow my mind and make my day if it was anywhere in the states. But in bike-happy Amsterdam, this is no big deal. (Also notice how the bicyclers aren't wearing helmets, and furthermore, not being corrected or criticized for this behavior by a bystander or a motorist, because the helmet-less bicyclists are actually the majority here).
A nourishing breakfast made by my good friend JL. They call this Uitsmijter (pronounced "OUTS-my-ter"). We call it toast with eggs, bacon and cheese, served open face and consumed with a fork and knife.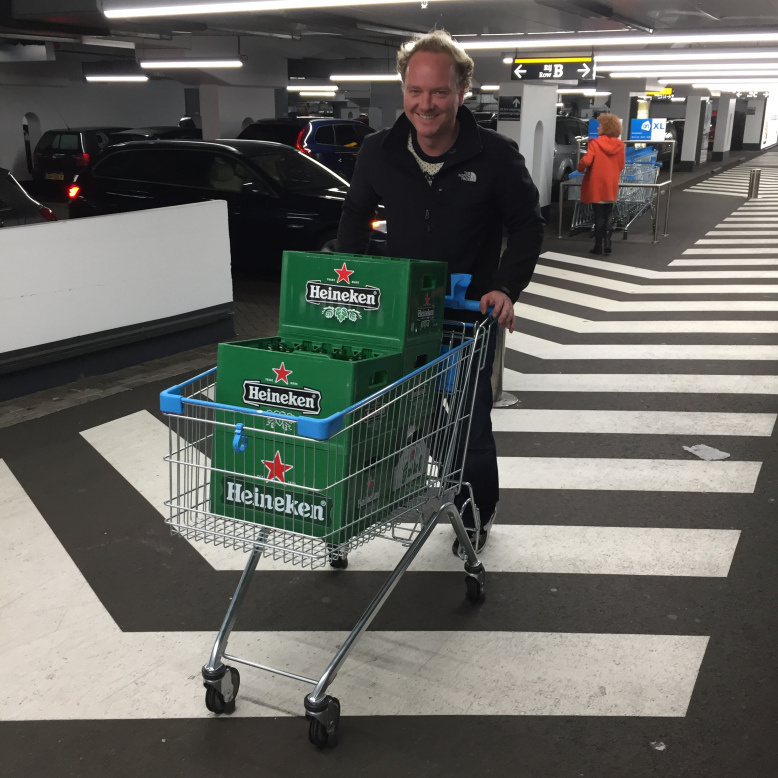 It's not what it looks like! First order of business was to return these empties. That's JL there, he hosted a holiday party a few days before my arrival which is where all the empty Freddies (a homage to Alfred Heineken) came from.
I love that they have an effective system where the bottles get returned and then reused. I think it works out to a 20 euro cent deposit per bottle so you get about 5 euro per case upon return.
Initially I was annoyed that the first thing we would be doing after arriving in Amsterdam was an errand in a car. But then I got to do one of my favorite things which is grocery shop in a foreign country; something (for me) that can rival even Schiphol Airport in anti-jet lag stimuli.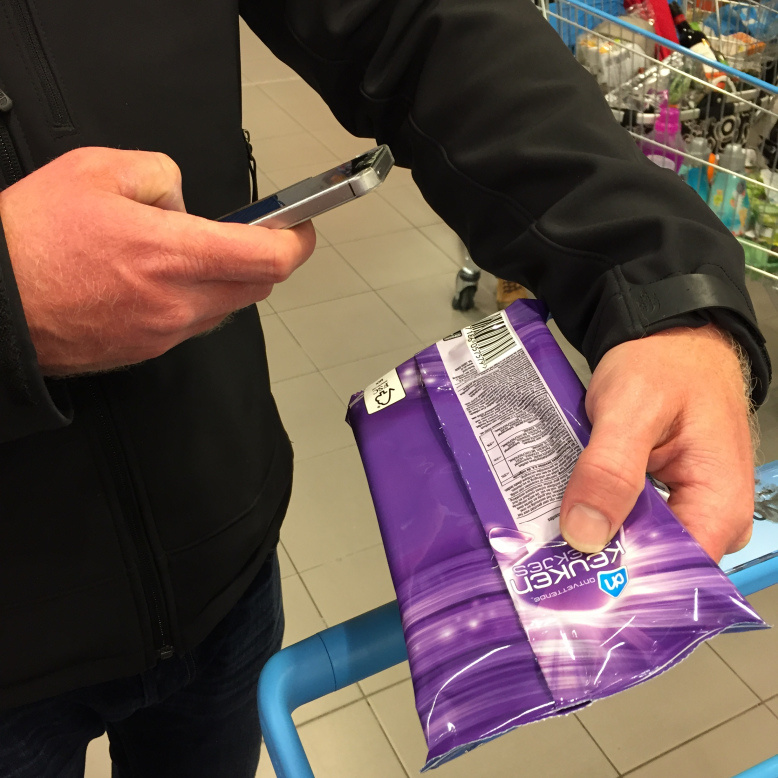 You scan all your items on your phone as you are shopping and relay that from your phone at the self check out! It's almost like we're 5 years behind in the U.S. and going to Amsterdam is like going to the future.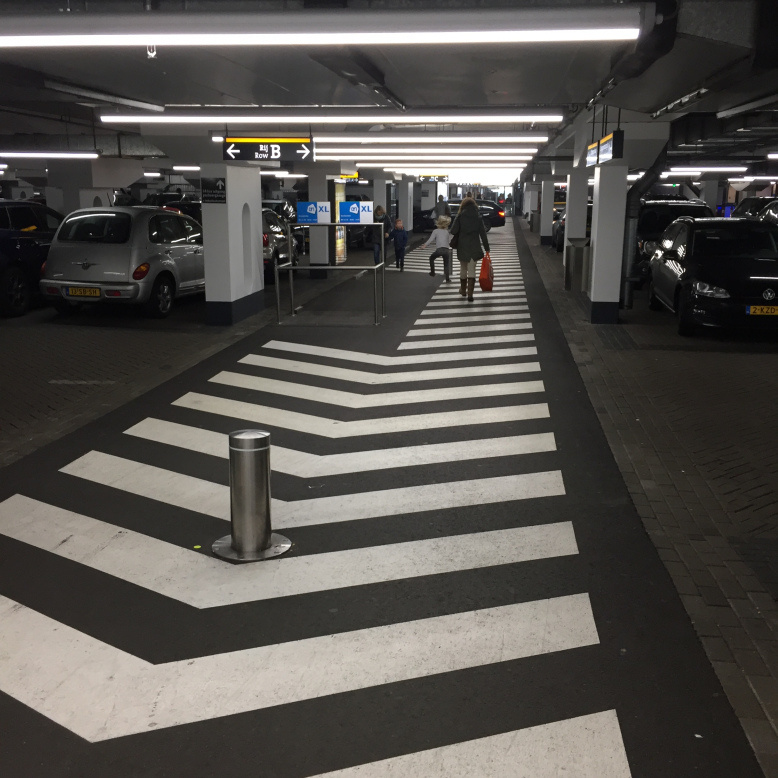 The cool Dutch design wasn't over with yet. I couldn't help but notice how well lit and visibly marked this pedestrian walkway was in the parking garage. Then as we exited the garage all we did was pull up and the gates opened without having to deal with a ticket. JL explained that they scan your license plate on the way in and if you are there for less than 90 minutes it just lets you out free of charge. Nifty, even if it is something that makes driving cars more convenient.
Ok, time to get into what I really came for. Hanging with my Dutch friends is a huge bonus, but this was a business trip after all. Stay tuned for Part 2 where I visit with Clarijs, makers of the awesome bike panniers and cargo bike rain covers that we sell at The Shop.