To supplement our participation as partners in the 2019 One Earth Film Festival screenings of the documentary Why We Cycle, we've posted a public list of our action items. This is a list of actions that any individual in the Chicagoland area can take to make a positive impact in their communities regarding bicycling, bike safety, and infrastructure.
SIGN UP FOR A DIVVY MEMBERSHIP
- $3 single ride / $15 24 hour pass / $99 annual membership
- $5 annual membership with the Divvy for Everyone program (for those that need financial assistance–in person enrollment is required for   this option). https://www.divvybikes.com/pricing/d4e
BECOME A MEMBER OR DONATE TO BIKE ADVOCACY NON-PROFIT ORGANIZATIONS
- Active Transportation Alliance (http://activetrans.org/)
- People for Bikes (https://peopleforbikes.org/)
ATTEND COMMUNITY MEETINGS SUCH AS MBAC (MAYOR'S BICYCLE ADVISORY COUNCIL)
- MBAC meetings are in Room 1103 of City Hall, 121 N LaSalle Street, Chicago, IL 60602 http://chicagocompletestreets.org/getinvolved/mayors-advisory-councils/
- Upcoming meetings in 2019:
- Thursday March 14th at 3 pm
- Thursday June 6th at 3 pm
- Thursday September 5th at 3 pm
- Thursday December 5th at 3 pm
- You can receive email notices when there are events related to MBAC. Email: [email protected] with "MBAC Meeting Notice" in the Subject.
JOIN BIKE-RELATED SOCIAL MEDIA GROUPS
- The Chainlink Chainlink.org
- Chicago Family Biking facebook group (this is a private group you will need to request access to)
- Bike Walk Oak Park facebook group (this is a private group you will need to request access to)
READ AND SUPPORT STREETSBLOG CHICAGO
- https://chi.streetsblog.org/
FAMILIARIZE YOURSELF WITH A CITY OF CHICAGO BIKE MAP
- http://chicagocompletestreets.org/wp-content/uploads/2016/01/Combined-Bike-Map_2018_0716.pdf
VOLUNTEER AT, TAKE A CLASS, GET INVOLVED WITH, OR DONATE TO A LOCAL NOT-FOR-PROFIT BIKE SHOP
USE THE MOBILE APP TRANSIT FOR NAVIGATION VIA PUBLIC TRANSIT, BIKING AND DIVVY
SPREAD THE WORD ABOUT THE DUTCH REACH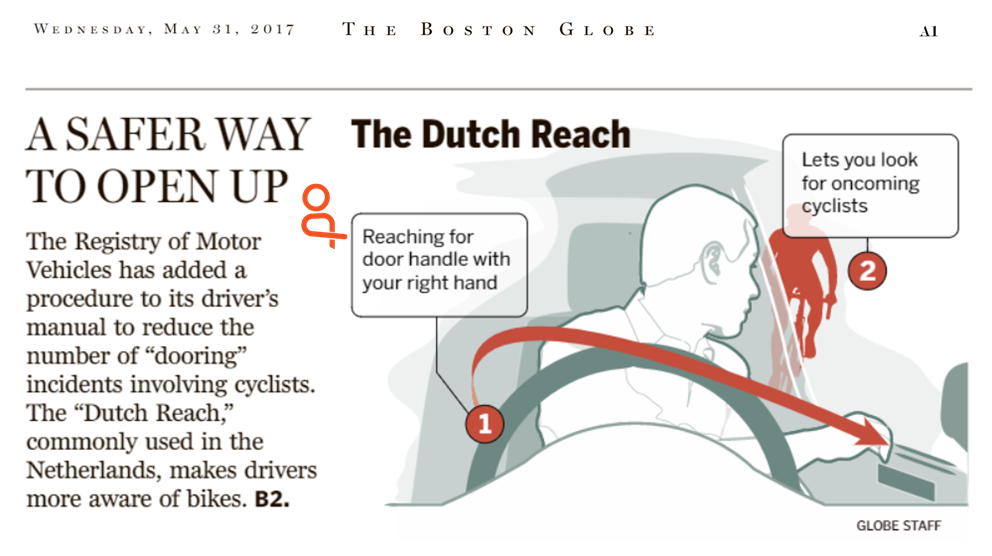 SUPPORT YOUR LOCAL BIKE SHOPS
- Investment in your community (jobs and relationships)
- Have a dependable institution to rely on for service
AND LASTLY…
Tell your family, friends, your book club, your religious or secular community, or your coworkers about Why We Cycle and One Earth Film Festival; in other words, start a conversation about practical bicycling! Even better: make a commitment to bike a certain amount each week (1 day per week, 2, 3, 4 days per week, one weekend day, etc) and make an accountability group to track your progress.