Posted on
By Ben Phillips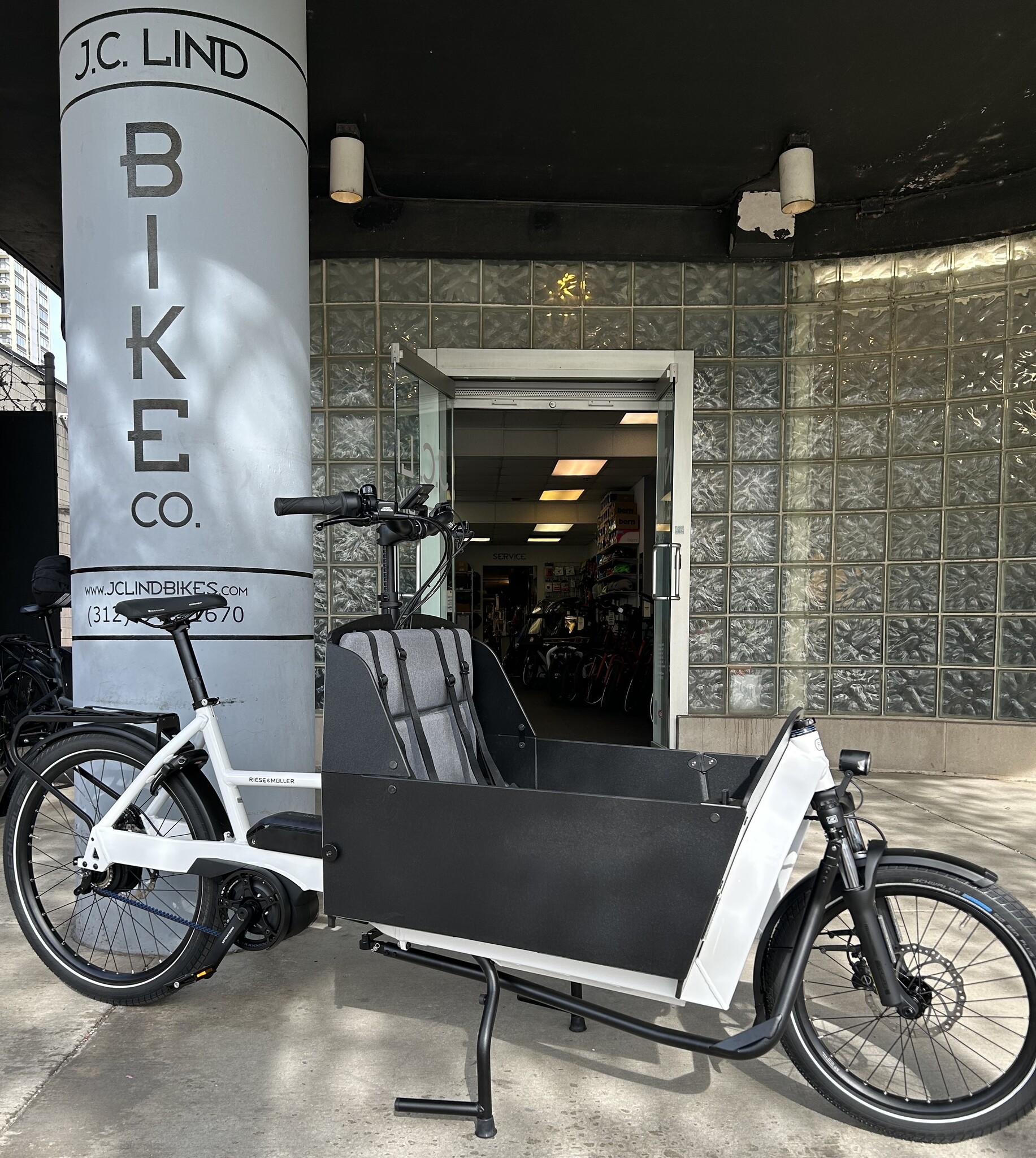 The Riese & Müller Transporter2 65 has arrived at J.C. Lind Bike Co!
If you've read any of our blog posts before, you'll have to excuse me for reusing this line: If there's one thing to know about our bike shop, it's that we love practical, low maintenance, and utilitarian bikes that help people meet their individual transportation needs. The newest addition to our lineup, the Riese & Müller Transporter2 65, is truly our kind of bike. The Transporter2 65 is an ideal bike for anyone looking to transport up to two children (and potentially a third young child on the rear rack), your favorite furry four-legged friend, or general cargo.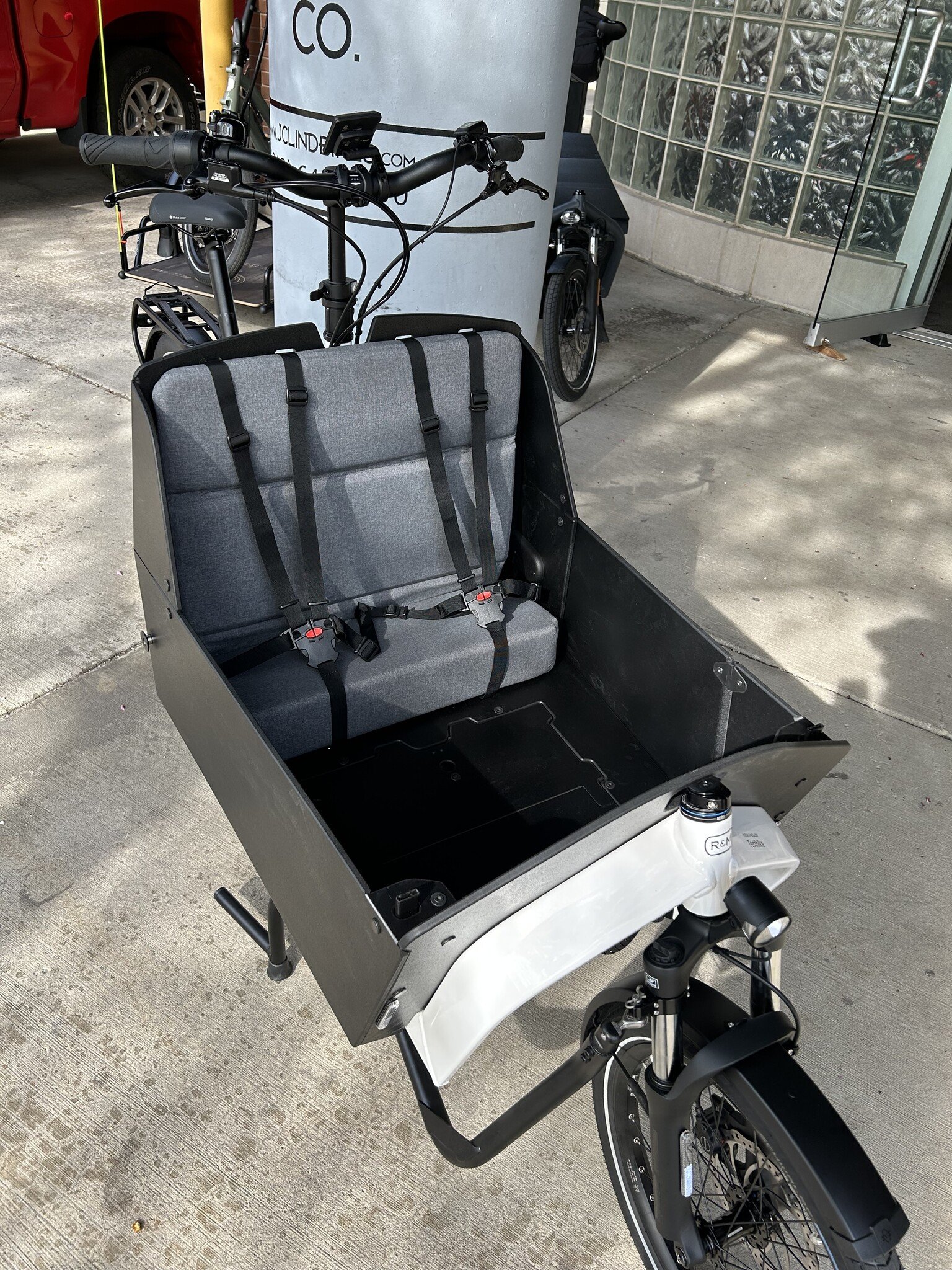 The cargo box on the Transporter2 65 is roughly 24 inches wide and 27 inches long, has a door on the left side for easy entry for kids and dogs alike, and has a comfortable bench seat with a 5-point harness. It has a foot well door that has three positions; closed (shown above), halfway open (shown below), and fully open (shown below). The halfway open position is useful in case you have both a passenger and cargo in the box, and in this scenario the halfway open lid would act as a barrier between the passengers legs and your cargo.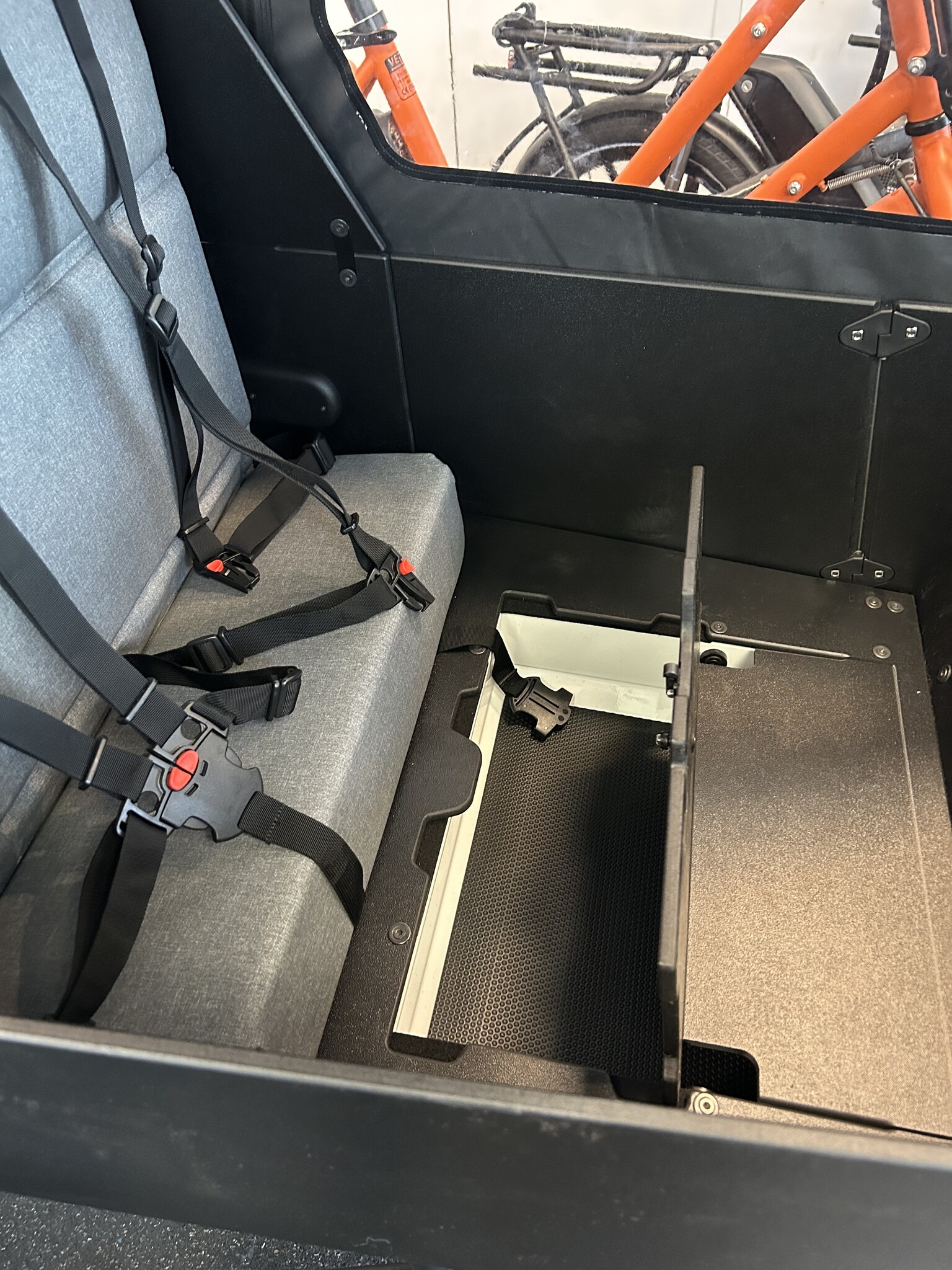 Foot well door halfway open.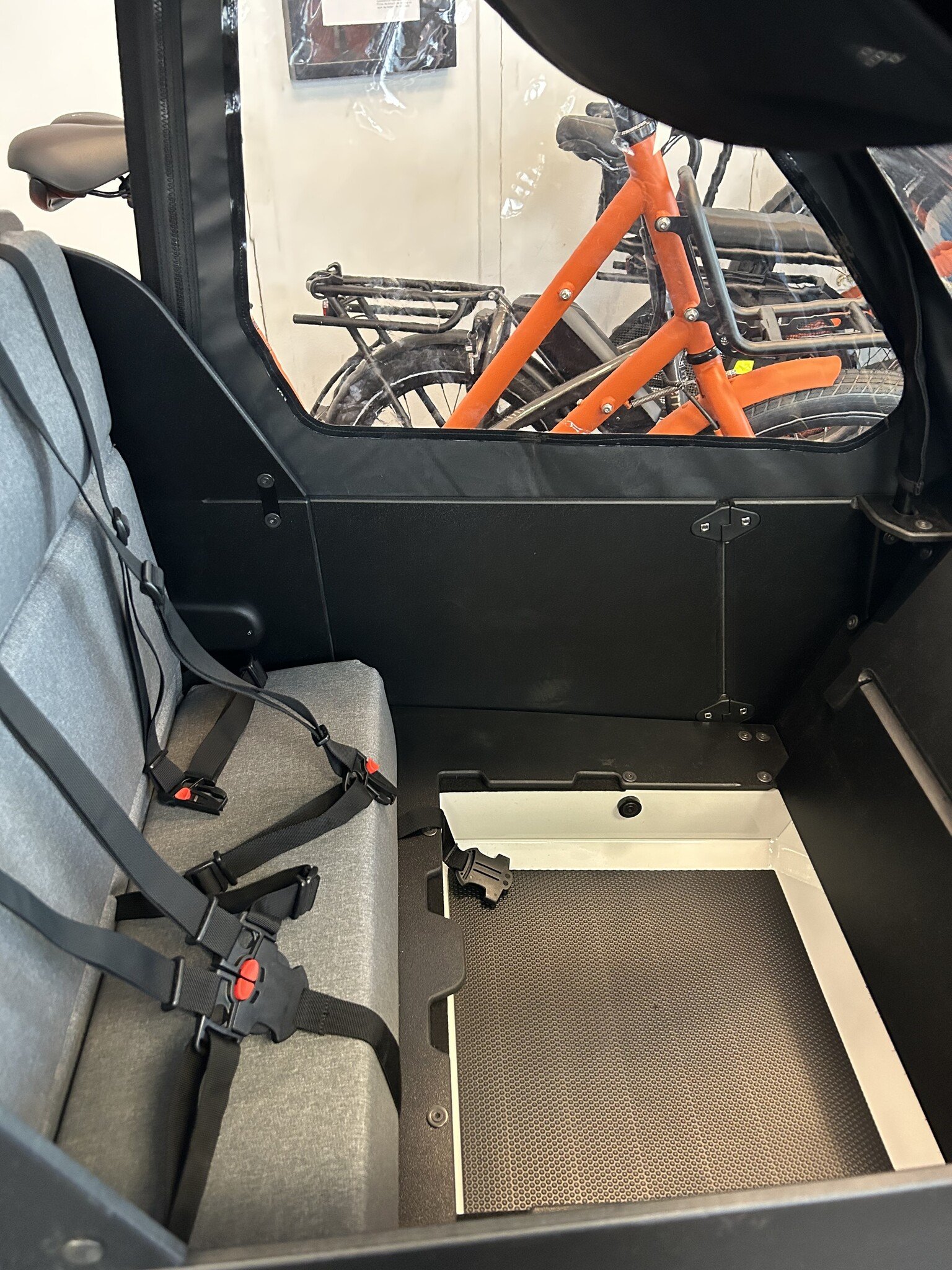 Foot well door completely open.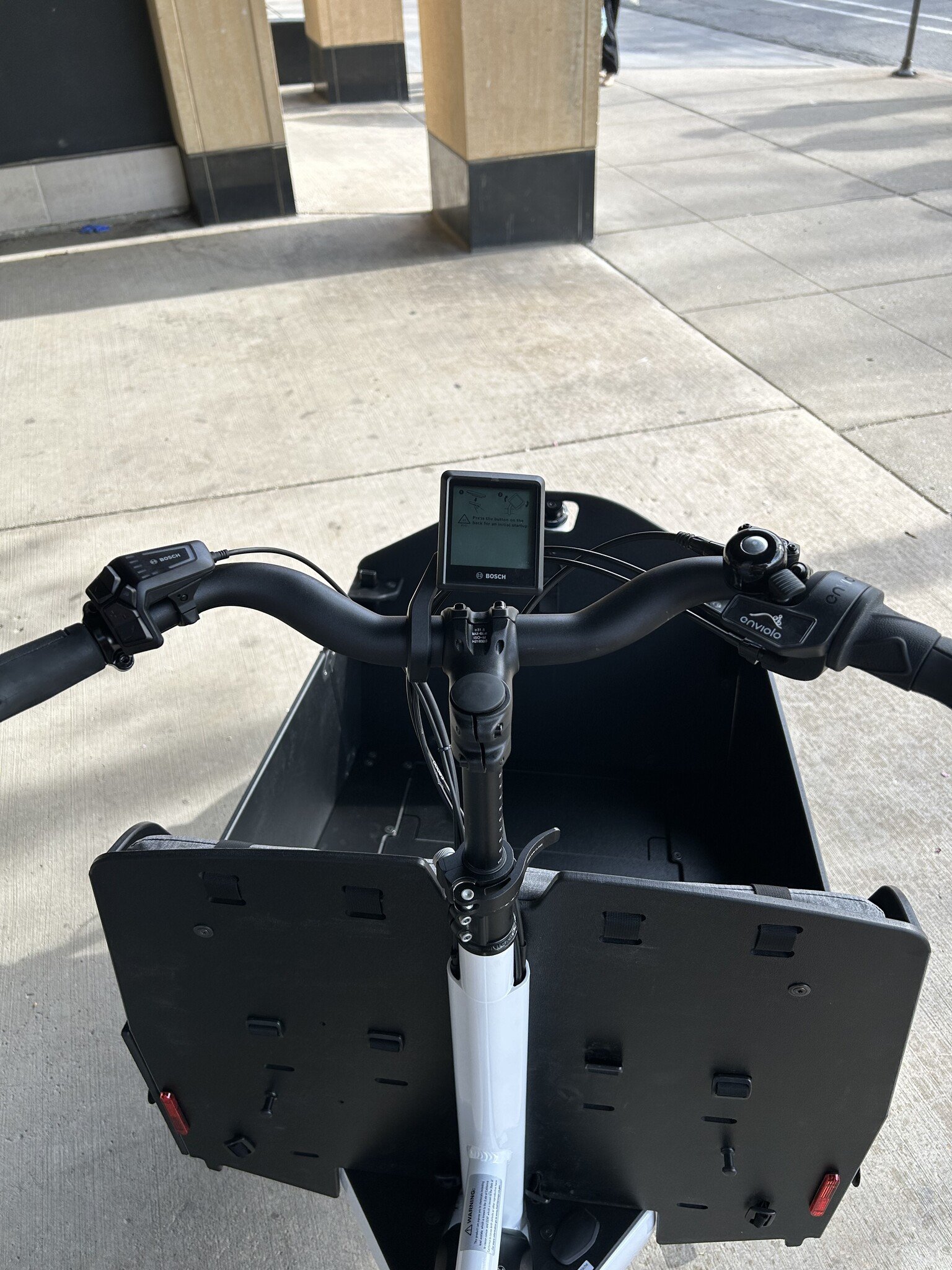 Here you can see the Smart System controller on the left with the new Intuvia 100 display. Any smart system bike can be ridden with or without the display. The new Bosch Smart System introduces many new features to eBike users, but two of my favorites are the eBike Lock feature and the eBike Alarm and ConnectModule. The eBike Lock is a supplementary lock to your mechanical lock which disables all motor function and uses your smartphone as the key. I'm of the school of thought that you can never use too many locks, and I love that Bosch created this feature for the peace of mind of eBike users. The eBike Alarm and ConnectModule works in conjunction with the eBike Lock and also uses your smartphone as a key, and triggers an alarm as soon as your locked bike detects movement. If significant movement is detected, you will receive an alarm on your smartphone and it will immediately start tracking your eBike. The ConnectModule is sold separately and would be installed in a discreet location by your Bosch dealer.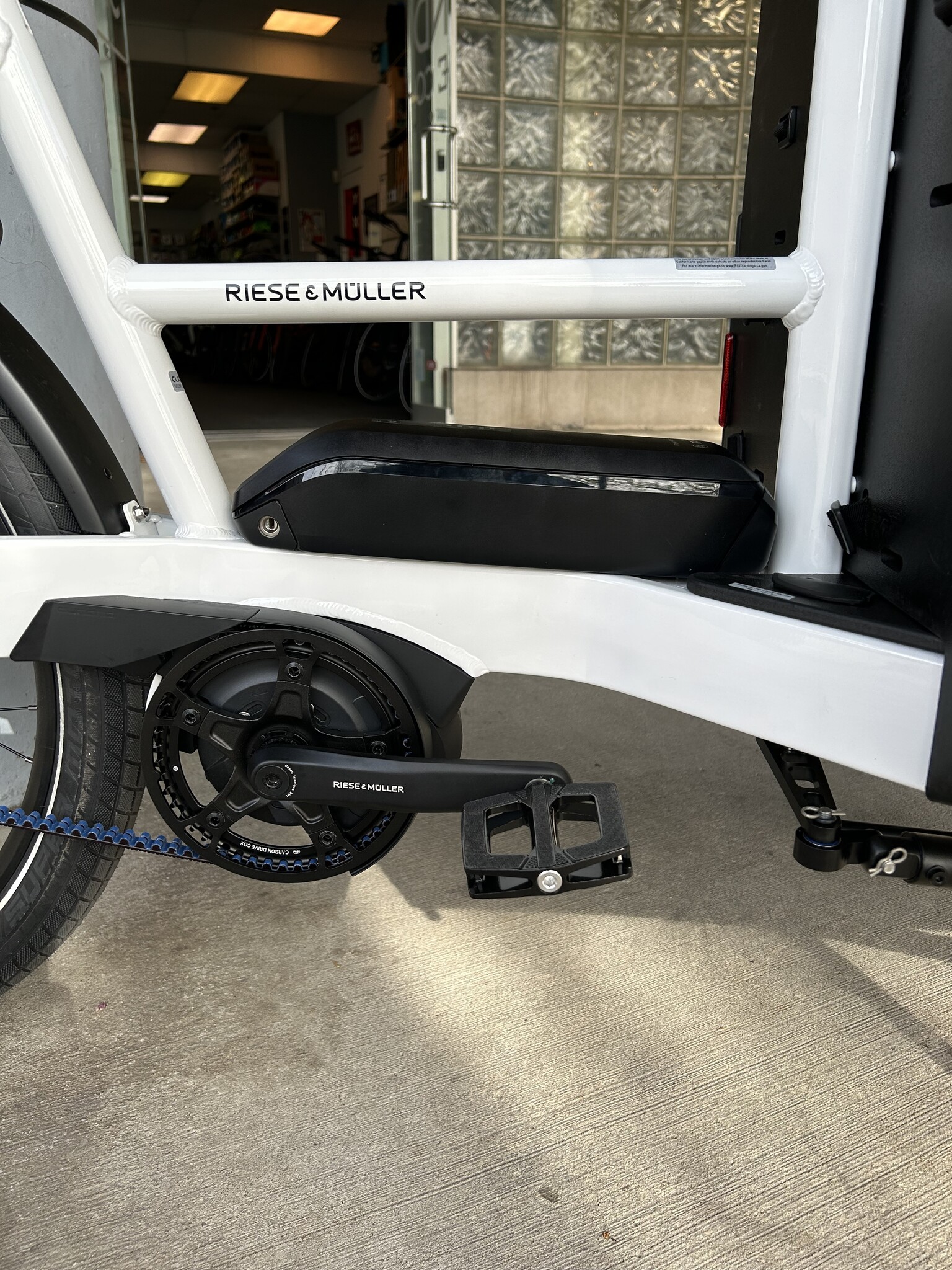 Shown here is the Bosch PowerPack 545Wh battery in a convenient center-mounted position. Should you decide to place a custom order for this bike, you could opt for a larger 725Wh battery for a solid increase in range.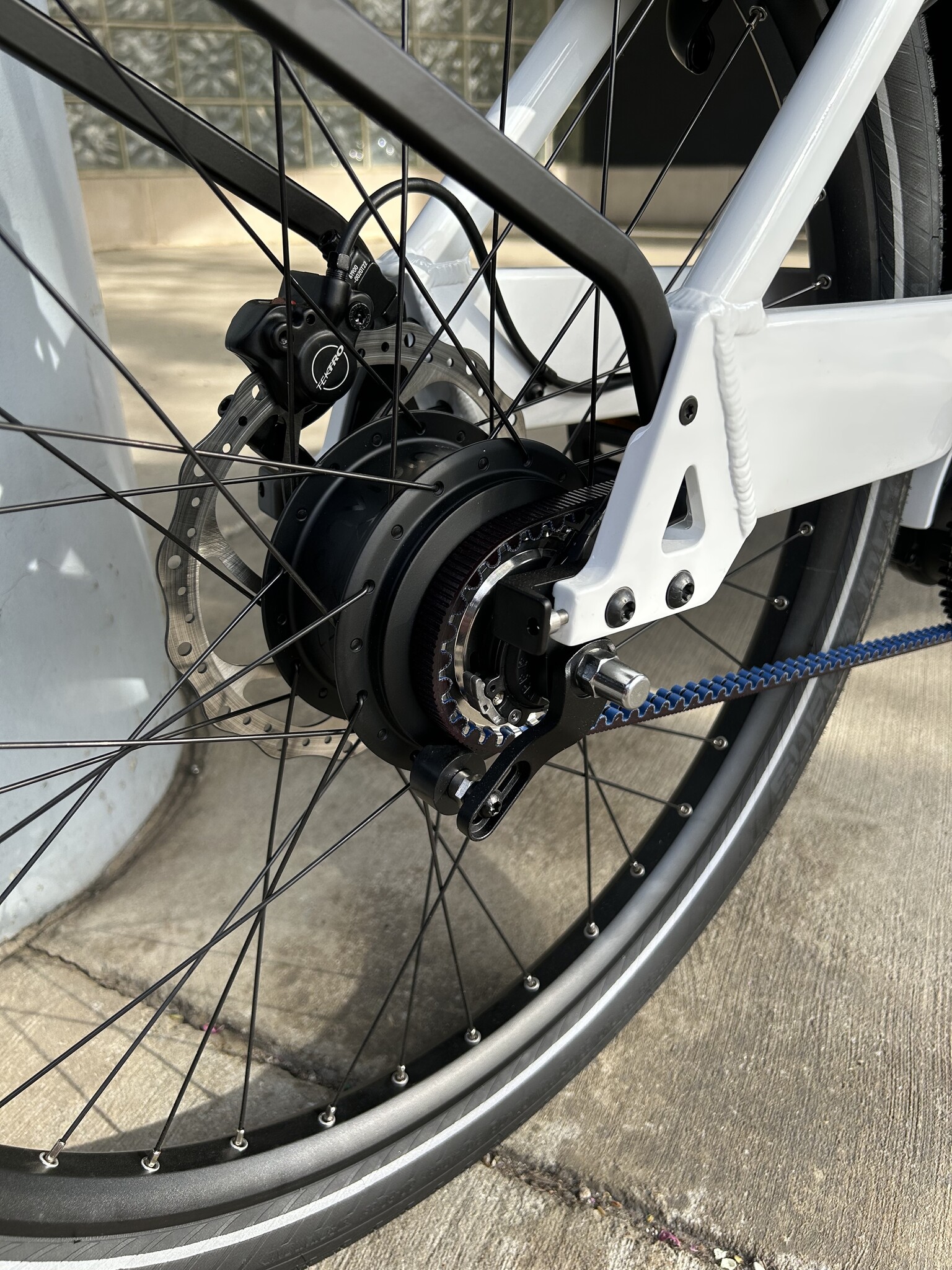 The Enviolo continuously variable hub is an ideal gearing setup for someone looking for a low-maintenance daily rider and a user friendly interface. This in conjunction with a Gates Carbon Belt Drive makes for the dream team of eBike drivetrains, since belt drives tend to last about twice as long as traditional bike chains and do not require degreasing or lubrication.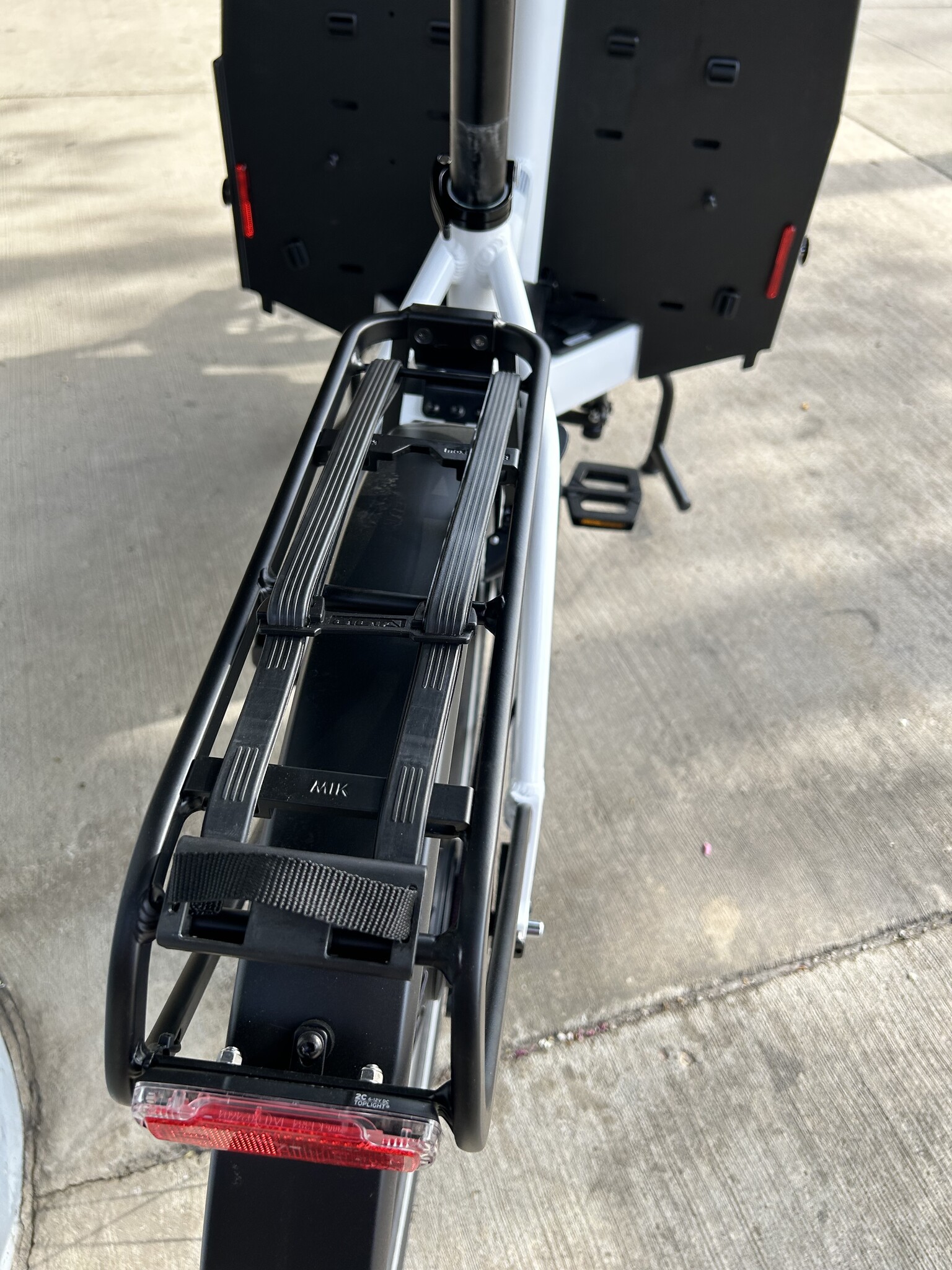 The MIK compatible rear carrier is suitable for any MIK product (bags, crates, etc.), or for panniers from brands such as Ortlieb or Clarijs.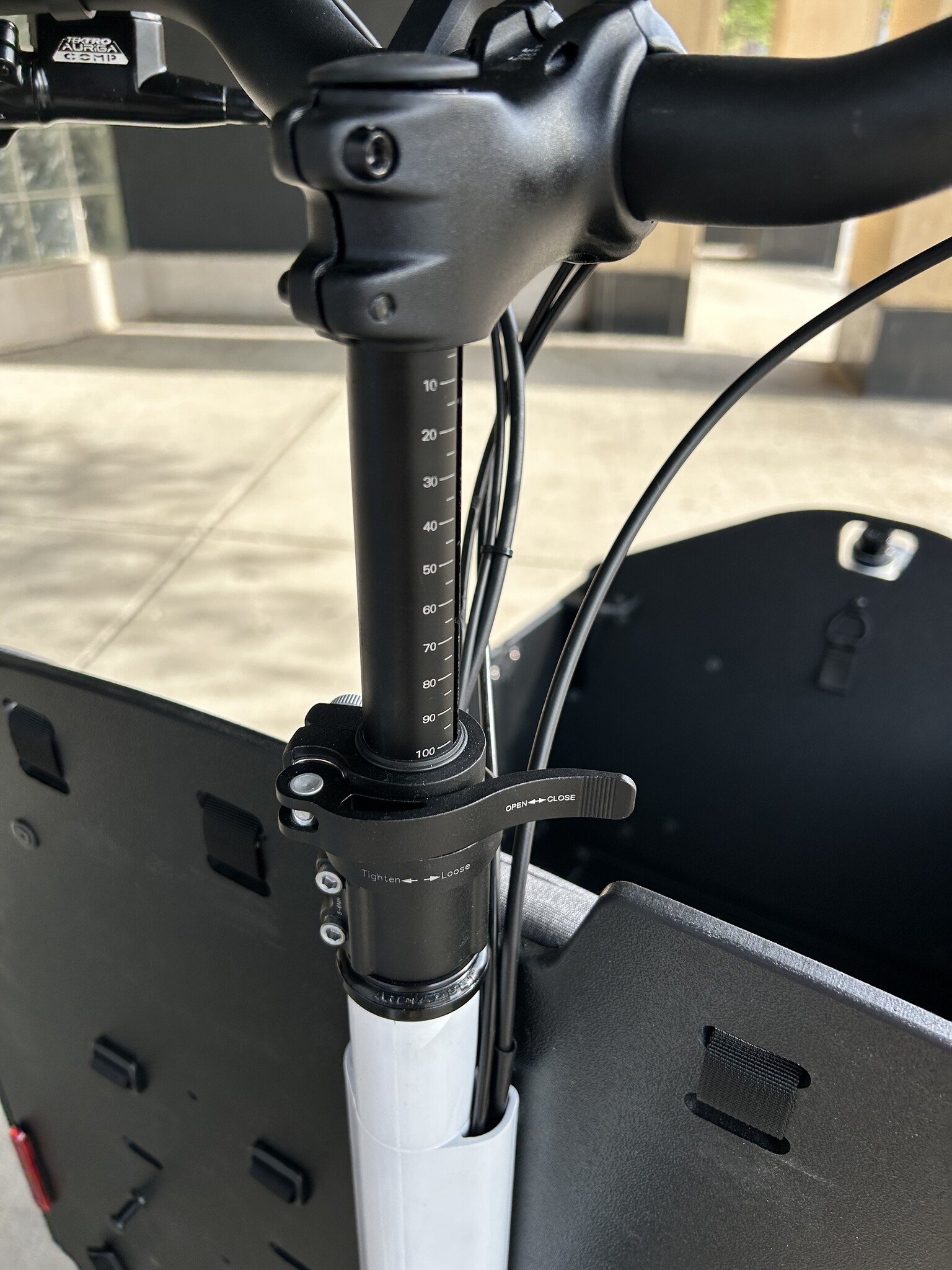 Looking to share this bike with a partner who is a different height than you? No sweat! The tool free adjustable stem allows for easy on-the-fly adjustment for riders of different heights.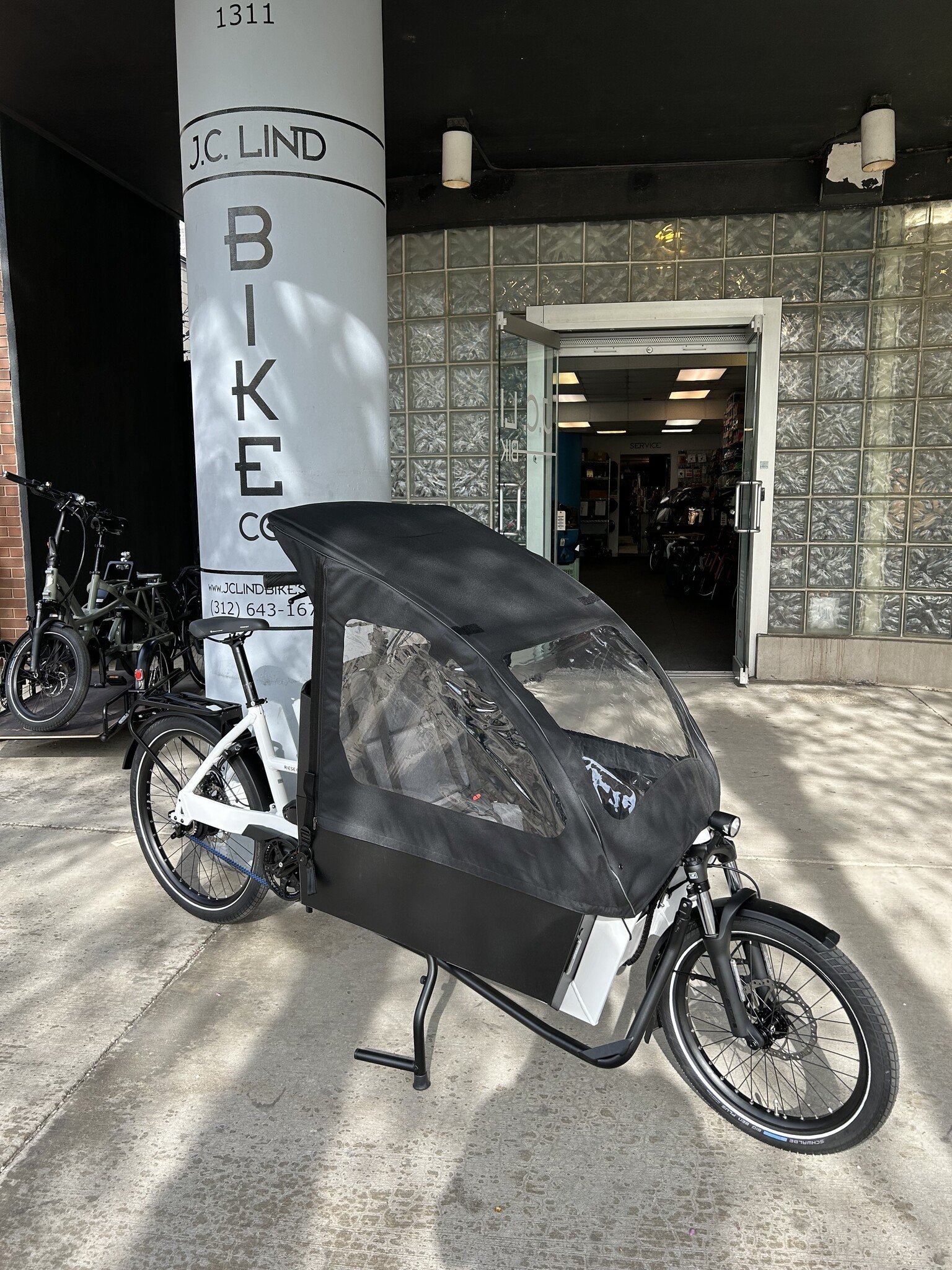 The rain cover for the Transporter2 65 is easy to install and remove, does not interfere with the riders ability to steer, and has a convenient storage pocket on the roof for lightweight items such as a jacket or handbag.
If you have questions about the Transporter2 65, please feel free to give us a call or text at (312) 643-1670, email us at [email protected], or stop in for a test ride!
Thanks for reading, and see you out there in the bike lane!
Cheers,
Ben / J.C. Lind Bike Co.