Posted on
By Jon Lind
Posted in Amsterdam, Amsterdam Diaries, Business Trip, Culture, Dutch Bikes, Dutch Culture, Holland, The Netherlands, Travel, Travel Writing, Twotone, Twotone Amsterdam, TwotoneAMS
One of the first appointments I locked down for this trip was to meet up with Jon Woodroof. Jon is the founder of TwoTone Amsterdam, a consulting/PR agency that does work with innovative start ups including many companies in the cycling industry. They also happen to have a really entertaining newsletter that I always find to be a worthy read. For a quick intro to Jon, check out this recent interview of him from Amsterdam based startup Headroom.
Flashback to September 2010…
I first met Jon back in 2010 when he was visiting Chicago from Atlanta with his wife and their son and they rented a Bakfiets from us (disclaimer- we no longer offer rentals at The Shop). It was really great meeting them and Jon was super into what we were doing importing Dutch bikes to the U.S. as he had previously ran a bike shop of his own in Atlanta.
For more sweet pics of their time in Chicago including some early days shots of The Shop, check out Jon's flickr photo album.
We stayed in contact for a while through social media and I remember seeing pictures online of his wife's bike; a first generation Civia Loring (a bike we used to sell and one that deserves it's own post on our blog as it was such a beautifully crafted city bike).
Fast forward to September 2015…
While on another one of my trips visiting Amsterdam and what do I see in the service shop at Workcycles… a Civia Loring.
Seeing a U.S. bike brand like Civia in Holland certainly got my attention but that alone wasn't enough to make the connection it was Jon's wife's bike. Then later that same day while getting a quick demo of Workcycles' point of sale software, I noticed the name Woodroof in their work order queue and quickly put two and two together.
I was excited to learn that Jon and his family had made the move from the US to Amsterdam. I then joined Jon's TwoTone Amsterdam newsletter and made a mental note to try and connect with him on a future trip. Which brings me to my visit today with Jon.
Fast forward to now (December 2016)… 
After spending some of my afternoon with Henry Cutler at Workcycles, I made the hop skip and a jump bike ride over to TwoTone's work space.
I booked my meet up with Jon for Friday afternoon with the intention we could have a beer together heading into the weekend. But we were both completely zapped from a long week so the happy hour idea never got off the ground.
It was a really nice time catching up and hearing how he is pulling off the dream of settling down in Amsterdam with his wife and raising their kids. As someone who loves bikes as much as Jon does, he sure has found himself in no better place on Earth to live out his cycling passions on a daily basis both professionally and personally. I often think about pulling up stakes and making Amsterdam home again someday and it's super encouraging to hear from people who make it happen.
It was also cool sharing with Jon what The Shop has been up to lately and what I have in mind for the years ahead. If I could draw one parallel between us, aside from both being no 'h'er Jon's, I would say it's the passion we put into what we do and how much of that is derived from the partners (in his case clients, in our case suppliers) we choose to support and represent.
Speaking of, we will be representing TwoTone Amsterdam here at The Shop with a nice supply of their sweet TwoTone Amsterdam x VERA bike caps.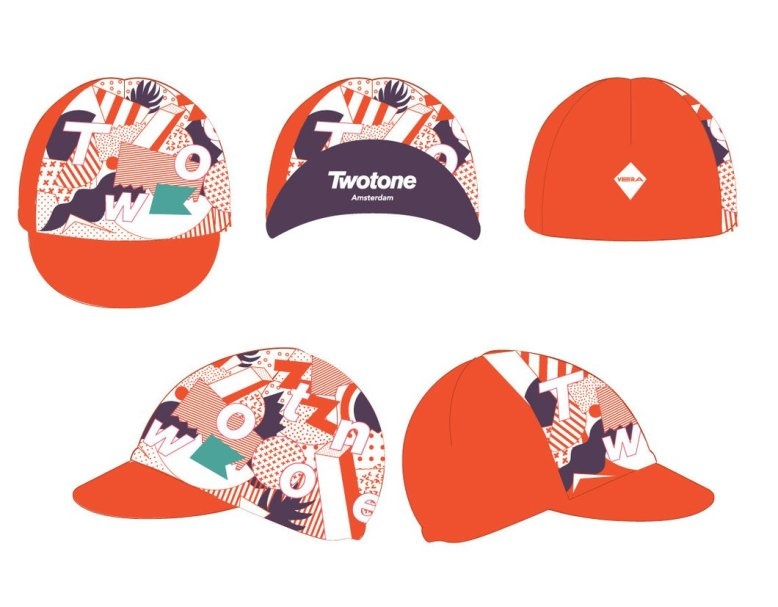 We have a small shipment of these fresh lids on order. Stay tuned to the blog for updates on their imminent arrival.
Thank you Jon for taking the time to meet up. We will leave that beer for next time!
Well that's all folks! I appreciate you taking the time to join me on this ride. This was undoubtedly my most productive trip back to Holland. It was fantastic to learn more about this little corner of the bike industry that we are a part of and see with my own eyes how many of our suppliers do what they do. I am heading home to Chicago with my passion for everything Dutch bikes fully stoked and more excited than ever for the future of The Shop.
Until next time Amsterdam.