The short version. To ride in Chicago traffic you want some sort of noise maker. Crane bells are likely the classiest option. Get one! Preferably from The Shop.
Chicago city laws don't require a bell or horn*, but a bell or horn are recommended. One that you can hear from at least 100 ft. away.
*Please send me a note if I'm incorrect about this law. Thanks.
A bell, in my opinion, is the nicer way to alert people of your presence. Especially a good sounding one. Now sometimes you need to alert folks in a not-so-nice way, but that's a discussion for another time.
As a retired part-time amateur campanologist, I'm a fan of bicycle bells from Crane Bell Co. of Osaka, Japan.
To the best of my research Crane Bells Co. have been producing bicycle bells for the better part of a quarter century. Right there on the Island of Honshu. Information on the company is notoriously hard to come by. I'm guessing the company doesn't have a huge marketing team. They let the product speak for itself.
There are even potentially mythical accounts of concert musicians crying tears of joy due to the clear ring of the Crane bells. I like them a lot, but probably not THAT much.
A Crane bell is a nice upgrade. I'd argue that it will sound and look better than what you have now. Unless you already have a peal of Crane bells across your handlebars.
They're also a great gift for any bike person. Nice enough to say, "I thought of you!" Affordable enough to give to anybody.
You can always use another bell. What? You only have ONE bike!? Well even if you're happy with your current set-up these things look great upon your desk or counter.
The mounting hardware is solid & adjustable. It doesn't suffer the all too common problem of the clamp deforming before it's actually tightened. The clamps will fit most modern handlebars.
Even the packaging is above average. A nice thick paper board with a tasteful logo. Plus it gives you access to the strikers so you can hear the bells. Please note at The Shop we have a strict "three strikes & you're out" policy ; )
Crane Suzu Lever Strike Brass Bell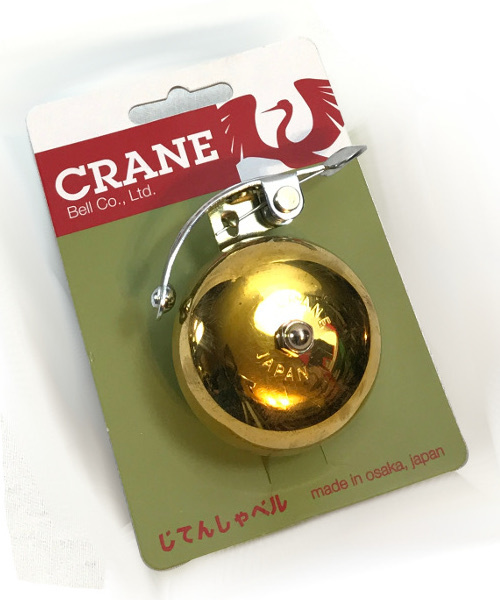 The Suzu is named after a Shinto bell. The Suzu has a more authoritative hammer strike which is somewhat adjustable to your personal tastes.
---
 Crane Riten Rotary Brass Bell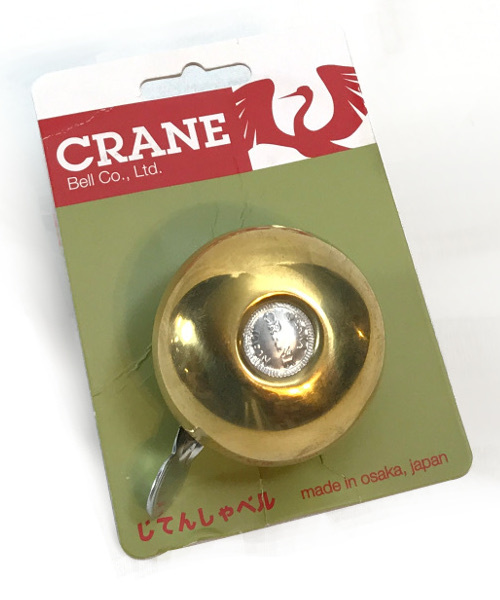 The Riten is Japanese for "advantage" or "a point in favor".  This one makes the least sense to me, so if you have a better translation let me know.
The Riten's profile is more spherical and is slightly interrupted at the crown, although by a nice looking de-bossed logo button, and the waist by small detents that help make sound. This one sounds like a mid-century modern telephone.
---
Crane Karen Spring Strike Brass Bell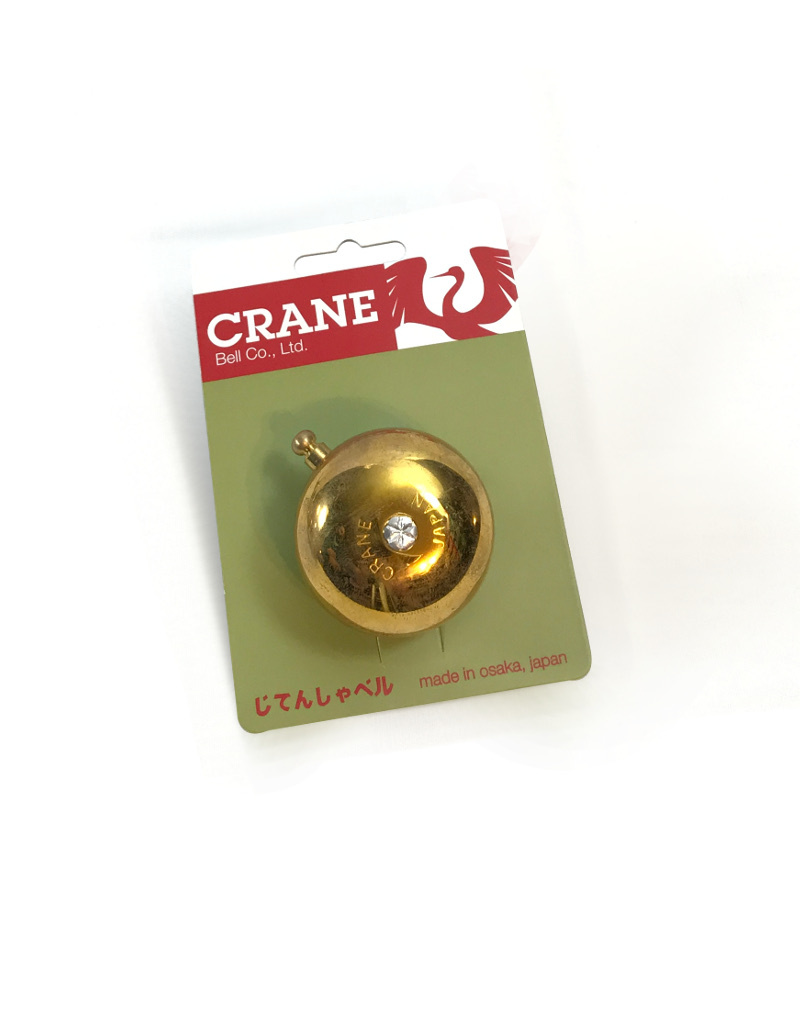 ---
Crane Karen Spring Strike Mirror Bell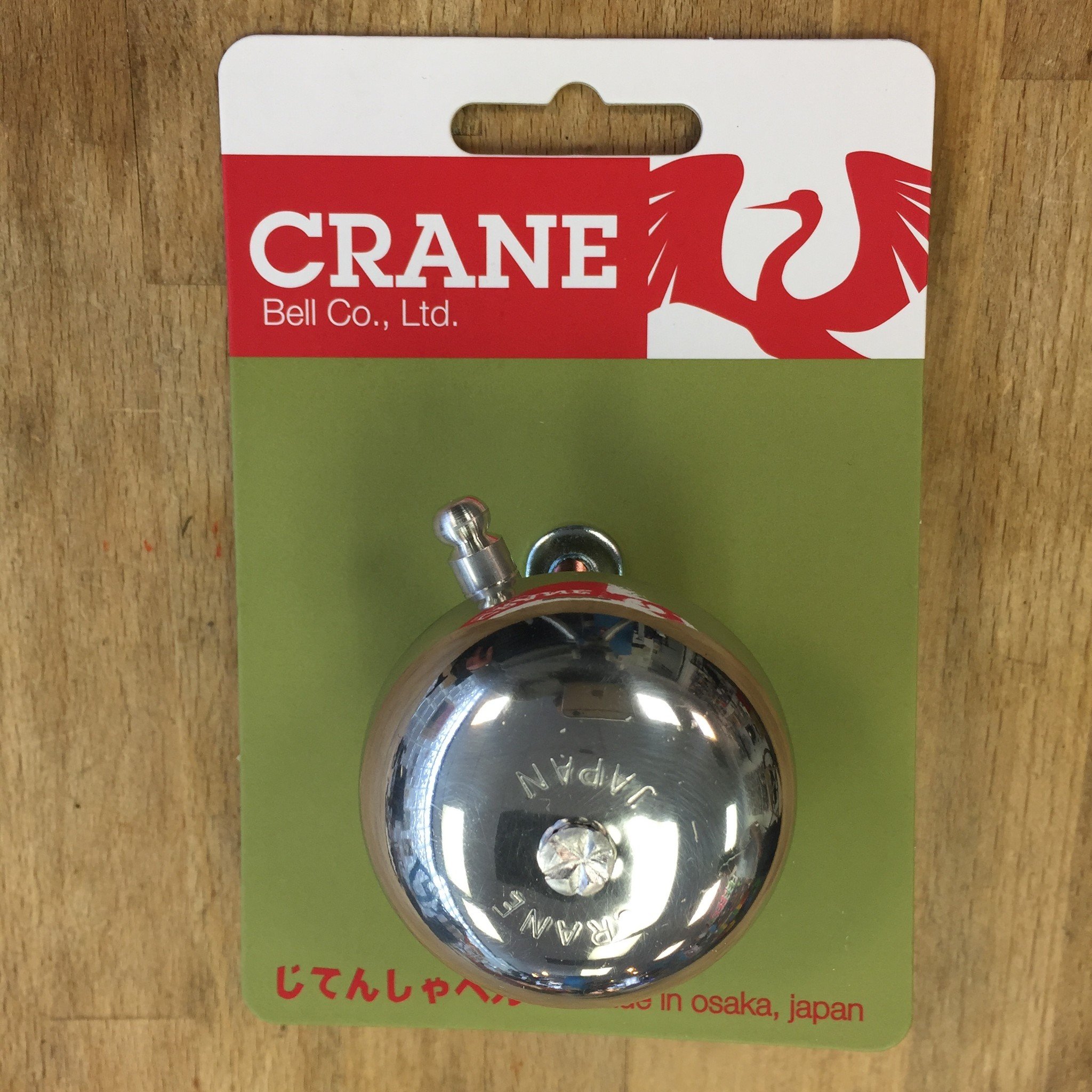 ---
Crane Karen Spring Strike Copper Bell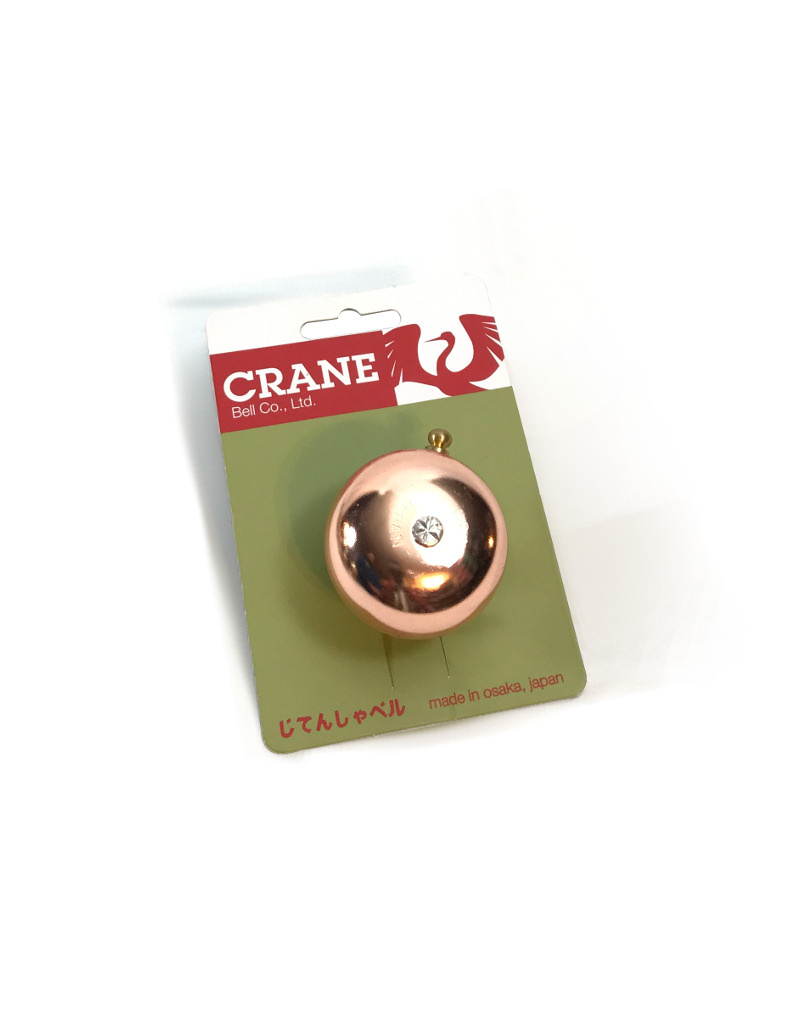 Karen seems to be an anglicized Japanese term for "pure". The Karen has a slightly cleaner profile due to the riveted construction and the spring striker. The spring striker can ring the bell when going over rough terrain. I actually like this feature even though most people may not.
---
Crane E-ne Matte Black Alloy Bell

---
Crane E-ne Emerald Green Alloy Bell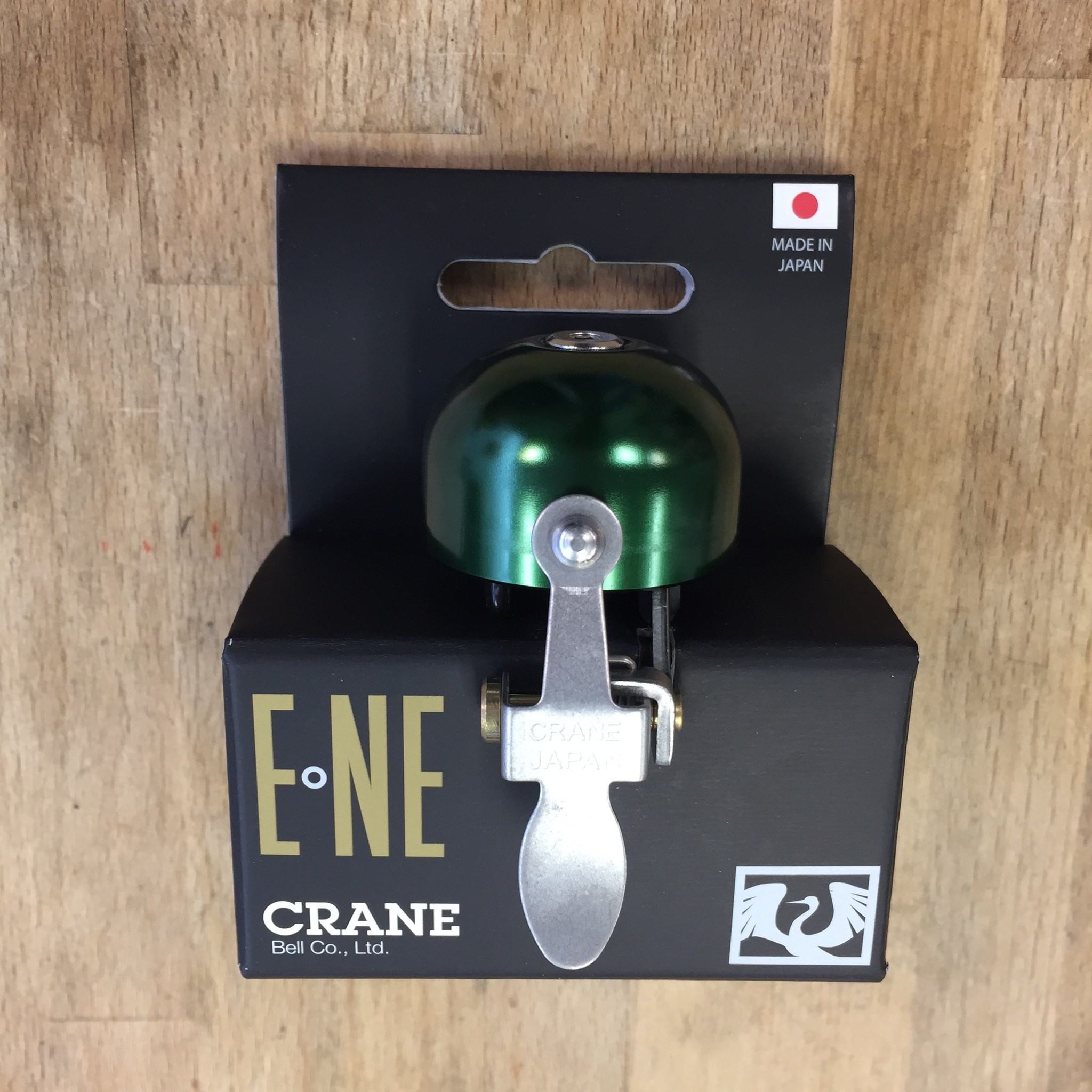 ---
Crane E-ne 'Scotch Brite' Alloy Bell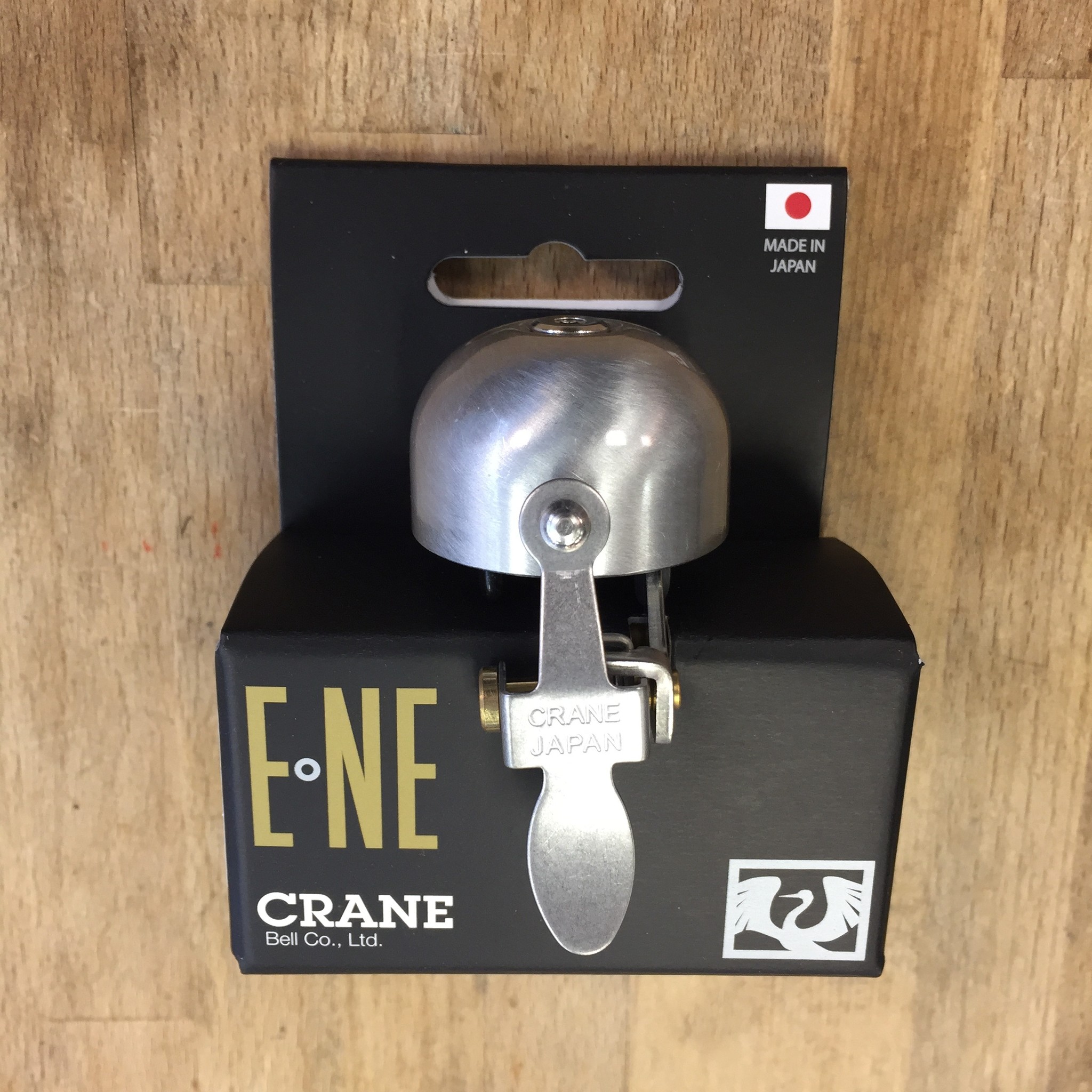 ---
Crane E-ne Polished Copper Bell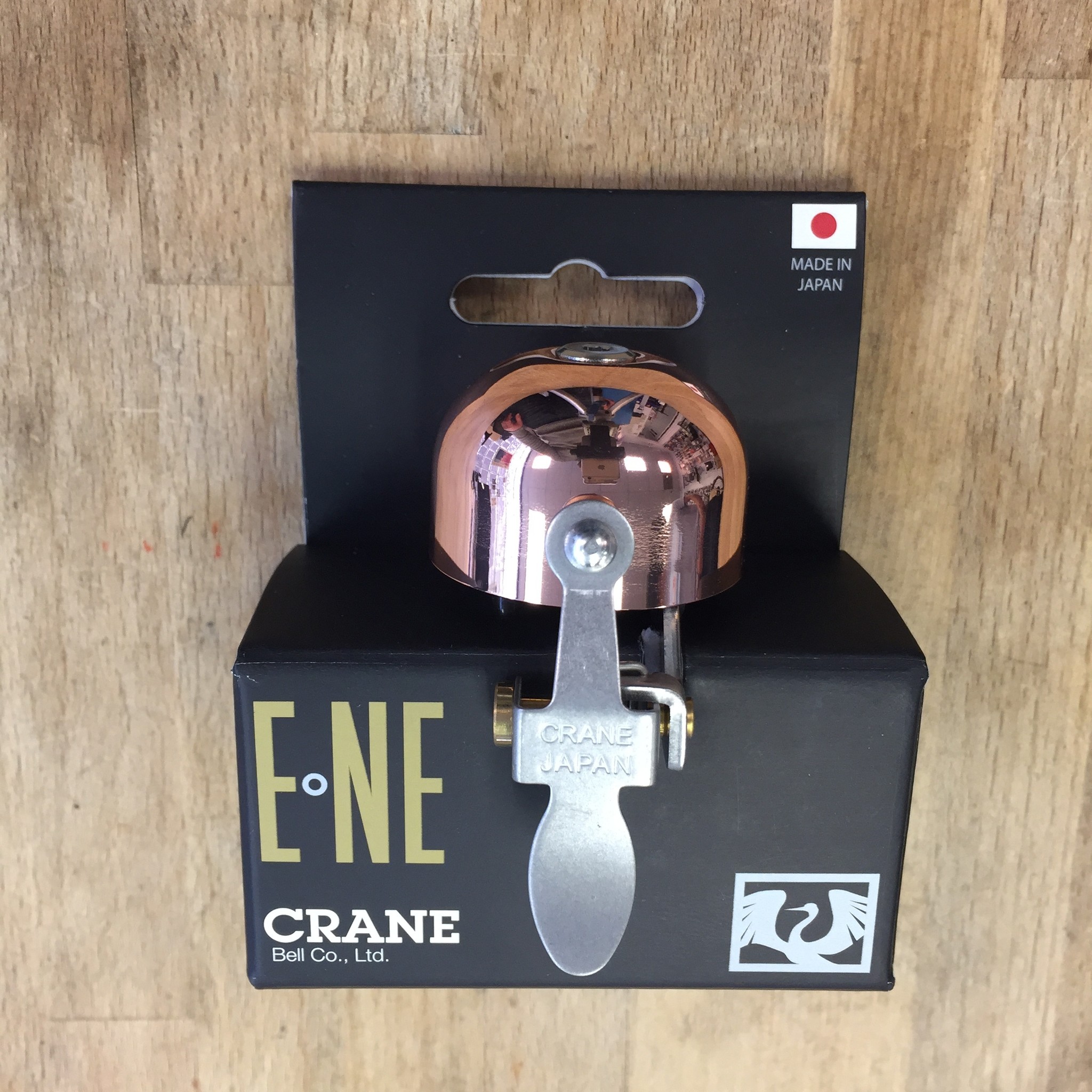 E-ne is another anglicized word meaning "like" as in "thumbs-up". This one is likely a response to the recent crowd-funded introductions of  high quality bells. An area that Crane seemed to have had all to it's own for years.
The E-ne has a lower profile and more of a half sphere shape compared to the classic bells that are closer to a saucer shape. The sound of this bell trends to more of a "chime" vs. a "ring". If you like a sleeker, modern look. This bell is for you.
The E-ne is available in a nice deep anodized green color. It has an especially good luster to it. I think the green looks great! Although the sound is a bit flat. Not terrible, but next to the other Crane bells the difference is noticeable. The green color is also a limited run of only 200. The Shop currently has a couple in stock.
-T