Posted on
By Jon Lind
Posted in Amsterdam, Amsterdam Diaries, Bruekelen, Business Trip, Commodity Chain, Dutch Bike, Onderwaterfiets, Ronald Onderwater, The Netherlands, Travel, Travel Writing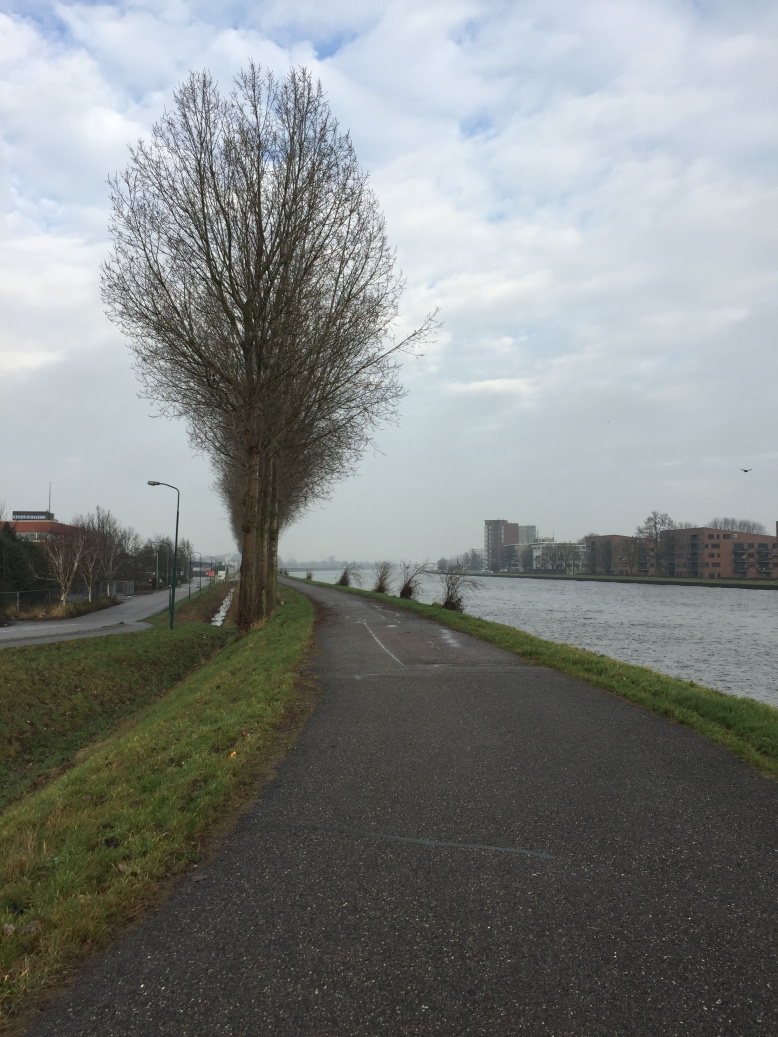 Next stop on the tour was a breeze with a half hour train trip followed by a ten minute bike ride along the large canal shown above. My destination this morning was just outside of Bruekelen to meet with Ronald Onderwater. Ronald is the founder/creator of, you guessed it, Onderwater Tandems.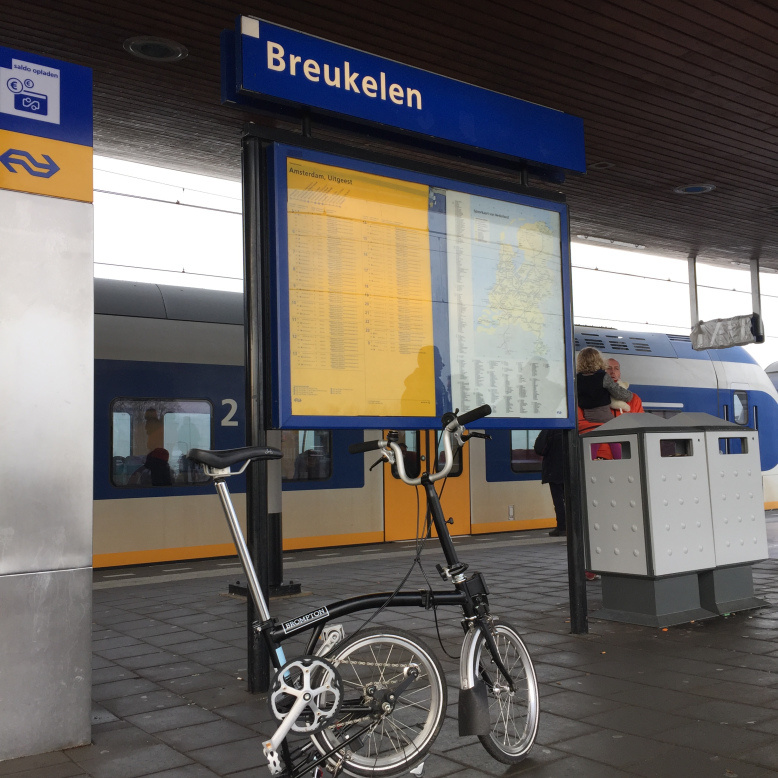 A little side note- Brooklyn NYC is named after this Bruekelen similar to how New York City used to be called New Amsterdam before it was New York. And there is a Haarlem in the Netherlands that the Harlem of NYC is named after. There's even more in case you are interested.
The first two of these amazing head turning thingamajigs we sold were special orders that were stowaways on our early Workcycles containers. Then when we switched over to LTL pallet shipments with Workcycles this arrangement was no longer possible. So in early 2016 we decided it was time to order direct from Onderwater and it was also time to bring in some inventory in addition to special orders.
Ronald is an extremely friendly and enthusiastic guy and he has a long history in the Dutch family/cargo biking scene. Let's put it this way, if there was a Mount Rushmore dedicated to this scene, in my opinion he has earned a spot on it. He is a maker and someone who prefers to work with his hands to design and create.
His workspace just outside of Bruekelen is in a cool industrial park. I say cool because it actually didn't look like a dirty drab lifeless industrial park like I would normally expect. It was nice and clean with a modern and inviting vibe to it.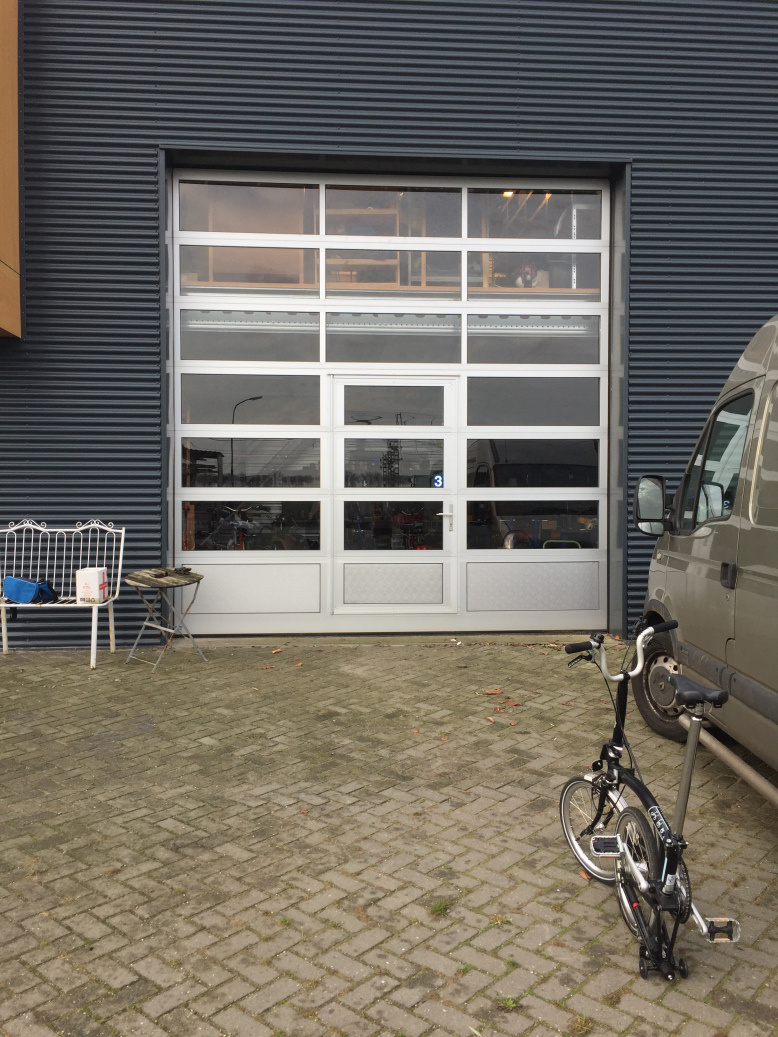 It has a large garage space with an overhead door and on the second floor there is an office space with a kitchen.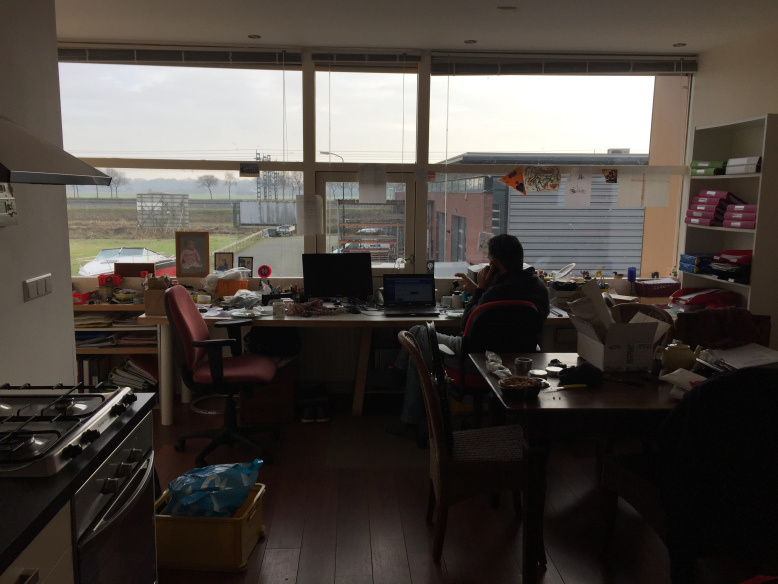 His desk has a great view of the canal and a train line. It was quiet and peaceful and I could see how someone who loves to design and tinker could get a lot done here. It is a dream setup for an independent entrepreneur/craftsmen/engineer.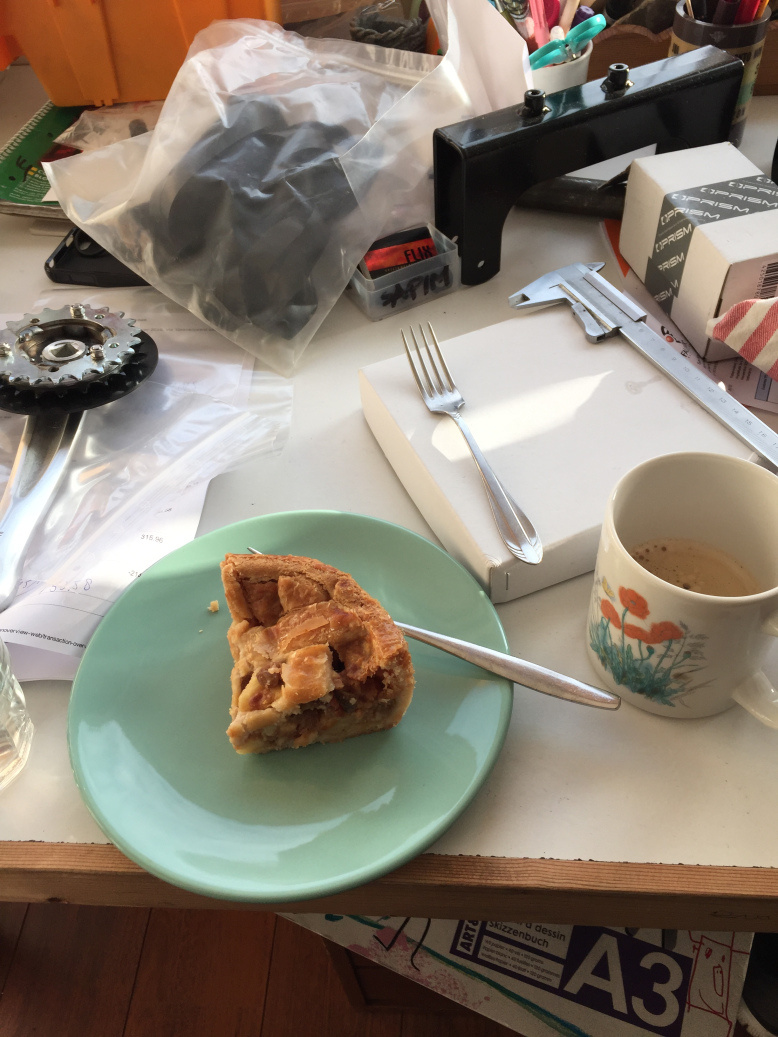 We had some coffee and a slice of pie and got acquainted with one another. I once again can't stress enough how meaningful it is for me to meet the people behind the bikes we sell. Beyond that even, to get along so well with them on a personal level makes me enjoy what I do that much more.
I was struck with two feelings while sitting there enjoying our chat. One was 'why did it take me so damn long to figure out that these visits would be awesome and that I should make them happen' and the other was 'man I kinda wished I'd booked a whole day here'. As it was I scheduled another aggressive two-a-day so I only had about three hours to spend with Ronald before traveling off to my next destination.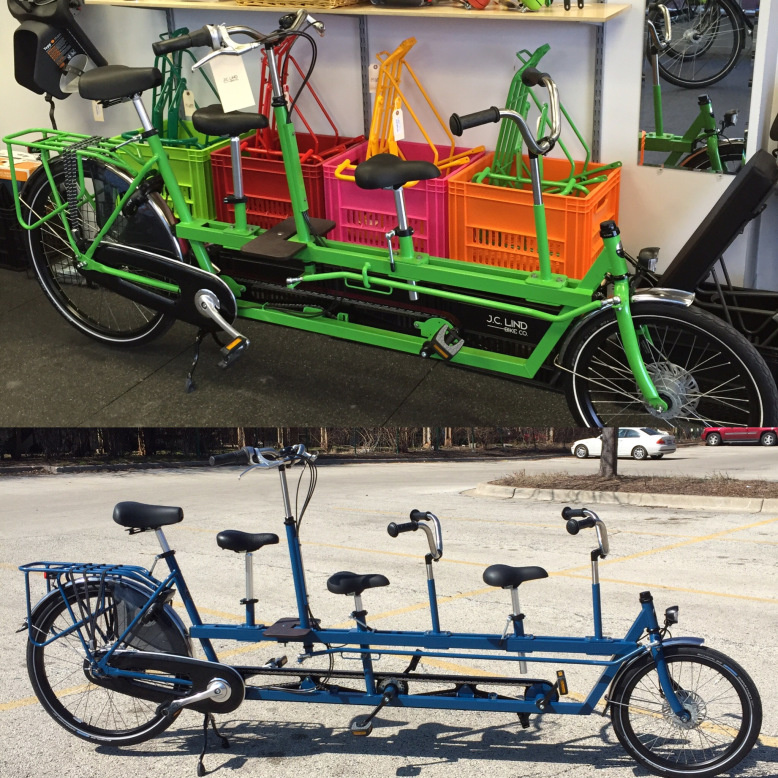 A majority of Onderwater Tandems are sold to rental agencies which makes perfect sense as they are kind of a sleeker version of those beastly 4 wheel Surrey bikes you see every now and then on Chicago's lakefront path in the summertime. The Onderwater Tandem is indestructible and ideal for active cycling families on vacation. So long story short, if I decided someday to open a rental shop in a touristy coastal town, you could count on me having a strong fleet of Ronald's bikes.
One thing Ronald mentioned that stuck out to me was about the general profile of his individual (non-rental company) customers and that was that they are mostly people with an above average level of enthusiasm for biking. And their Onderwater Tandem is not their first or second or even third bike. I thought that was pretty cool and totally jives with the customers we have sold them to.
Although I was visiting the Onderwater 'headquarters' where Ronald handles the ongoing R&D, stocks small parts and runs the sales/admin side of his company; the manufacturing and assemblies are done elsewhere in the Netherlands. As it turns out I had already visited both of the factories Ronald contracts with for this just the day before as Azor and Nijland are both involved with the production of his bikes.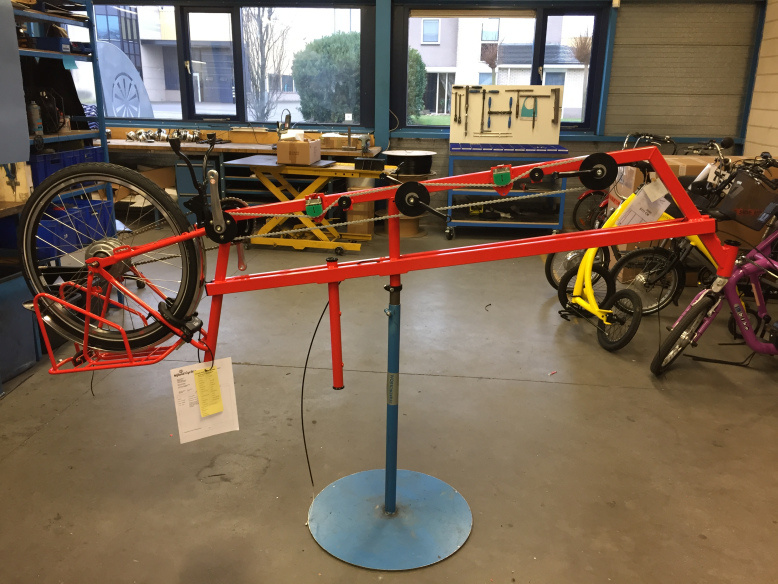 Here is an Onderwater Tandem that I saw being assembled during yesterdays visit to Nijland. That vibrant Red/Orange RAL2002 color is sizzlin' hot!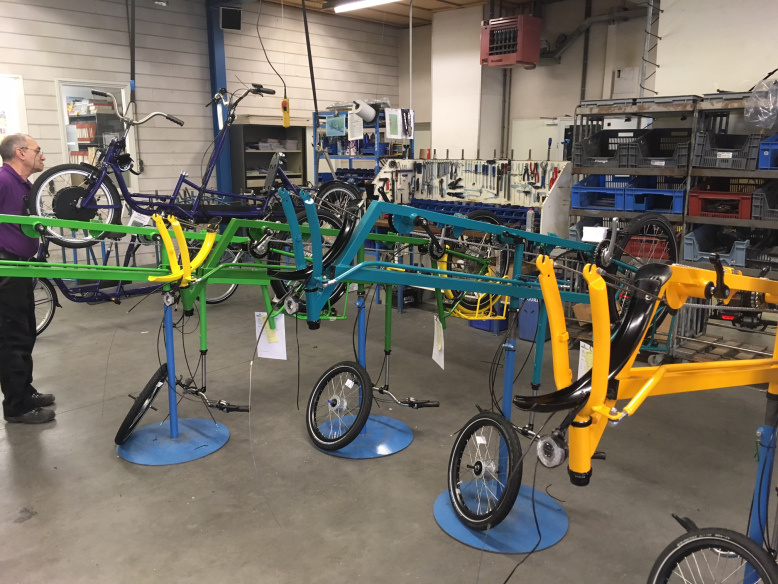 And here's some more bold color Onderwater Tandems being assembled at Nijland. Ronald emailed this photo to me just the other day as a nice progress report on our pending order. The yellow one on the right is an XL model that will be available for sale at The Shop this spring and the teal green one next to it already has a home waiting for it here in Chicago.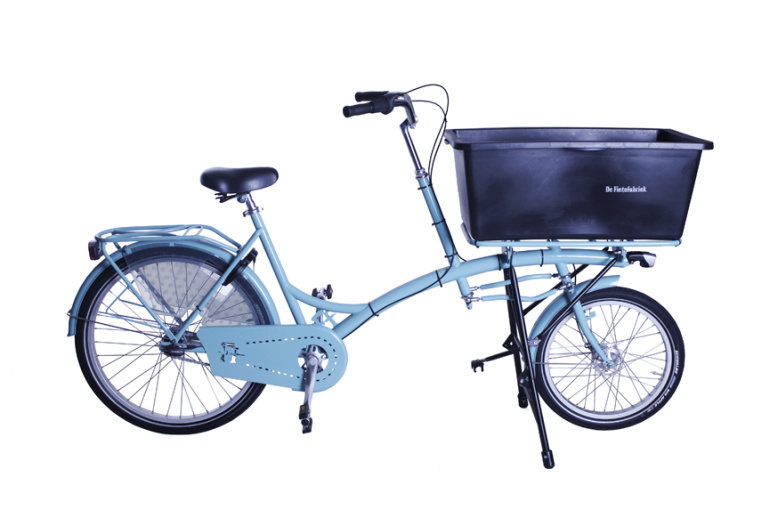 The first bike Ronald ever made was a Filibus style cargo bike (not the exact bike pictured above but a very similar front loader cargo bike with linkage steering). He saw one that he really liked and thought it was expensive and that he could make one himself. So he did. He still has that first one he ever made. And he still rides one of his early Filibus renditions to schlep his kite surfing gear to the waterfront.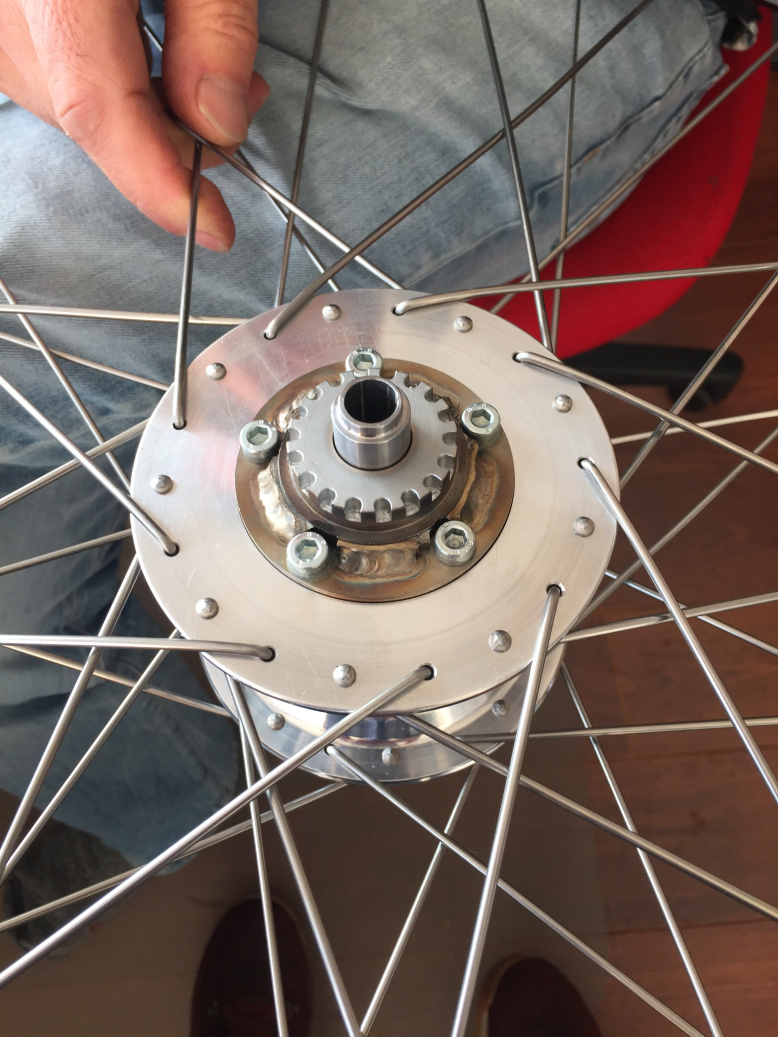 What do you do when nobody makes a single speed rear hub that is both roller brake compatible and beefy enough for one of your bikes? Well you make one. At least that's how Ronald rolls.
We headed into Bruekelen for a quick and satisfying lunch at Loetje. Then Ronald dropped me off at the train station and I was off to my afternoon visit where I was about to see a factory that has been churning out bikes for more than 100 years.
Thank you very much Ronald. It was really great getting to know you and your bikes better and I am already looking forward to my next visit.