We will be placing an order for the incomparable rare breed bike that is the Onderwater Tandem. We will be accepting orders through Friday July 12th. ETA for arrival to Chicago is late September/early October 2019.
Please refer to the product pages for more information on each of the unique models born from the brain of Dutchmen Ronald Onderwater:
And here is a long read we did about the Onderwater Tandems a few years back...
The Onderwater Tandem (O.T.) is yet another clever Dutch creation designed to help young families navigate their world with their children.  Close your eyes and imagine a Dutch Bakfiets like the Workcycles Kr8 but instead of a cargo box in front you see a child-sized cockpit complete with handlebar, saddle and pedals. Don't worry though, the kids aren't steering this ship, you remain in complete control from your comfortable perch in the rear.
Curious to learn more about who created the Onderwater Tandem? Click here. Want to see the factories in the Netherlands where they are made? Click here & here.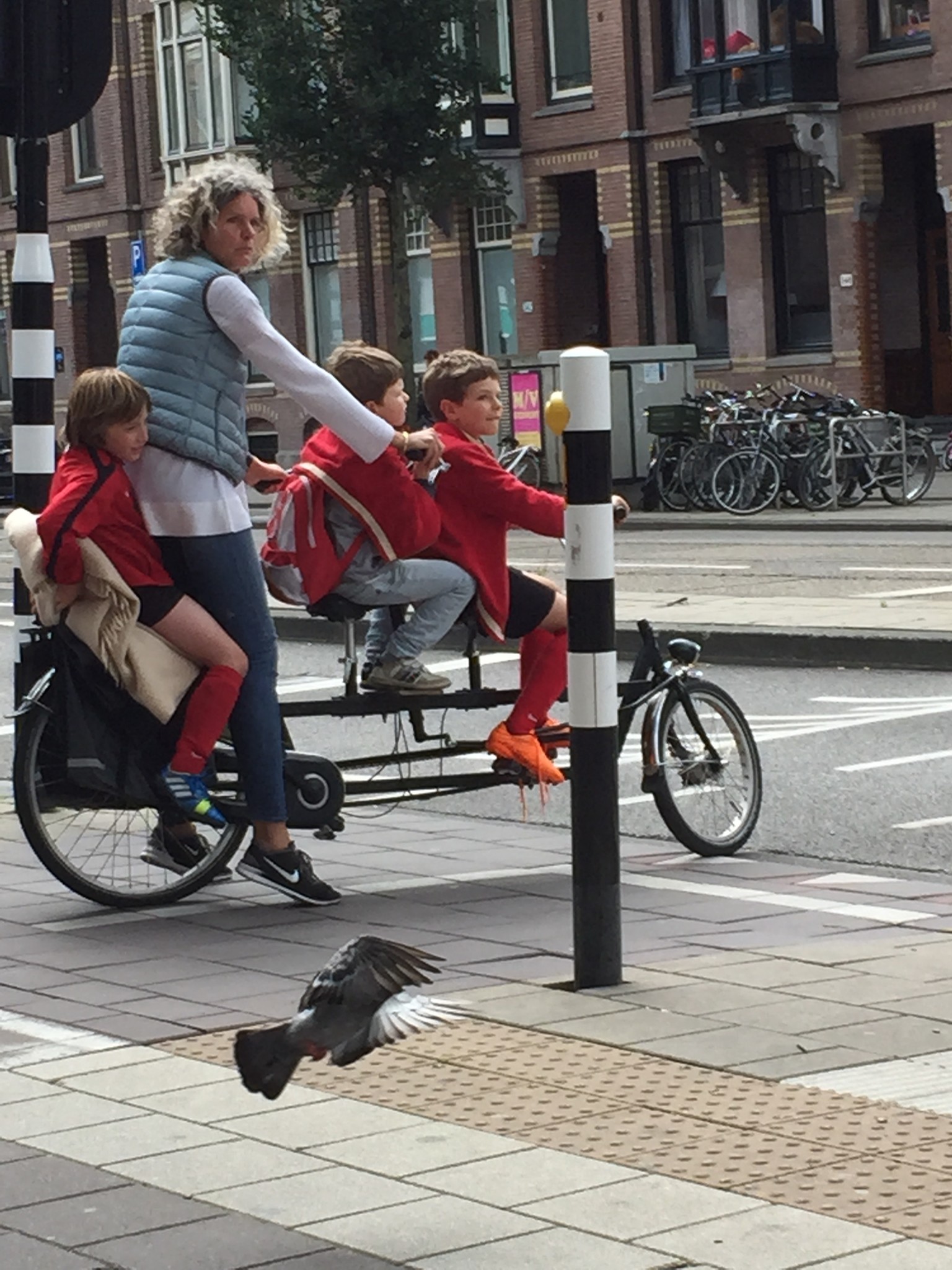 The O.T. can be used as a bridge bike for families with children who are starting to outgrow a cargo bike but are not quite ready to ride independently in city traffic. They offer the same key benefit of a front loader Bakfiets (your eyes on the prize, your kiddos!) and they also come with the added bonus of your child(ren) contributing some pedal power and getting exercise while you ride.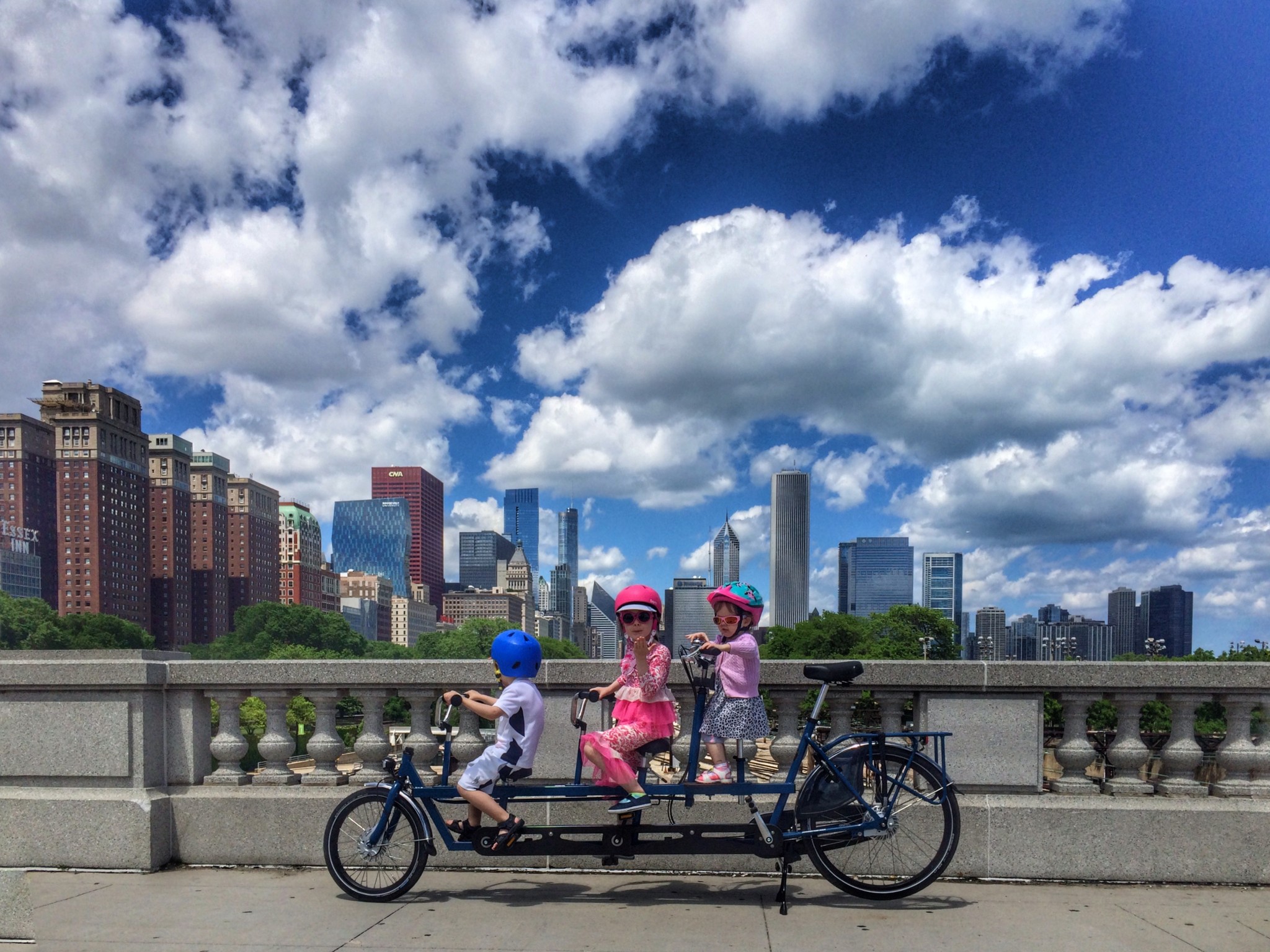 Perhaps you are one of the lucky folks who have already seen the light and have been using a Dutch Bakfiets for transporting your children. Take Mary Lou as a hypothetical example, she has three children ages 7, 4 and 1 and she has been 'getting er done' by cargobike for the past three years. Now she is still able to get her lil' chickadees around with her trusty Bakfiets, but she wants to go on longer rides with her entire family including her spouse.
Enter the Onderwater Tandem- she can set out with her oldest child on the O.T. and the younger ones in the Bakfiets...or maybe the oldest will ride independently and her spouse will ride their city bike with the 1 year old on a Yepp Mini and she will rock the O.T. with her 4 year old... I think you can see what I'm getting at, the combinations are plenty.
For Mary Lou, it's a matter of adding that extra level of versatility to the mix and it's not necessarily a 'this or that' equation, the Bakfiets will remain in the stable and get plenty of use on those occasions that demand cargo hauling capacity. The O.T. is another tool in the shed with ability to take any combination of her children or all three at once when called upon.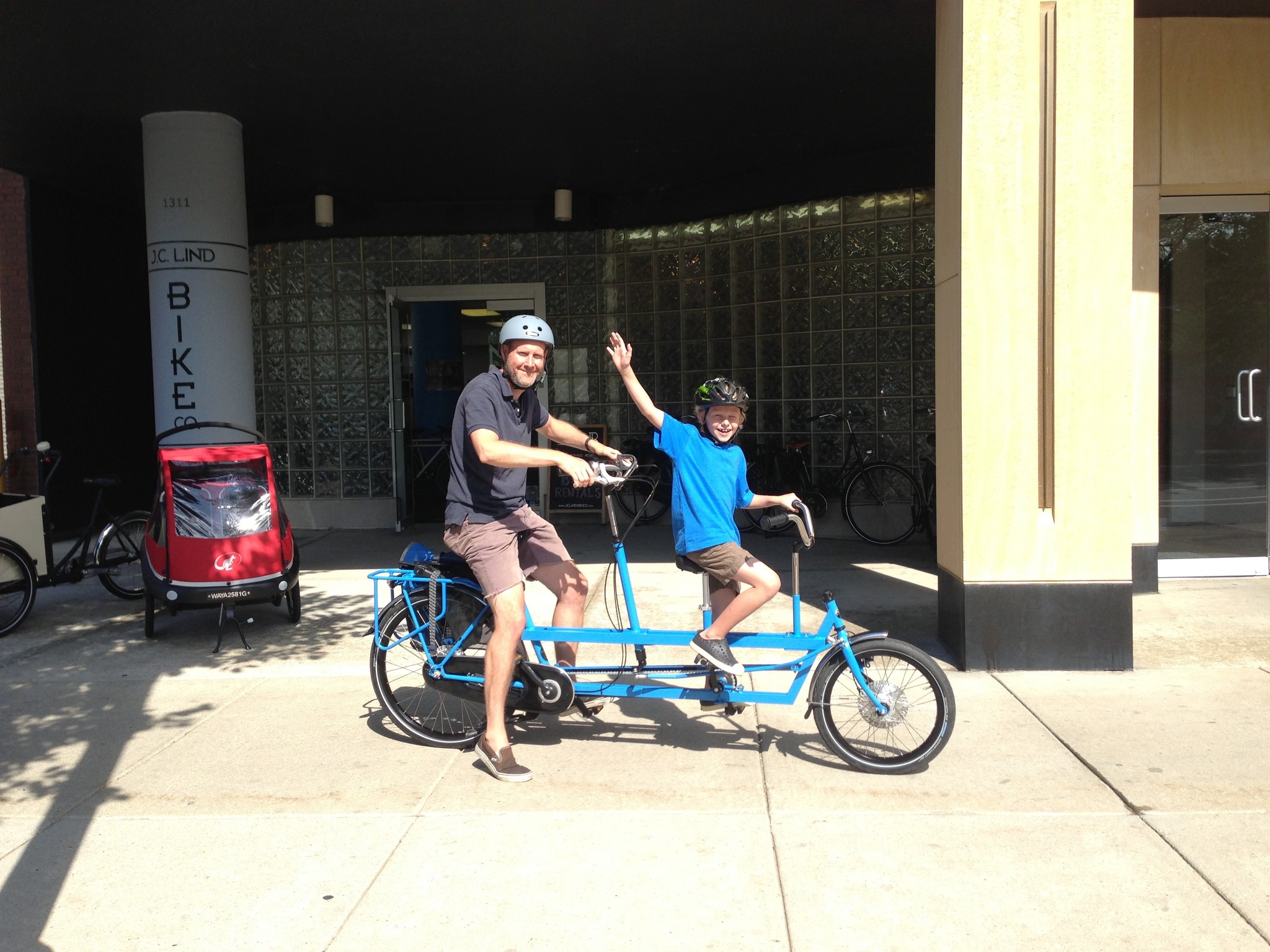 Our second example is Steve, he's an avid cyclist and daily bike commuter. Steve's daughter is 6 years old and although he dreams about going back in time to when she was 1 and riding her around in a Bakfiets he sadly realizes he missed that boat as he is just now catching on to this whole Dutch biking thing. Steve's daughter Alicia just started first grade and her school is roughly a mile and a half from home and it's in the general direction of Steve's job. With the O.T. he can continue commuting to work by bike and in the meantime avoid the nightmare that is the long line of idling cars at the school pick-up and drop-off and start and end his day with quality time only a select few parents can experience with their child. Lastly, he gets to pass along and instill his love of cycling to his daughter.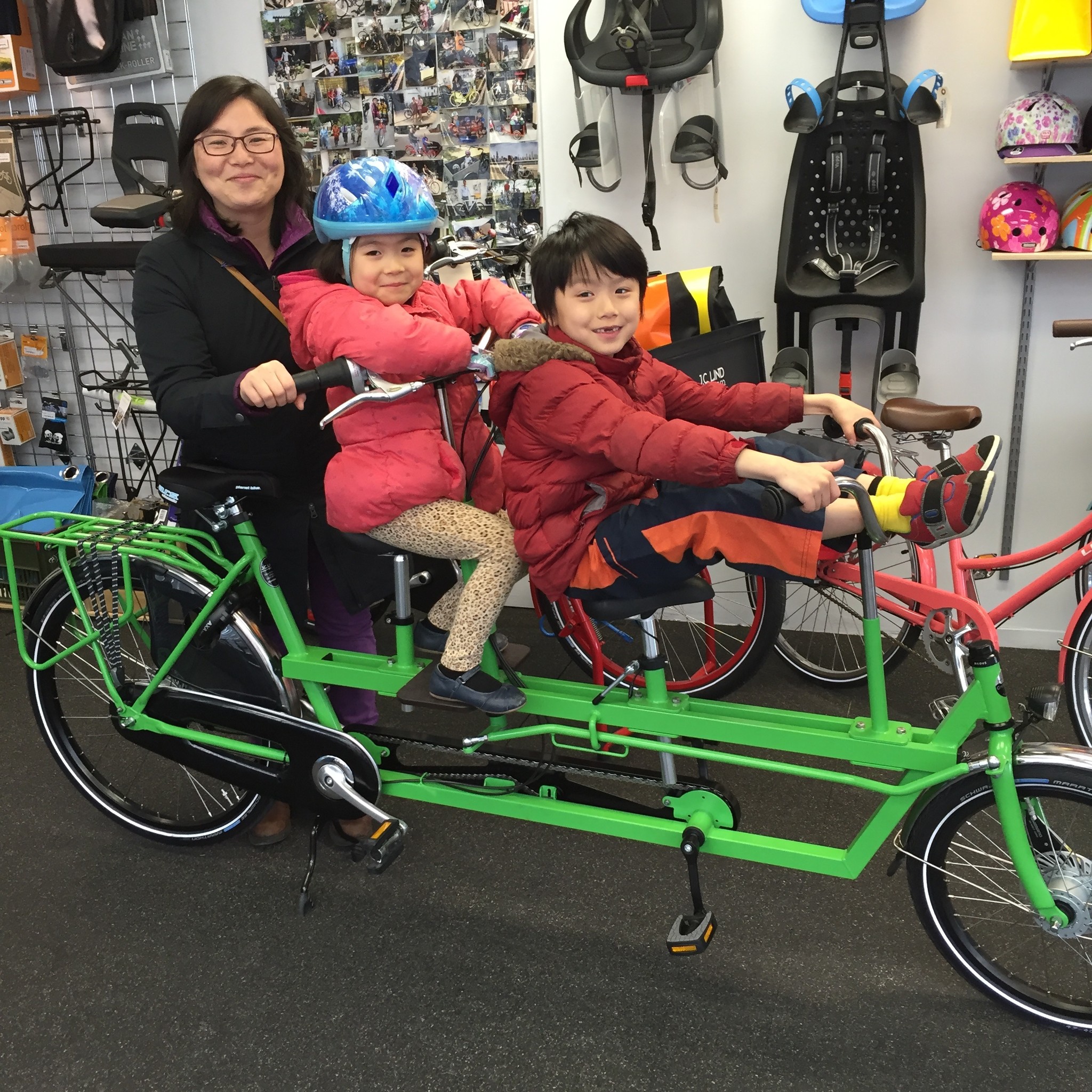 You may not be like Mary Lou or Steve and you may just see this bike and think it's super cool looking and would be a ton of fun to get around town with your children or grandchildren on it. You won't get any argument from us, as long as you have the storage space for one of these bad boys they are sure to bring a lot of smiles and good times anytime anywhere.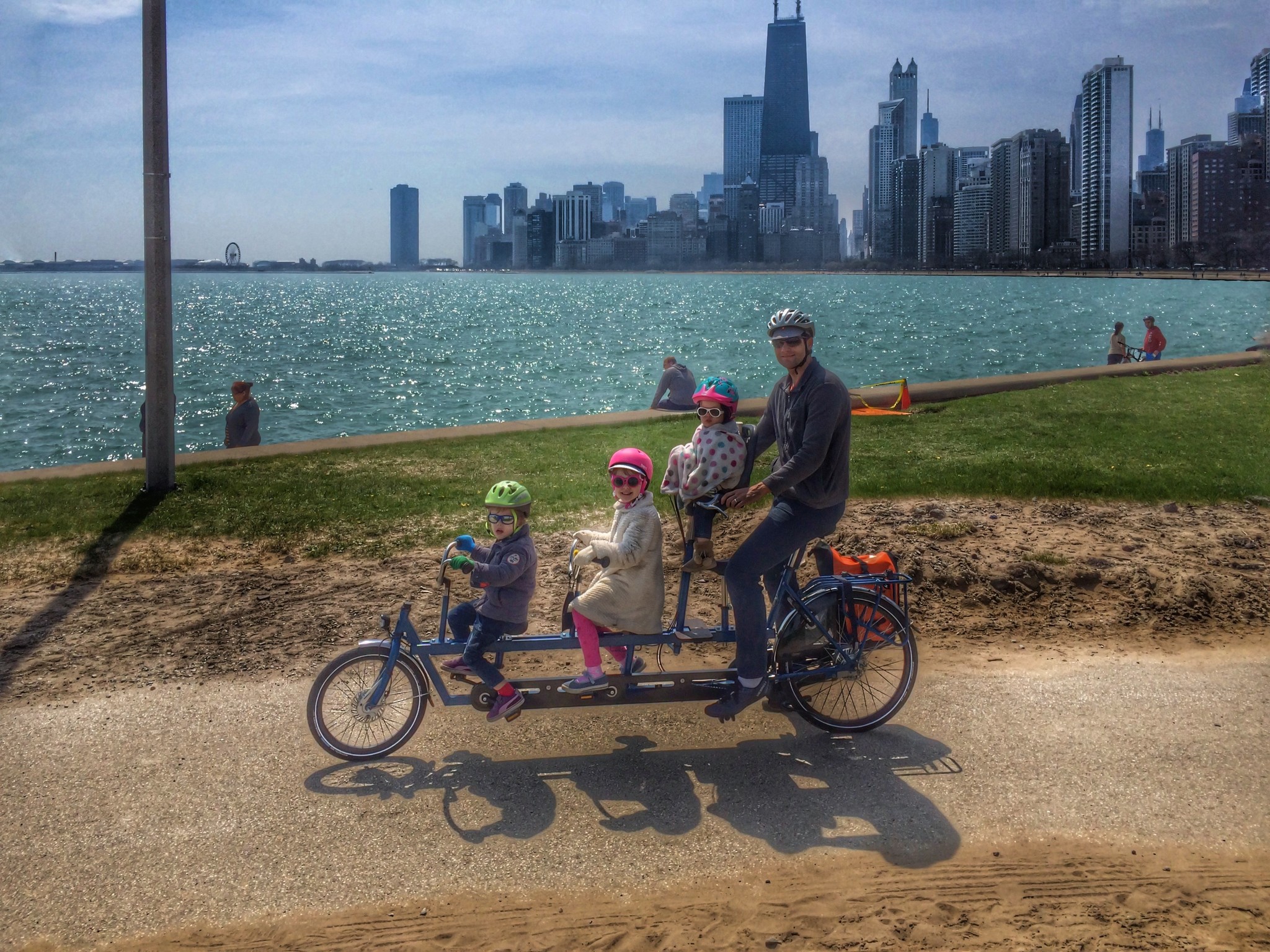 The Onderwater Tandem is like any top-notch Dutch bike, made in Holland, it comes with the full compliment of practical and low maintenance features - Schwalbe Marathon tires, full fenders, roller brakes, hub dynamo LED lights front and rear, stout kickstand and rear rack.  The O.T. comes in two versions...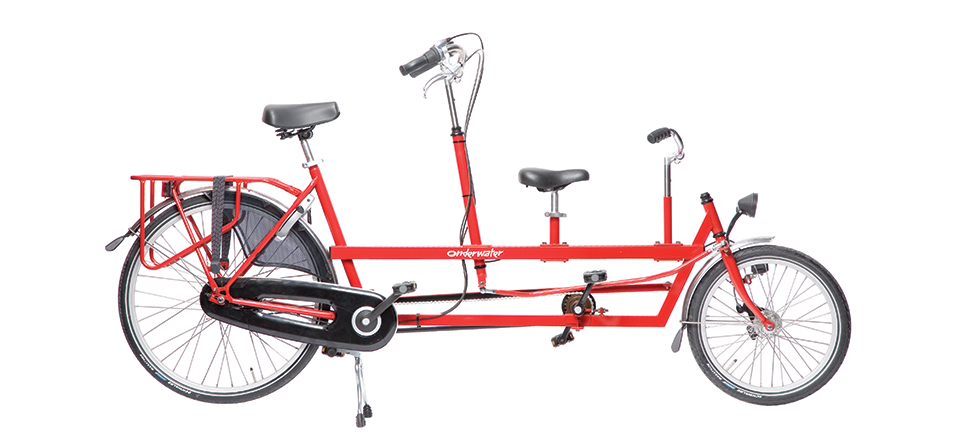 Onderwater Tandem LX - one adult and one child rider
The LX or 'standard' is their best seller and is the version that I was referring to in both of my examples above. It is roughly the same length and weight of a Bakfiets/Kr8 so in the event you are riding it without much pedal support from your child (they do after all have the option of coasting if they are feeling lazy) or riding it with no child(ren) on board at the end of the day you are putting out the same energy you would be on a Bakfiets/Kr8.
In addition to the front co-pilot seat, you have the option of putting a Yepp Mini on the handlebar stem for a 9 month to 3 year old or for an older child you could do a second saddle and foot platform between the adult saddle and adult handlebars (see lead photo at the top for an example of this) and lastly you have the option of putting a child seat on the rear rack.
Ultimately if you need a bike for daily transport of multiple children plus cargo you may be in a pickle with the O.T. as it's one drawback is limited cargo space (especially if you have a child on the rear rack). In this case we would default to recommending you start out with a Kr8 and once you realize how much that bike changed your world come back and get the O.T. as a supplemental bike.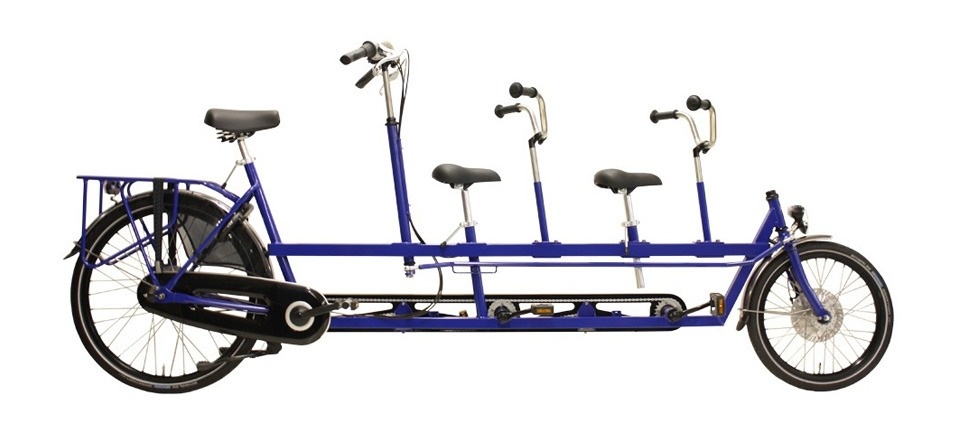 Onderwater Tandem XL - one adult and two child riders
The XL model is the stretch limo version, approx. a foot longer than the LX. It has a second child cockpit up front so you can just sit back and relax while your kids do all the work.
Whether it's the LX or the XL, one thing is sure, when you make the decision to become an Onderwater family, you have officially enrolled yourselves in the masters course of family cargo biking.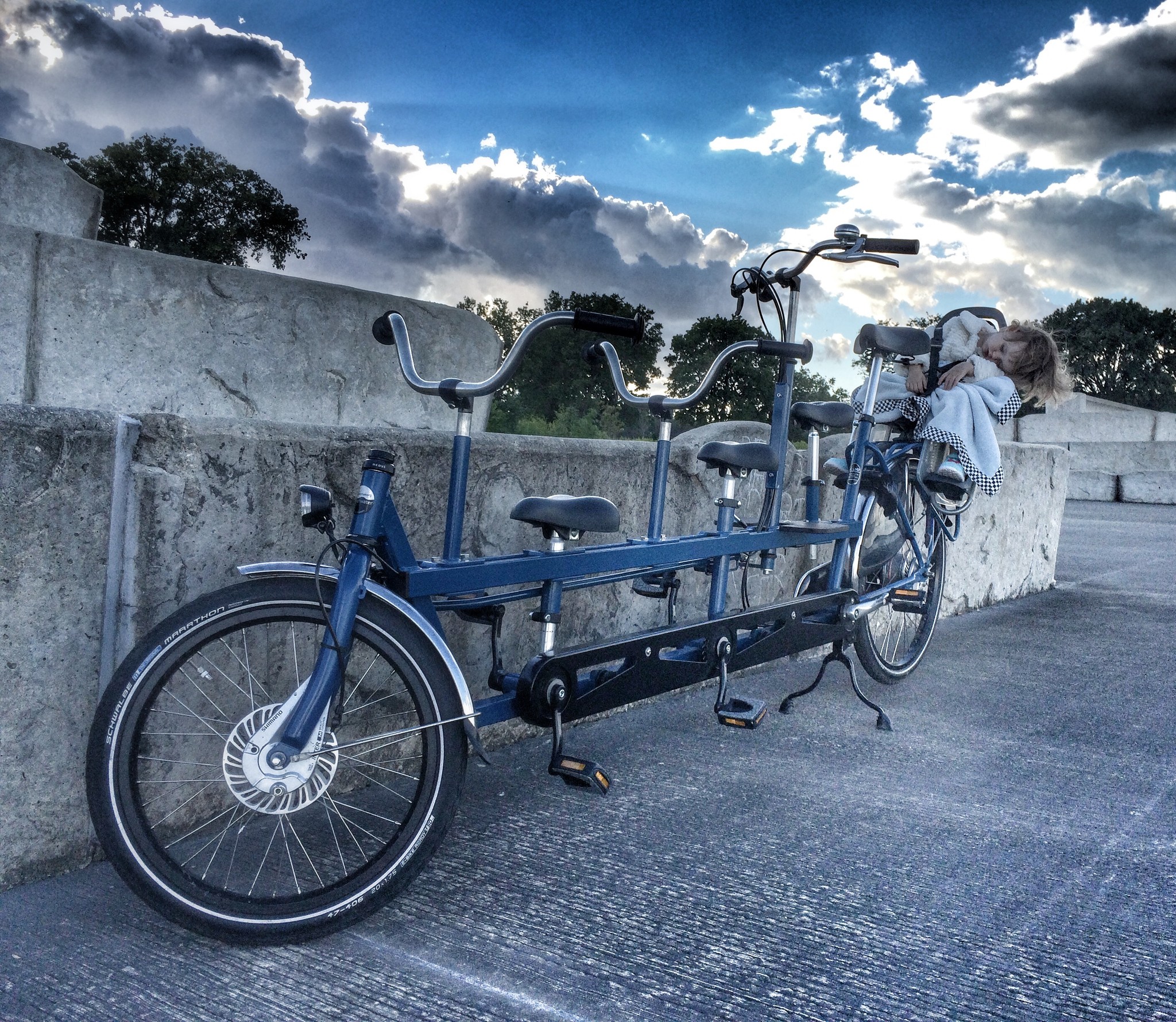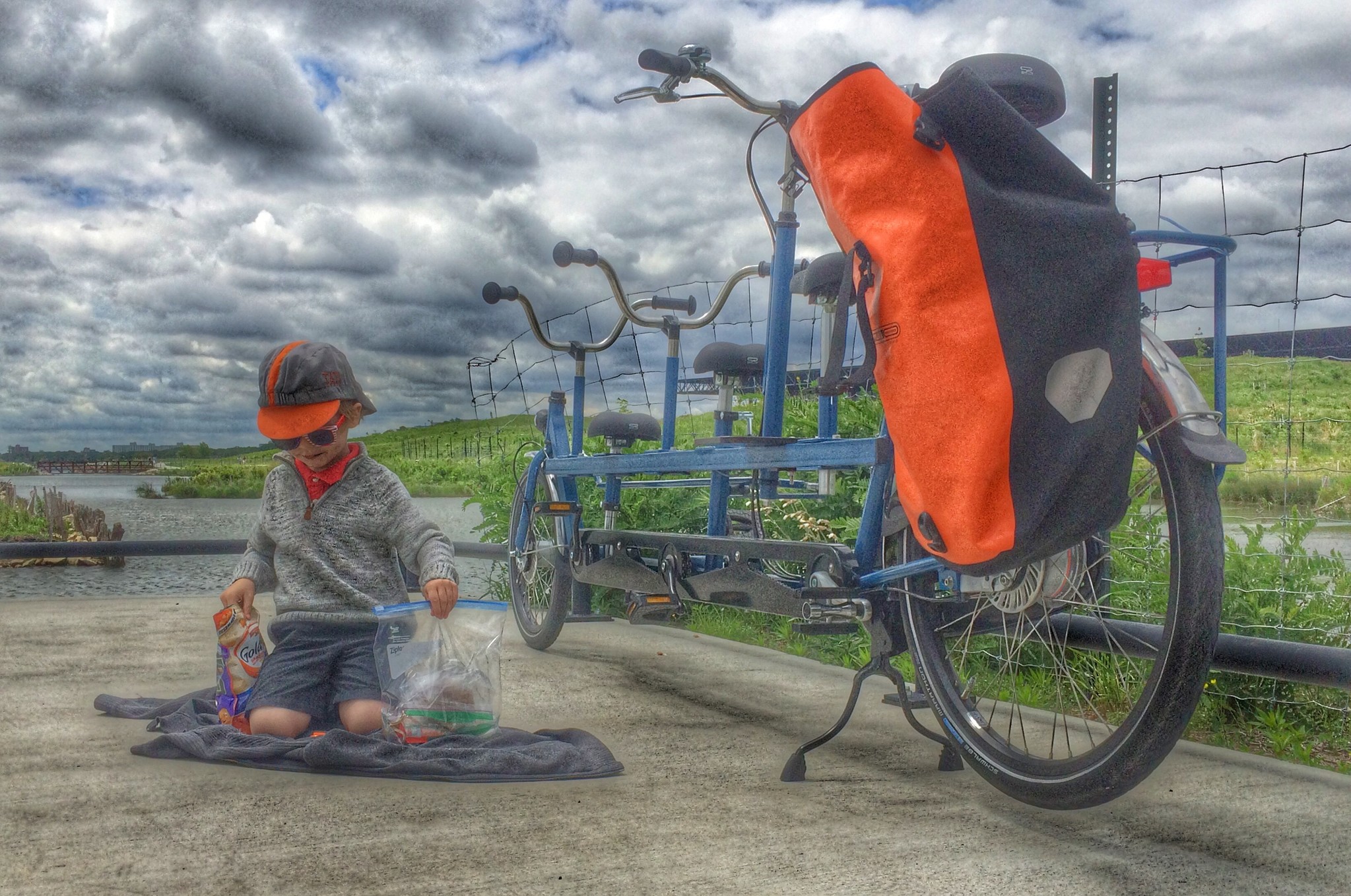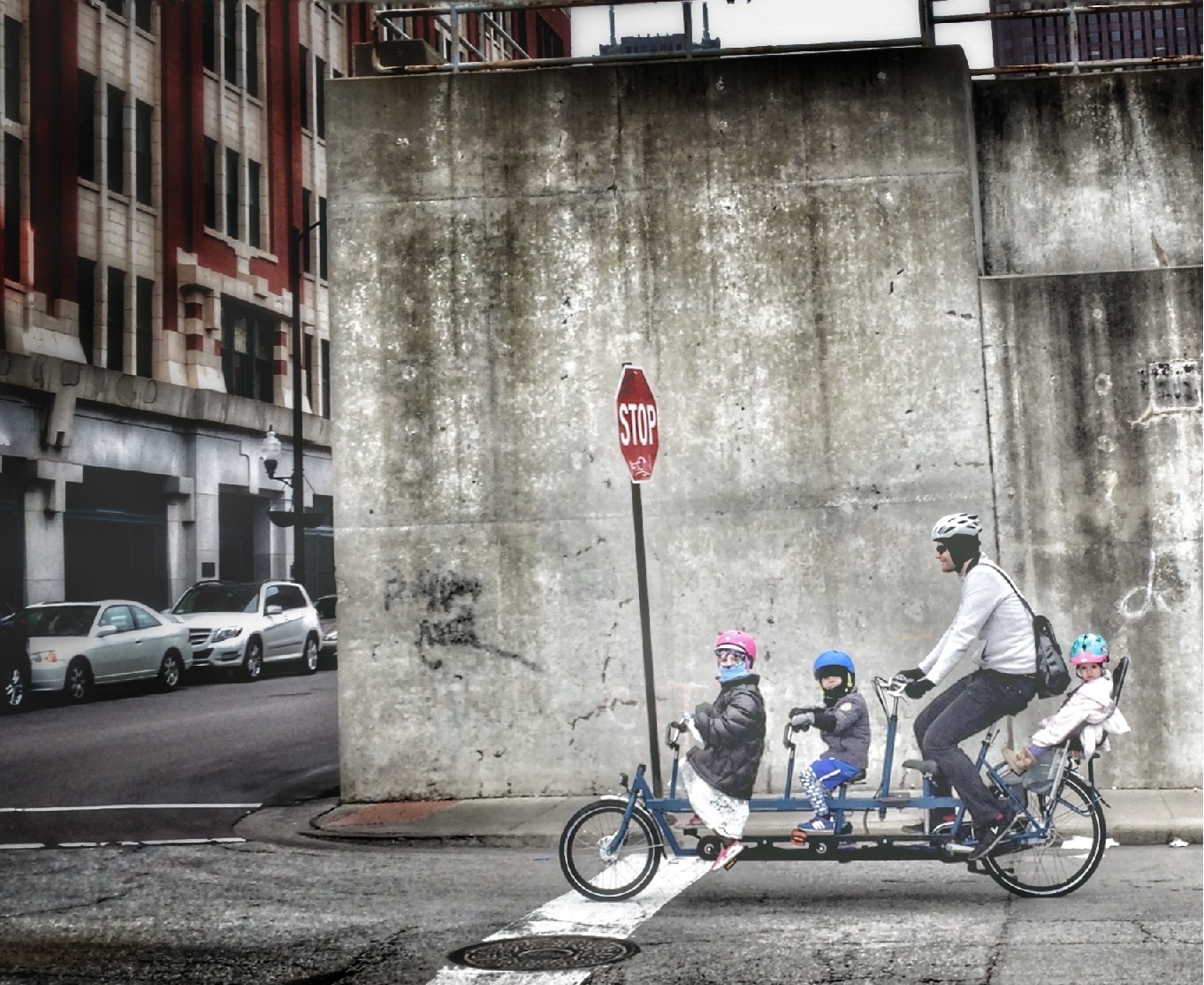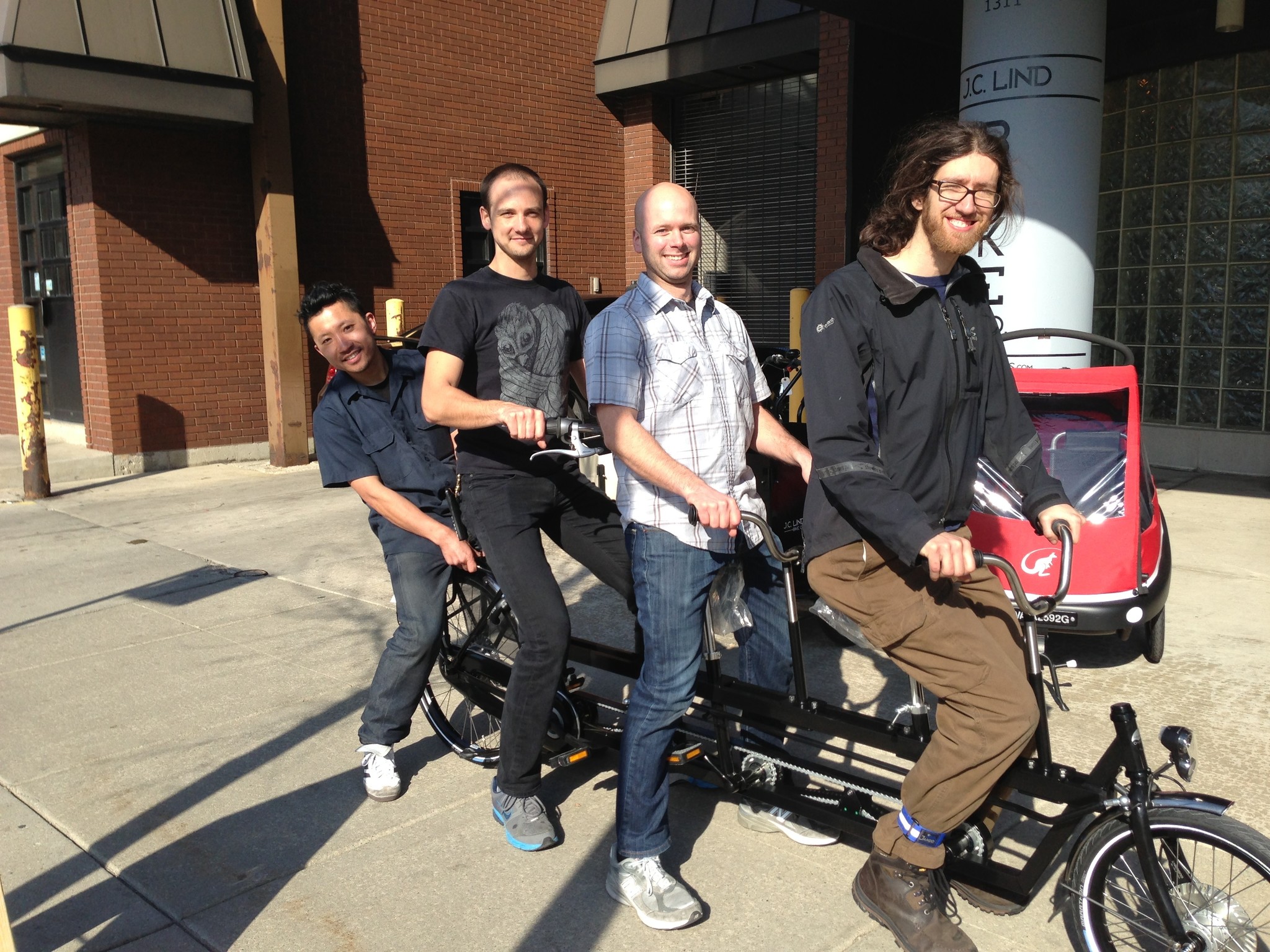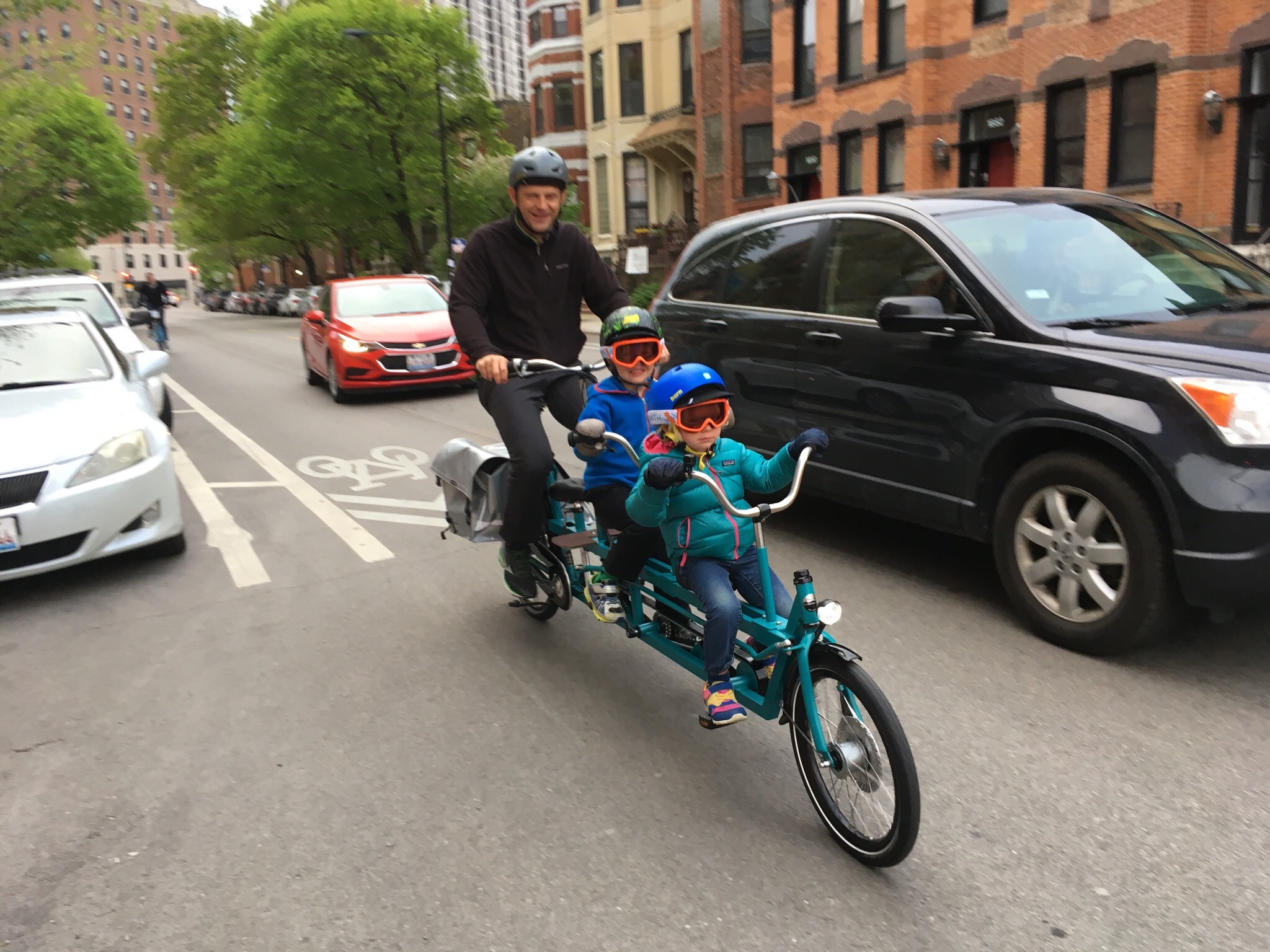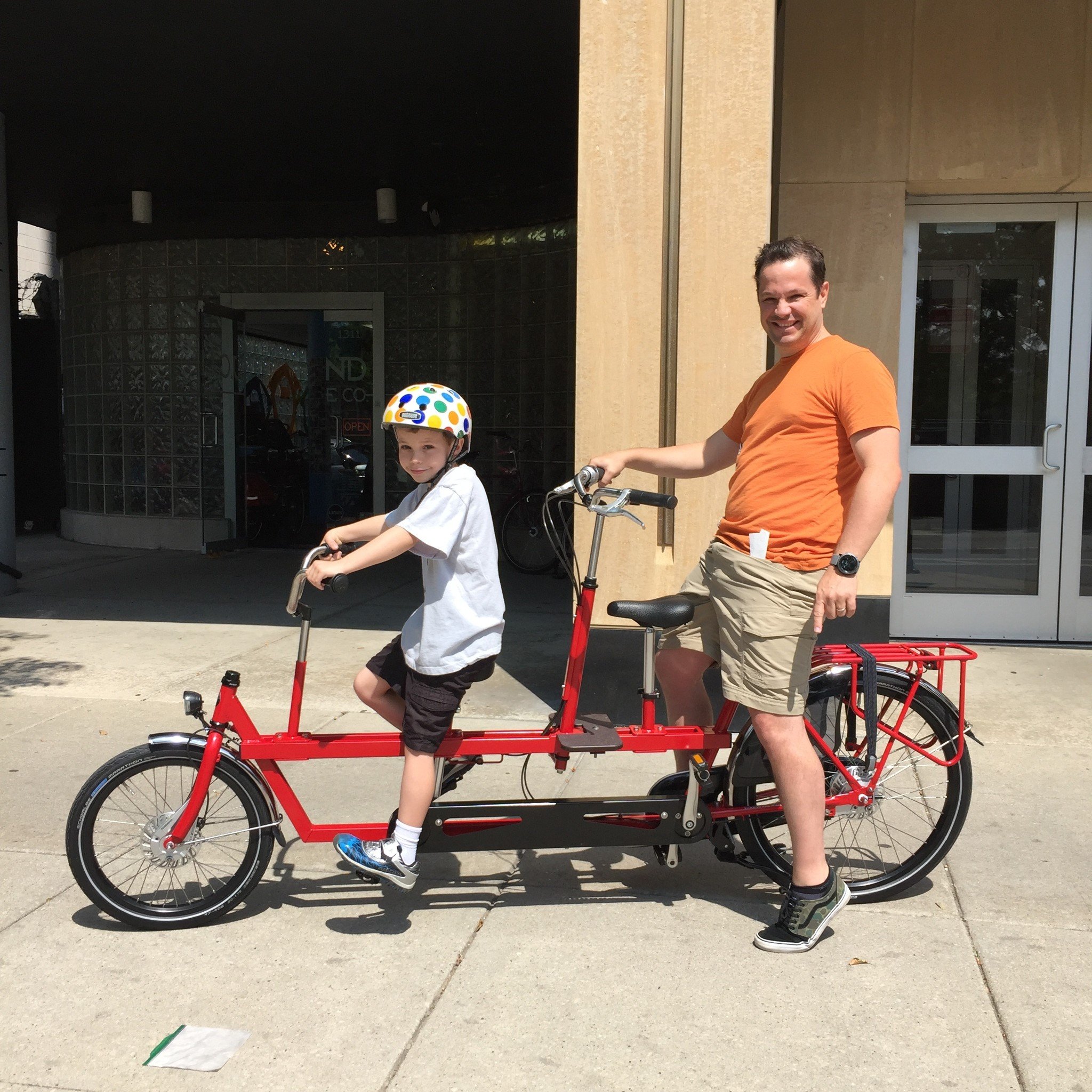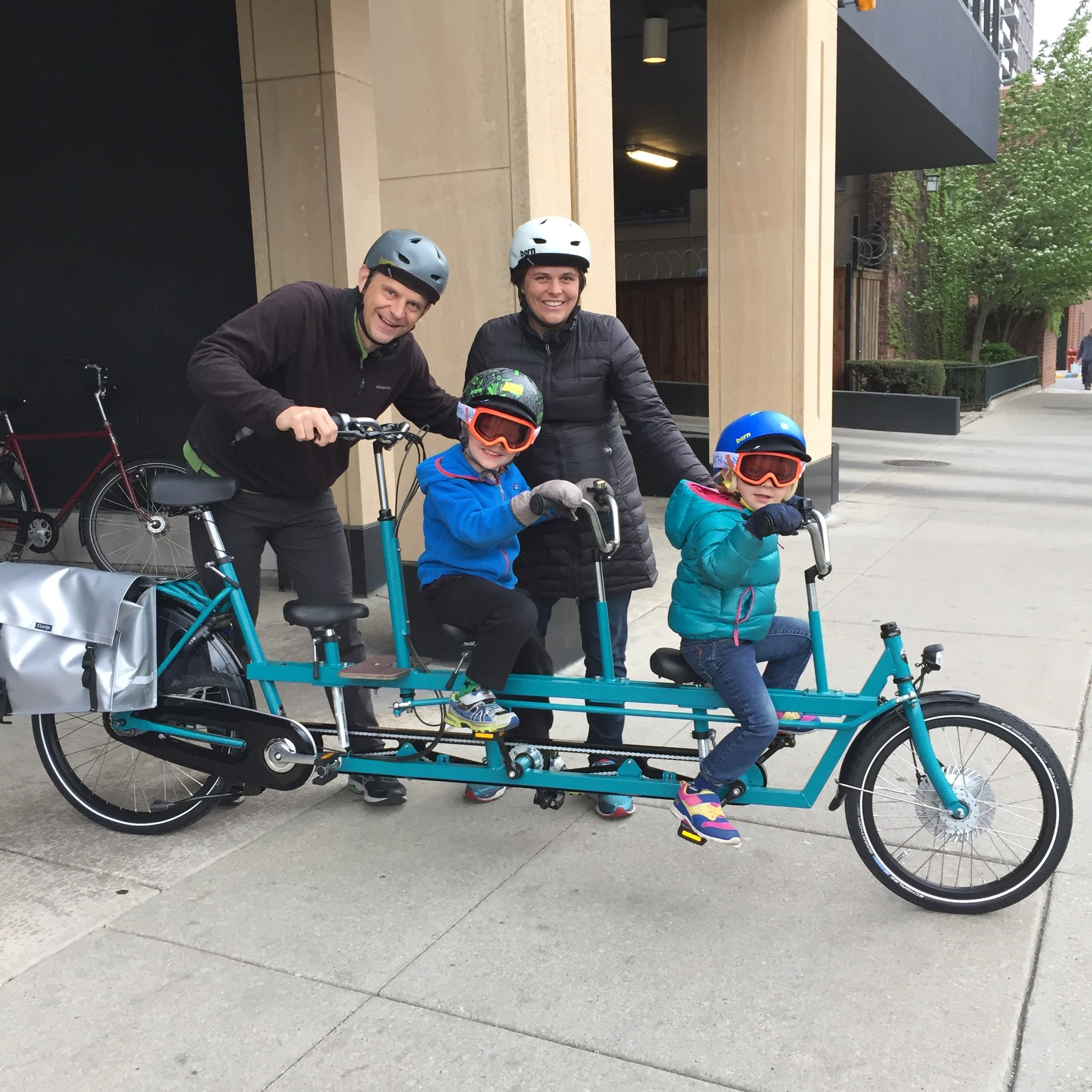 Blog Post 7/26/2018 - Onderwater / Workcycles Family Adventures